AJA and Colorfront Continue Real-Time HDR Video Development at NAB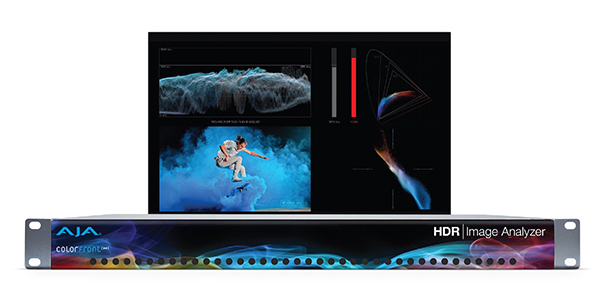 AJA and Colorfront have continued to collaborate on real-time HDR video production tools, and are showing the results at NAB 2018. AJA's FS-HDR is updated to increase I/O flexibilty, and AJA is displaying a tech preview of a new QC system, HDR Image Analyzer.
The AJA FS-HDR, a hardware converter and frame synchronizer for real-time High Dynamic Range (HDR) and Wide Colour Gamut (WCG), now has v2.5 firmware with updates that include Colorfront Engine video processing. The updates are showing at NAB 2018. At the same time, AJA also released new single and multi-mode fibre SFP options for FS-HDR.
The v2.5 firmware improves on the Colorfront Engine transform algorithm by supporting ITU BT.2408-0 Operational Practices in HDR Television. The FS-HDR now supports simultaneous 4K/UltraHD and 2K/HD/SD dual output mode. In single-channel mode with a 4K/UltraHD input and 4K/UltraHD output, you can configure the SDI monitor output for SDR/BT.709, PQ/BT.2020, HLG/BT.2020 or Sony S-Log3 S-Gamut3, keeping 2K, HD and SD output formats and frame rates independent of the main output.
Infoframe generation on the HDMI monitor output is a direct, low cost method for local monitoring on HDR-capable displays. Users can locally monitor HDR content on HDMI 2.0 HDR televisions or monitors. When an output is configured for PQ or HLG, FS-HDR will signal the selected HDR output format to the HDMI display.

Recently integrated BBC Hybrid Log Gamma (HLG) LUTs contain basic, mathematical HDR transforms. The v2.5 release will also integrate new standardized HDR test patterns - BT.2111-0 Color Bars and BT.814-3 PLUGE. Finally, new Tangent Element Kb panel support for remote parameter control gives users real-time adjustment control over the FS-HDR's main conversion parameters.
AJA is also displaying some new SFP (Small Form-factor Pluggable) options for FS-HDR and FS4 frame synchronizers/converters, including 12G-SDI Single-Mode and 3G-SDI Multi-Mode options. SFPs are small transceivers that plug into the SFP port of a network switch and connects to Fibre Channel and Gigabit Ethernet (GbE) optical fibre cables at the other end. SFP ports enable Gigabit switches to connect to various fibre and Ethernet cables in order to extend switching functionality throughout the network.
HDR Image Analyzer Preview
As part of their work with Colorfront toward HDR production and delivery, AJA is showing a tech preview of a new HDR Image Analyzer at the NAB show. The device is a waveform, histogram, vectorscope and nit-level HDR monitoring system, developed to make monitoring and analysis of 4K/UltraHD/2K/HD, HDR and WCG content simpler and more straightforward during production, post, quality control and mastering.
It combines AJA's video and audio I/O with HDR analysis tools from Colorfront in a 1RU chassis. The Analyzer is a flexible system for monitoring and analysing HDR formats in content, including PQ (Perceptual Quantizer), Hybrid Log Gamma (HLG) and Rec2020 for 4K and UltraHD workflows.
This new product is the second technical collaboration between AJA and Colorfront, following the successful integration of Colorfront Engine into the FS-HDR converter in 2017. The analysis software comes directly from Colorfront's Transkoder application, which they have exclusively licensed to AJA for use in HDR Image Analyzer.
Notable characteristics include a precise UltraHD UI for native-resolution picture display and loop-through output to broadcast monitors with a CIE chromaticity graph, vectorscope, waveform and histogram. User functions include data analysis with pixel picker, SDI auto signal detection and file-based error logging with timecode. A line mode focuses a region of interest onto a single horizontal or vertical line.
The analyser performs out-of-gamut and out-of-brightness detection with error intolerance with a false colour mode to help spot affected pixels, and handles video up to 4K/UltraHD 60p via four 3G-SDI inputs. It supports colour spaces from ARRI, Canon, Panasonic, RED and Sony, and associated display and colour processing LUTs.
AJA is demonstrating HDR Image Analyzer as a technology preview at NAB 2018. www.aja.com