MTI Film Updates CORTEX v5's Deliverables and QC, Lights Up an Indie Thriller
MTI Film is both a software developer and service provider to the entertainment industry in Hollywood. Its software division produces tools for dailies processing, digital film restoration and related work. They include CORTEX software, set-to-screen workflow applications made for dailies, media management and deliverables, and DRS NOVA for digital film restoration.
Supported by this wide knowledge and experience in video, MTI Film also operates a post-production facility that carries out dailies, editorial, visual effects, colour correction and assembly for feature films, television and commercials.
CORTEX v5 Deliverables and QC
At NAB Show 2018, MTI Film released CORTEX v5 for video processing. Based on a set of dailies processing tools, the updated software now has new functionality for IMF, DCP and Dolby Vision packaging. Digital Media World spoke to MTI's Director of Product Development Randy Reck who oversees software development for both CORTEX and DRS Nova, at their NAB booth. The QC tools include new graphs and metrics reports for Dead Pixel Detection and Correction, MaxCLL/MaxFALL, Code values, IRE and NITS values. CORTEX v5 includes many other new functions to manage media throughout the production lifecycle and meet complex delivery requirements. MTI Film demonstrated CORTEX v5 at the Show.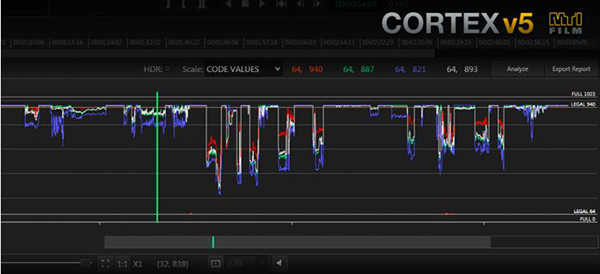 MaxFALL, Max Frame-Average Light Level, is the highest frame average brightness within a sequence and MaxCLL, Max Content Light Level, defines the luma of the brightest pixel. IRE values measure composite video signals, and NITS values measure light output. Dead pixel detection identifies dead pixels in camera media, or later on in rough cuts or assemblies. On set, it can give early warning about faults in camera sensors. Information about dead pixels can also be stored with corresponding timecode information and other metadata in a CORTEX Manifest file and passed on to post production.
CORTEX can be used for tasks as diverse as IMF creation, quality control and delivery due to its flexibility, robust nature and ease of use. It supports all of the common delivery formats. The top development work for version 5 includes new Edit Tool functions to support Dolby Vision. Users can manage complex metadata directly by overwriting, inserting, deleting or copying and pasting Dolby Vision metadata directly into compositions.
Media Management
Similarly, users can organise mastering projects with a new IMF Tree function that presents compositions and supplemental images alongside renders. Sub-folders have also been added to help with media management.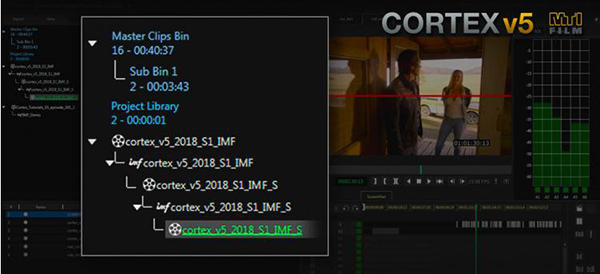 As a part of quality control workflows, CORTEX's Quality Analysis node can now be used for graphs and reports for analysing media for a bigger variety of the key measurements, like those mentioned above such as colour levels, bit rate, MaxCLL/MaxFLL and dead pixels.
Other changes and updates are a software CMU (content mapping unit) for Dolby Vision. In the grading software, the Dolby Vision process analyses the HDR grade to produce metadata. The CMU uses this metadata, embedded over SDI, to create a Standard Dynamic Range version of the project in real-time.
New outputs are simultaneous HDR and SDR SDI outputs, ProRes IMF packaging and DCP packaging. Among general improvements to edit and finishing functions are ProRes insert editing, improved dead pixel repair, 24-channel audio and waveform and vectorscope scaling for HDR and SDR.
CORTEX is available in a free version for DITs, a paid-for DIT+ version, and as Dailies and Enterprise editions specified for particular users and applications. MTI Film is also an ACES Product Partner.
MTI Film Illuminates How the Light Gets In
MTI Film recently delivered a package of post-production services for 'How the Light Gets In', an independently-produced crime drama about a New York City detective, under investigation for his involvement in a suspicious shooting. It is the feature film directorial debut for Steven Fierberg, ASC, known for his work as a cinematographer on TV programmes such as 'The Affair' and 'Entourage'. A producer at MTI Film is one of the contributors as well.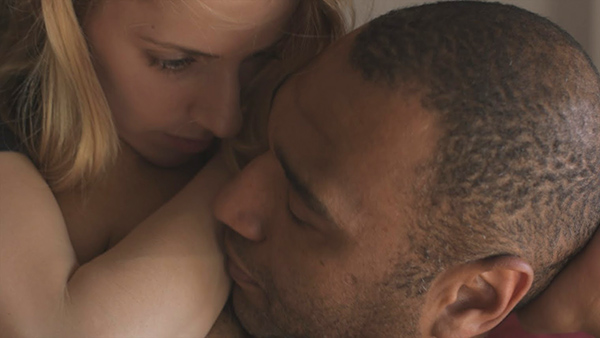 Produced on a very small budget, the film's shoot was almost entirely improvised at various locations around New York. The production employed several camera systems, including ARRI Alexa, Canon C300 Mark II, RED Epic, Sony A7 and Canon 5D Mark III, loaned through the courtesy of the manufacturers. Steven Fierberg captured additional scenes with a Nikon DSLR because it allowed him to work quickly and operate unnoticed in Central Park, the subway and other public locations.
Love and Limitations
"The crew was typically me, our DPs Nick Coleman and Erin Henning, a sound operator, the actors and maybe a friend to serve as production assistant for the day. That was it," he said. "Nick or Erin and I would discuss the shot, then he would set up the camera, while I set up the light."
Having worked on mainstream television productions with much larger budgets, Steven said that he enjoyed the challenge of a project with abundant passion but limited resources. "I've worked on a shots on 'The Affair' that cost as much as this whole movie," he noted. "In shooting a party scene for television, you might have two cameras, 100 crew and 150 actors. In this movie, I had one light that I had to carry up a flight of stairs and plug in myself. But there's joy in that too. This movie was a miracle."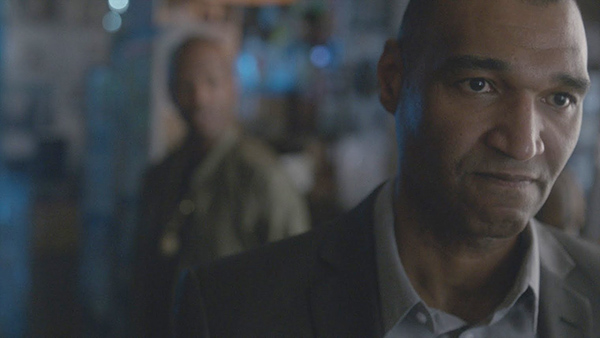 MTI Film handled dailies services during production and later carried out editorial conforming, colour grading and deliverables. MTI Film colourist Tanner Buschman applied the final grade. "Tanner had the job of making material from all the different cameras and lenses look consistent," said Steven. "Technically and creatively, he did a tremendous job."
City Looks
Steven commented that 'How the Light Gets In' was conceived in the tradition of classic New York cop films with their seedy, unlovely locations and colourful cast of characters. During the grading sessions, he and Tanner worked to draw out the city's character. "We captured the unsettled atmosphere of New York's streets," he said. "The movie has a big fight scene in a parking garage and another fight in a bar in Harlem. It needed a hard, realistic feel."
Working in a theatre environment, Tanner graded the film on a Digital Vision Nucoda finishing system in P3 colour space. That allowed him to achieve a filmic look, which he accentuated by subtly adding film grain. Recurring flashback scenes, set in a bar, were pushed slightly further to make them stand apart from the central narrative. "We didn't want hyper-realism for our flashback footage," Tanner said. "So, we went in the opposite direction and made it desaturated and smoky to distinguish it from the present and give the bar an uncomfortable mood." www.mtifilm.com