Tony Gallardo Packs a Punch with Resolve 15 for Social Media Spots
During the public beta period for Blackmagic Design DaVinci Resolve 15, editor and motion designer Tony Gallardo, learned to take advantage of the diverse collection of tools in the software. As he colours and edits, Tony finds inspiration and likes being able to click over to a dedicated page to apply a colour treatment or adjust a title design and tweak the details as required. If he's not sure if a particular title will have the impact that he has in mind, he can click into the Fairlight page and give the intended mood and atmosphere to his sound effects.
During this period, he was hired to very quickly produce a set of social media ads for Copper Gel pain reliever for athletes, featuring footage of boxer Mike Tyson, martial artist Fabricio Werdum, and weight lifter Brian Shaw combined with bold, simple motion graphics.
The team at Copper Gel wanted to change their style using quick, powerful ads to launch on different platforms. On this job in particular, Tony appreciated having editorial, motion graphics, colour, finishing and sound design tools in close proximity, and used DaVinci Resolve 15 Public Beta for all tasks.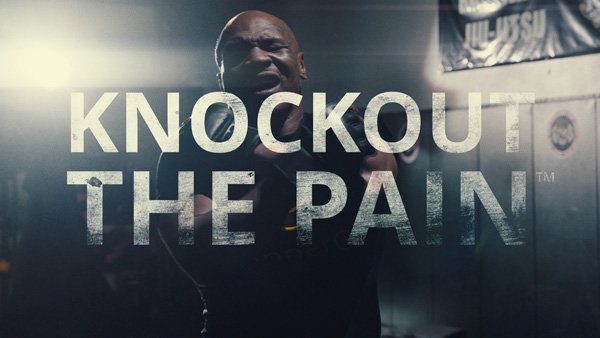 Starting Out in Video
Tony started editing at about the age of 13, cutting videos with two S-VHS edit desks - family events, church videos, neighbourhood businesses, whatever the subject, if it involved video Tony was keen. Later, while studying at a local college, he joined a production company as an editorial intern, where he cut his teeth on TV commercials, corporate training, infomercials, event videos, mini docs and numerous weddings.
"I was also lucky enough to have a mentor who trained me as his assistant. From printing scripts to logging and syncing dailies, I watched, learned and grew into creative editing, motion graphics and sound design. From there I partnered with a colleague who was a director, and we started our own production facility. I built our systems from the ground up, based on Final Cut Pro, and soon expanded my creative pursuits to directing, producing and client relations.
"All of these experiences have helped shape and build the process and workflows I use today as an editor and designer. I'm now on my own and run a small shop here in South Texas called TOMIGA. Usually referring to myself as Director/Editor/MoGraph, I try to bring in the right talent for the job if I can. Since I have to be a generalist in many ways, any time I can work with a specialist, I will, because it usually makes the creative better. Collaboration is key to building a better product."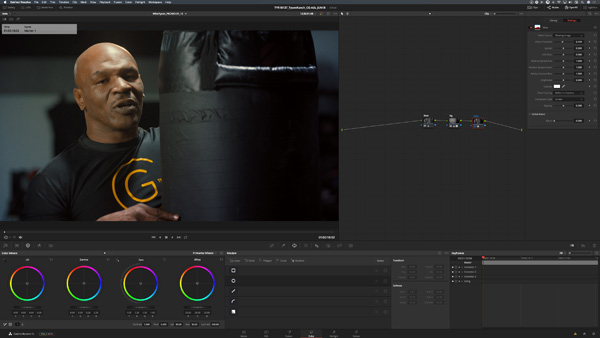 Specialised Generalist
Tony started learning DaVinci Resolve a year or two after Blackmagic Design released it on Mac, by watching tutorials, reading the manual and experimenting with it. He soon replaced his usual colouring process in Adobe After Effects with Resolve's colour correction tools. At that time he was running a production facility with a small staff and a roster of freelancers.
"I was director and creative director all our projects, and I would also do the editing and motion graphics on certain jobs," said Tony. "Once Resolve came into the mix, I was the only one who knew the system, and so I started colouring my own work. I could arrive at a good colour balance and look with After Effects, but realised that it was slower and less inefficient compared to Resolve. Learning how to think like a colourist was and is still a journey that Resolve led me to."
The CopperGel ad called for abundant creativity on short notice. "The client didn't have a script - just a tagline and a direction. They wanted it deliver a much simpler message than their previous campaign, and in short bursts for social media - that was pretty much all I had to go on. Fast, bold and quick," Tony said.
Fluid Workflows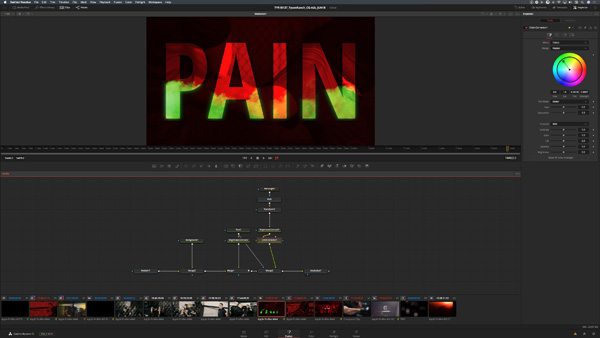 It was extremely useful to be able to move back and forth between different post workflows and between Resolve pages to craft content. Tony can save a tremendous amount of time just by clicking on a different page and fully immersing himself in an audio workstation or motion graphics package. That fluidity was extremely helpful as he crafted edits to music, and then got inspiration for the motion graphic design.
"The artcard with the word PAIN on it is a good example. That process started as a Fusion Text+ effect in the Edit Tab, plain and bold. Later in the day I decided to experiment with some grunge effects for the text. With a click, I was back on the Fusion page where the Text+ node was waiting for edits. After that, the displacement and smoke effect came a day or two later.
"It's the process of interweaving each of these different workflows at will that I find powerful. If I get inspired to add some sound design, I can change my Resolve UI immediately to work in audio - or whatever I need at that moment – and quickly return to the Edit or Fusion page."
Digital Hub
A secondary challenge on the CopperGel campaign was dealing with a hard drive full of media and project files from Adobe Premiere Pro. Although Tony was creating these spots from scratch, the client wanted to use some sound bites from their existing spots for other platforms, which meant Tony needed to access and pull the Premiere Pro timelines and bring that content into Resolve. So in this instance, Resolve served as a digital hub. Using the XMLs from Premiere, the timelines could be opened into Resolve almost directly. The transitions and effects did not translate, but he could clearly see the cuts and selects.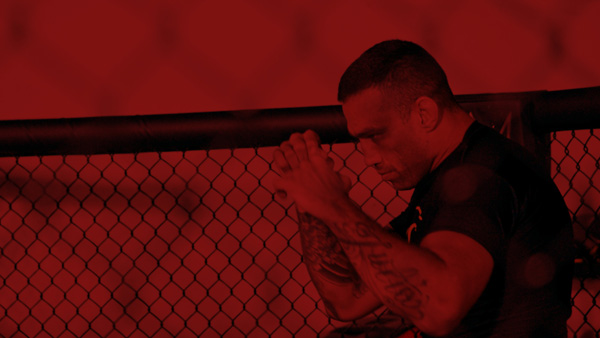 Tony remarked, "This has been a year of social media for me. Nearly all of my corporate and broadcast work now has a social media deliverable. Deliverables vary from platform to platform, from different frame rates to different pixel dimensions, but fortunately Copper Gel just needed standard HD 1920 x 1080. The only challenge was keeping the detail big and bold, in your face and very short with just enough to time to hammer the tagline and brand. Keeping the artcards quite large allows the viewer to quickly read and digest the message even without the volume turned up."
Pages of Inspiration
The footage had been shot at 2K on ARRI ALEXA in LogC ProRes 4444. Once he had my organization and media assets ready, he quickly found two or three clips he liked of Mike Tyson, then started focussing on music. He started with about ten tracks he thought would work, and once this was narrowed down to just two, he checked them out on those few clips. This process helped spawn some title ideas, which led to some more cuts, which led to simple sfx and so on.
Tony said, "Each time I would come from one page into the other, inspiration would emerge and I moved on to the next page. I don't always work that way, but like to if the job allows it. This approach let me build quickly and prototype a look, feel and rhythm for the client to sign off on. It wasn't anywhere near where it is now, but it had the same mood and soul. After the client approved, I moved forward, crafting more details and cuts and completed the spot.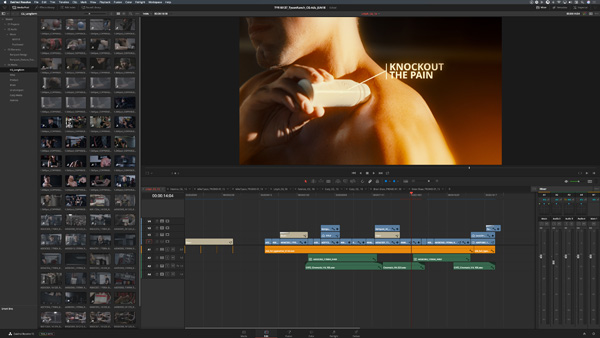 "The only existing graphic I used was the Copper Gel logo. Everything else was built entirely inside Resolve - custom atmospheric sfx to motion graphics with stock smoke effects, all in the one application. Interestingly, I usually built the effects stacked in the timeline - the top track had smoke/dust effects, middle track contained motion graphics and the bottom track held video in the Edit Page."
For colour, he would create a base grade and Resolve Effects on a clip basis, while creating a look grade on timeline nodes with a separate grade on the titles and motion graphics. Thus, three or four different passes combined into one for the final look.
The new Shared Node system in Resolve 15 was very helpful on this project. Rather like a preset, making adjustments to one Shared Node will ripple across all of the other Shared Nodes of the same name. However, the artist can go on to change certain qualities in the video, such as adding contrast or fixing highlights, while keeping all of those changes unique to one clip and leaving the shared node unaffected. www.blackmagicdesign.com