Adobe Works with Partners on IMF Mastering, VoIP, Colour and 4K HDR I/O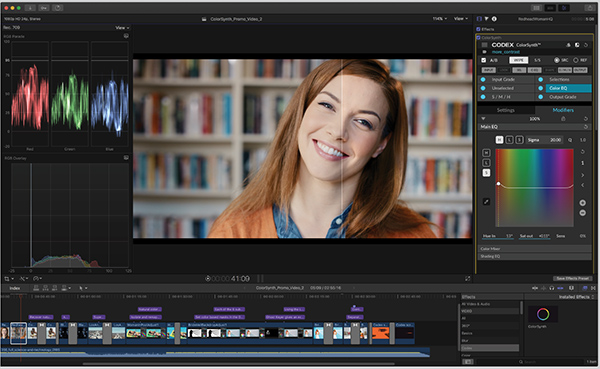 Adobe has been working with a number of industry partners to increase compatibility with their recent Creative Cloud software updates shown at IBC2018, expected to be available later in 2018. Adobe's upcoming release aims to increase efficiency and develop connected tools for broadcast, branding, film production and online content. The changes will include new production tools for motion graphics, colour, audio, animation and immersive content.
The new Codex ColorSynth grading software is now integrated with Adobe Premiere Pro CC and has been developed to upgrade the colour grading tools within Premiere Pro CC and After Effects CC. Marquise Technologies IMF Importer allows users to import IMF packages for editing natively within Premiere Pro. Bluefish444 has added SMPTE 2022/2110 Video Over IP and 4K HDR support for the upcoming 2018 versions of Creative Cloud video software.
Bluefish444 SDI, HDMI and Video Over IP I/O
Bluefish444 KRONOS and Epoch SDI, HDMI and Video Over IP I/O cards are a good match for for Adobe's video production tools, such as Adobe Premiere Pro CC and Adobe After Effects CC. Video Over IP means that video I/O cards from Bluefish444 are now built to meet IP standards including SMPTE 2022 and SMPTE 2110, carrying up to 12G video via 10Gb ethernet. Epoch users can capture SMPTE 2022-6 video over IP streams directly from inside Adobe Premiere Pro CC through standard off-the-shelf 10Gb Network Interfaces, due to Bluefish444 IPConnect support.
IPConnect is an API extension for the Bluefish444 SDK, supporting industry standard 10Gb NICs (network interface controllers) for SMPTE 2022 software de-encapsulation of SDI video. It allows Bluefish444 users to access video, audio and ancillary data via current and future Video Over IP standards.
Users who upgrade to KRONOS Optikos hardware have capture and playout functionality for SMPTE 2022/2110 Video Over IP, plus 4K high frame rate HDR workflows via SDI and HDMI video I/O. Bluefish444 cards and Adobe video software can both take advantage of GPU acceleration, making the combination effective when supporting new video workflows such as 4K, VR and high dynamic range, for production, post and broadcast.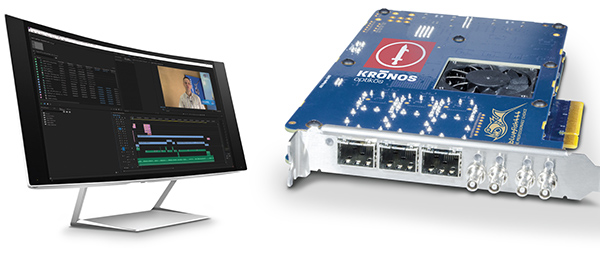 Adobe applications also use the Mercury Transmit software interface to send video frames to external video displays. Manufacturers like Bluefish444 develop plug-ins that route the video frames from Mercury Transmit to their hardware.
Bluefish444 demonstrated the upcoming KRONOS Optikos video I/O card at IBC, outputting SDI from Adobe Premiere Pro CC, with a simultaneous SMPTE 2110 uncompressed IP stream via 10Gb Ethernet to a KRONOS-integrated broadcast graphics system. This shows a typical workflow for live events and broadcast that allows the user to add channel branding or other graphic overlays of a live video feed.
Adobe Premiere Pro CC accesses media from IngeSTore Server 3G while recording continues for a live Edit-While-Record workflow made possible through the support for growing files in both Bluefish444 IngeSTore software and Adobe Premiere Pro CC.
Codex ColorSynth for Adobe CC
The new colour grading software from Codex calledBluefish444, introduced first for Final Cut Pro X shortly after NAB 2018, is now integrated with Adobe Premiere Pro CC. The application was developed to upgrade the colour grading tools within Premiere Pro CC and After Effects CC and used with the Codex Keys control surface.
ColorSynth is complex - a network of colour processing nodes resulting in about 45 control panels arranged in a six-layer stack with 15 sub-layers. However, from the user's point of view, it has a grading template designed to use as a simple 'one light' pass up to very subtle multi-layer grades. To accommodate complex grades, ColorSynth renders the results in floating point precision, at a constant speed, and maintains digital cinema colour standards.
ColorSynth's core set of tools is called Color EQ, modular colour remapping software comprising a Main EQ, a special Color Mixer and a Shading EQ. The six grading layers are made up of qualifier-based sub-layers. Using the proprietary Ghost Keyer, colour selections are true to colour density, simple to set up and fast to process.
The Ghost Keyer has a default Primary key and two Auxilliary keys, all with full keyer controls – users add or subtract the Auxilliary keys from the Primary key to create selective masks and preserve all the details from the source.
The Shading EQ targets a very specific colour in order to modify Hue, Saturation, Luminance or RGB tinting over a small range of colors. Hue shifting gives access to adjacent hues in a colour wheel, while RGB modifies the colours towards any other colour, so both sets of controls are available.
Codex Keys is an extended keyboard-sized, USB bus-powered control surface that is integrated tightly with all colour controls of the ColorSynth module, and has a full-colour, high-resolution display.
Marquise Technologies IMF Importer
Marquise Technologies has developed IMF Importer with native integration for Premiere Pro CC, and demonstrated the new software at IBC2018. It allows users to import IMF packages for editing within Premiere Pro, working more efficiently in a familiar environment.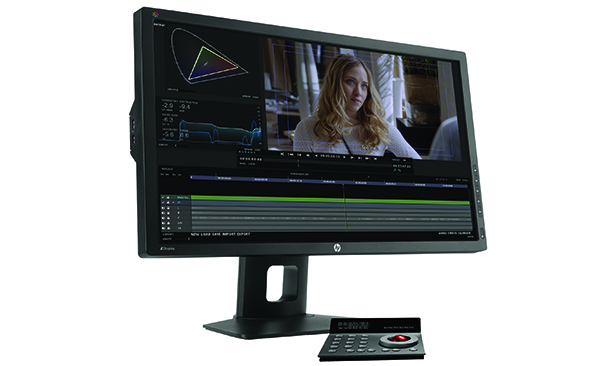 Marquise Technologies designs post production systems for the cinema, television broadcast and OTT industries, targeting post facilities and digital film labs. Applications include image processing, mastering and quality control for Digital Cinema and UHDTV. Marquise believes that, because of the growing adoption of IMF (Interoperable Master Format) for content exchange, support for this standard is continuing to gain importance for professional editing systems, and that support should not be limited to the mastering stage.
Marquise Technologies and Adobe have collaborated on Premiere Pro CC's new ability to import IMF packages, including multiple CPL (Composition Playlist) packages. Editors are now able to review and process IMF Application #2 and #2e (Studio Profile) content for studio applications.
www.adobe.com/creativecloud