nhb studios Get on Track with NIM for Creative Commercials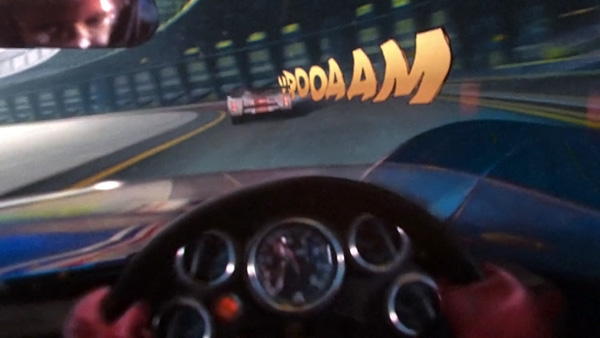 Volkswagen - Kinderträume
nhb studios production and post facility works mainly on commercial projects from its four studio locations in Germany. Coming under pressure as production timelines continue to tighten, nhb wanted to organise their operations more closely and become more efficient and flexible. They started working with NIM studio management software to monitor projects and see how they could speed up the stages of their production process, including people and equipment.
"Producing TV commercials is like working at a startup. With one comment, the whole project can change," said Quang Tran, head of nhb Berlin. "NIM helped us overcome physical and organisational barriers that kept us from working with flexibility. Now, we can use our entire network, and bring together the skills and talent that work best for each project."
Wide Network
A wide network of on- and off-site producers, directors, designers, animators and composers are what make nhb one of the top production houses in Germany. Also recognised for its work as a partner of VFX studio The Mill, nhb's specialty in advertising projects ranges from luxury automobiles such as Audi, Mercedes-Benz and Volkswagen, to brand work for Coca-Cola, Sony and eBay.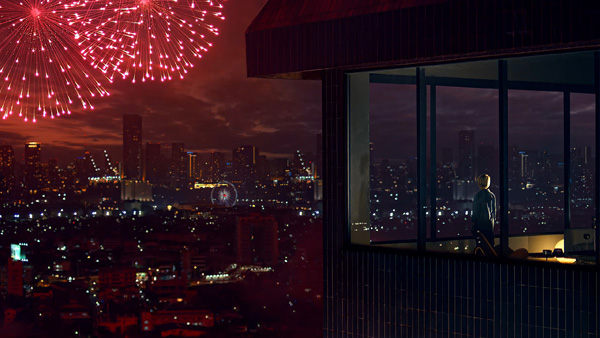 Sony X90C Bravia UHD TV - Celebrate Every Detail
The need to scale up led nhb to various studio management packages, but with each search, two problems emerged – the applications were either too specialised or too focused on pipeline. "We always knew we needed an organisational layer to keep productions on track, but the products on the market didn't reflect the realities of the industry," Quang said. "NIM was different and immediately made us feel that it had been made in a production business like ours."
Financial Tracking
NIM was originally designed to cover the critical aspects of running a studio – that is, not only projects but also profitability. NIM Labs consists of creative directors and studio heads, some of whom also work at the US studio Ntropic, who wanted to centralise the most common challenges studios face, such as finances and production tracking, so that teams have the necessary information to remain profitable and engaged in their work.
Because tools like timecards and reviews are in one place, nhb has been able to connect their offices into a central hub, receiving feedback in real time from artist input via NIM's visualisation tools. "All the functionality and options created opportunities for us, and we could use it right off the shelf," Quang said.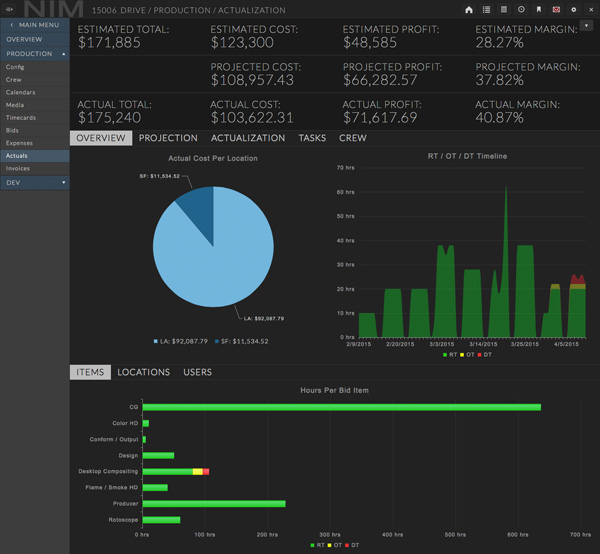 NIM Financial tracking

The bidding and financial tools were the first parts of NIM that nhb started using. As the inputs came in from artists and producers, Quang was able to access detailed views of the actuals - showing how long projects are taking compared to the bid, and how much
each person's work has cost at any point in the project - in real time, without having to manually input and track the values in a spreadsheet. After that, the company adopted it across departments and now applies it to all incoming projects.
Live Database
As nhb continues to stream information into the system, NIM becomes a continuously updated database, populated with timelines, storyboards, watchouts, graphs and project notes that nhb can use to make decisions about current and future projects. "At this point, it's like a project wiki," said Quang. "At any moment, I can get a real-time view into the status of the studio, whether I'm trying to track profitability across projects or reactivate a project down the line. Consequently, the more we feed in, the more we get out."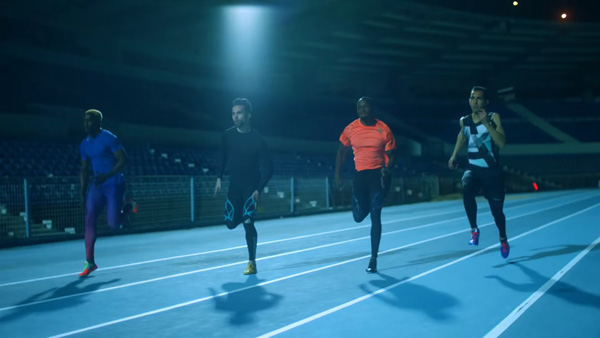 Mercedes-Benz C-Class - Never Stop Improving
With NIM Connectors, nhb has established a live link to regular industry software like Nuke and Flame, generating up-to-date information as artists work. NIM connectors plug directly into the application – users can then select files by task and version to match NIM's structure, rather than by name. The Nuke Connector, in particular, brought the onboarding process of freelance Nuke artists down to just five minutes, which has made remote work more efficient.
Once jobs are started, file naming conventions are handled automatically when saved from content applications that support NIM's Connectors, saving the team time formerly lost to accidental errors. Quang remarked, "I think simplicity plays a major role in why one tool works and another doesn't. NIM has a simple structure that we can adapt from project to project, instead of a system we have to maintain through code, and that lets us scale faster than we have before." nim-labs.com