The Mill Merges VFX and Colour with FilmLight BLG for Flame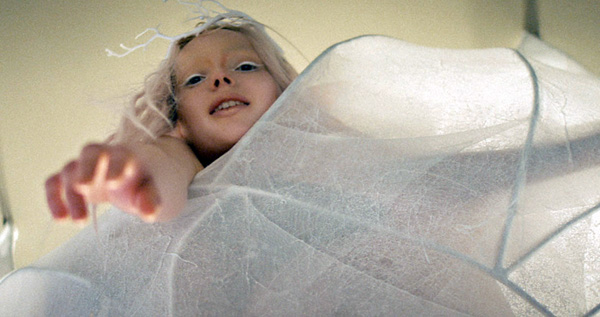 The Mill VFX and content creation studio has recently changed their post production workflow for commercials to speed up collaboration between VFX artists and colourists. Traditionally, the visual effects team has their work well underway before the grade is complete, with little opportunity to see the latest colour grade in context on their background plates and live action shots. Adjusting and tweaking the effects assets to fit invisibly with the grade required a fair amount of back and forth collaboration with the colour suite to render out new versions of shots, especially as the grade continued to evolve.
Therefore, The Mill recently invested in several BLG for Flame licences from FilmLight. A Linux-only plugin for Autodesk Flame, BLG for Flame applies a Baselight grade automatically, either from Baselight Linked Grade (BLG) files or directly from a Baselight scene – even while the scene is still being graded on the full Baselight system.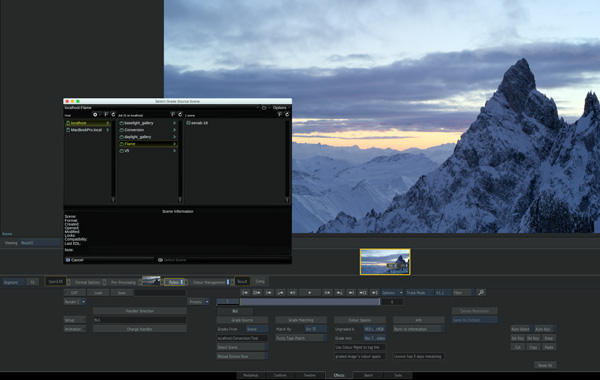 FilmLight BLG for Flame
Non-Destructive and Render-Free
Talking about the way post traditionally works, VFX supervisor Ben Turner and colourist Dave Ludlam at The Mill in London said that grading a sequence, and then dropping the VFX on top later on, was often a frustrating process. "To get a good result that looked the way the client expected, we were constantly pushing material between artists and departments. We could end up with more than a hundred renders on a complex job," Ben said.
In terms of the studio's resources, it was not an efficient way to work. Apart from the heavy demands on artists' time when trying to work through a look, keeping all the versions until the job was signed off required a lot of data storage as well.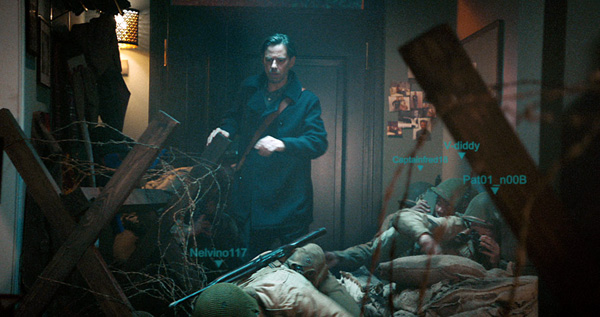 BLG for Flame changed the situation by serving as a non-destructive, render-free workflow in which all of the grading information – including multiple layers, windows and effects – is stored as metadata, which can be imposed in real-time as you view the content. This new process brings the VFX department directly into the colour pipeline, which makes it possible for everyone to access the latest grade in every room, immediately.
Methodical Approach to Chaos
Ben worked with Dave Ludlam on a recent project called 'Complete Wifi', a commercial campaign for BT, directed by Fredrik Bond. In the story, the hero arrives home one evening to discover that the house has been taken over by soldiers, angels, dancers, fairies and even a giant. The different worlds of video games and movies that his family are experiencing have come to life and he soon finds himself overwhelmed. Conveying the chaos needed a lot of CG integration.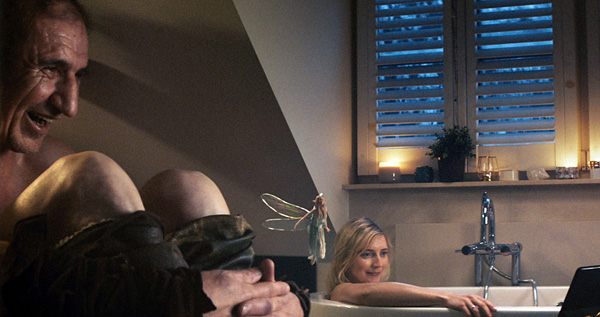 Working with Fredrik, Dave set a look for the piece, then handed the footage over to Ben. "I began developing the CG elements from there. Because I knew how they would need to sit in the graded live action, I could create the CG elements to work with the background," Ben said. "If I needed to talk to Dave I could pop in and solve a specific challenge in minutes, but I knew that he wouldn't have to push anything too hard in the final grade."
Fredrik Bond, in the meantime, went back to Hollywood and supervised the rest of post production from The Mill's Los Angeles facility, still using FilmLight's BLG workflow to see the graded versions.
"Even though there is more consulting between us with this process, that is because we are responding more sympathetically," Ben said. "For example, I was able to render a comp and immediately show it to a client with the latest grade from Dave. This means that when the clients really wanted to push a certain aspect of the image, we could ensure, through both comp and grade, that this was done in the most sympathetic way to maintain the integrity of the image."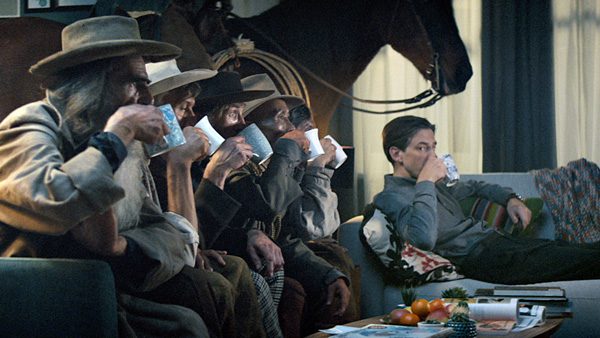 Dave Ludlam said, "With this new process, I am setting looks, but I am not committing to them. By working together I get a lot more creative input, while still achieving a much slicker workflow. I can build the grade, and only lock it down when everyone is happy."
In the Loop
The Mill undertakes a lot of commercials work and inevitably has many people to keep happy. The top directors move between advertising and features and are already used to this sort of collaboration in movies, so bringing it into the advertising domain as well is a logical next step. Also, with the option of floating licences, facilities only need to purchase as many licences as will be simultaneously active at any one time.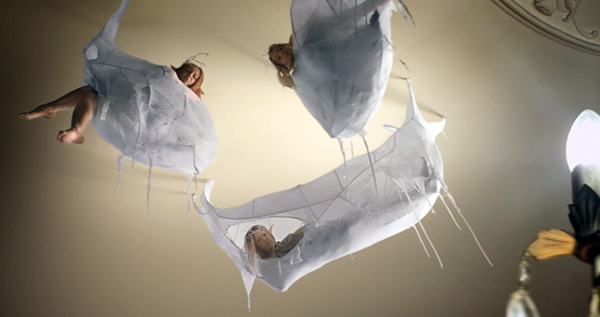 A real-time approach also helps to keep the client reassured all the way through the process, rather than waiting until the end to see if they like the outcome. A VFX artist never has to apologise that they are not seeing the latest grade, causing images to look slightly off, or book the grading room just for clients to check that a look is going to work. Instead, the client can be part of that creative loop throughout.
Decisions made in the grading suite can be made instantly available on any other system running BLG for Flame. The Mill has adopted the practice of notifying anyone else actively working on a project that a new grade is coming, to avoid surprises when the look changes.
For Dave as a colourist, the speed increase is valuable, but more important than this is the opportunity to improve the quality of the result. "It gives everyone more control and because every job is under huge time pressure, it means we can respond quickly," he said. www.filmlight.ltd.uk