FilmLight at NAB: Control and Consistency in Finishing and Delivery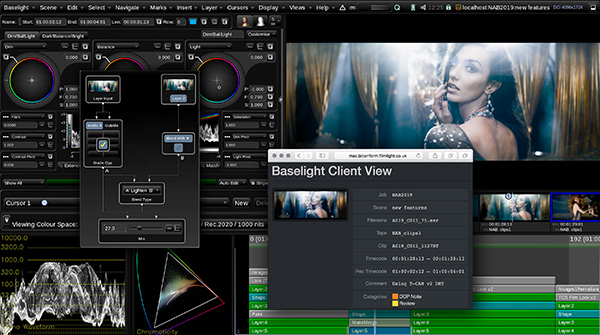 According to FilmLight, the colour grading suite is rapidly becoming the hub for finishing many movies, premium TV programming and commercials. To help fit the potentially time-consuming finishing stage into the production and post-production cycle, FilmLight aims to simplify the colour pipeline for collaborative workflows.
Colour Space Flexibility – New Pipeline and Workflows
The process starts with communicating a consistent look across on-set dailies, editing, VFX and finishing, with a framework for taking raw files from wide gamut cameras and migrating the various colour ranges to those available in television, HDR, digital cinema, laser projection and so on – all on the same project.
Due to the variety of delivery formats and viewing conditions currently available, colourists need to be confident that the master grade will be effective on all deliverables. T-CAM (colour appearance model) version 2 is FilmLight's new colour appearance model, which allows the user to render an image for all formats and device types – and know absolutely how it will look.

Baselight Editions
T-CAM combines well with the Scene Looks from FilmLight's colour management system Truelight and the ARRI Look Library, now implemented within the Baselight software. "T-CAM colour handling with the updated Looks tools produces a consistent, predictable response compared to creative, camera-specific LUTs or film emulations," said Andrea Chlebak, Senior Colourist at Deluxe's Encore in Hollywood. "I know I can push the images for theatrical release in the creative grade and not worry about how that look will translate across the many deliverables."
Truelight Colour Spaces
The foundation of these tools is the Truelight Colour Spaces (TCS) system, used to specify colour spaces for cameras and other input sources, for the displays and projectors, and for the colourist's grading environment. Using templates, it automates selection of appropriate colour spaces for input material for each step in the colour pipeline.
It also encourages colourists to grade in a scene-referred colour space, working with pixels representing the actual colours captured in the scene rather than the converted pixels the colourist sees on a monitor with a limited set of colours.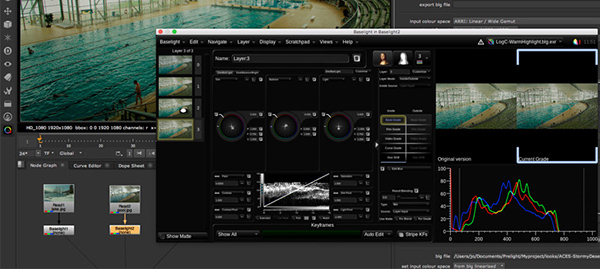 Baselight Editions for Nuke
This is because modern displays cannot equal modern digital cameras. The result of the camera-to-display mapping process often looks good, but mapping is applied using a Display Rendering Transform (DRT) that is forced to lose some original depth and colour fidelity. If a colourist applies grades and other effects to pixels converted into this display-referred colour space, the raw video is effectively only a subset of the captured material.
Furthermore the grade itself will be tailored for that specific display colour space - the result will not look the same if viewed on a display with a different colour space. One way to work in a scene-referred colour space is to grade in the camera's colour space - for example, video shot on an ARRI camera can be graded in the ARRI Log-C / Wide Gamut colour space.
Or, if some footage were shot on different cameras you can grade in a colour space independent of camera brands, using the ACES workflow, for example. Better still, as part of the TCS system, FilmLight's own scene-referred colour space T-log / E-Gamut is a camera-agnostic, wide-gamut colour space.
The new DRT complimenting T-Log / E-Gamut is Truelight CAM – or T-CAM as mentioned above - which uses a colour appearance model based on human visual perception that maps from the scene-referred colour space into a display colour space without putting a specific look on the final image. That way, Truelight CAM allows a separate Truelight Scene Look to be applied as part of the grade.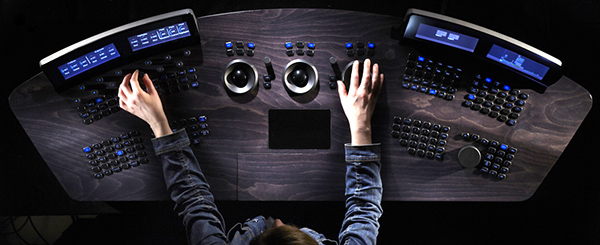 Baselight control panel
Separating the look from the display transform makes the colourist more flexible because he or she can try many looks with the one DRT. Actually a 'family' of display transforms. Truelight CAM supports many output levels (brightness) and surrounding viewing conditions.
Texture Colour Controls
A new approach to colour grading has also been added with Texture Blend tools, which are related to the Texture Equaliser that divides the image into individually adjustable spatial frequency bands. Each frequency band has a separate Texture Blend control allowing a smooth join between two images with a sharp-edged matte. The colourist can apply any colour grading operation to the bands dependent on image detail, and keep fine control over the interaction of colour and texture.
Other workflow improvements that help colourists work faster are enhanced cache management, a new client view that displays a live web-based representation of a scene showing current frame and metadata, and quicker conforming across multiple directories.
Baselight software itself has been updated to the upcoming version 5.3 to include per-pixel alpha channels that make extra layer mattes unnecessary when compositing VFX elements. Baselight's tight integration with VFX software including NUKE and Flame means that new versions of sequences can be automatically detected so that the colourist can switch quickly between versions inside Baselight.
DEMOS and FILMLIGHT COLOUR DAY
At NAB2019 these Baselight updates will be demonstrated using contrasting system configurations to reflect the different requirements in production and post around the world.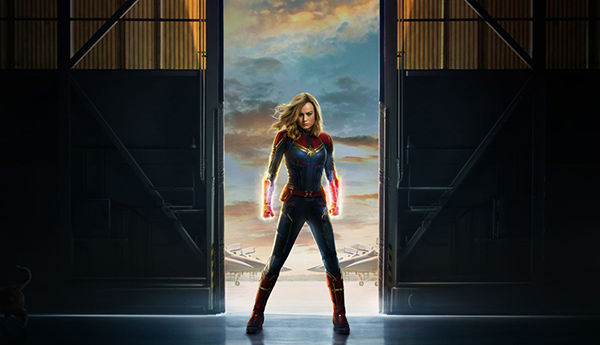 At Colour Day colourists will demonstrate Baselight workflows on recent productions.
Visitors are also invited to register for the FilmLight NAB2019 Colour Day, where they will be able to experience top colourists demonstrating colour workflows and Baselight features on recent, high-profile productions. The NAB2019 Colour Day will be held on Monday 8 April at the Renaissance Hotel, adjacent to NAB. It is free but places are limited and pre-registration is required. Visit the Registration page for more information.
NAB attendees will also see in-context colour grading for the Baselight Editions versions including Flame, NUKE and Avid. Along with Prelight on-set pre-visualisation and Daylight dailies processing, they are all part of a single, render-free, non-destructive colour pipeline from set to delivery. FilmLight will debut the Blackboard Classic, their new control surface that follows the design of the original Blackboard 1 and adds large high-resolution displays, a larger tablet and simpler connectivity. www.filmlight.ltd.uk