AJA FS-HDR v3.0 Firmware Evolves HDR Standards Support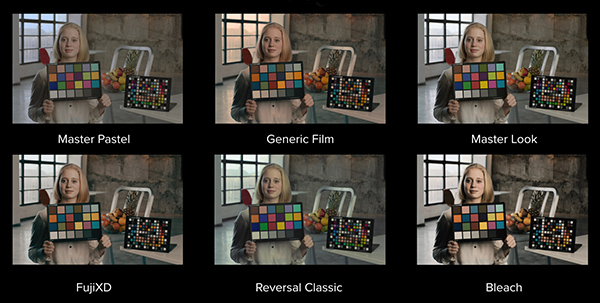 Colorfront Engine Film Mode LOOK selection
Users of the AJA FS-HDR real-time HDR/WCG converter and frame synchroniser will soon have v3.0 firmware that improves the device's colouring tools and support for multi-channel Dynamic LUTs. It will add other improvements for broadcast, on-set, post and proAV HDR production, and is expected to be available in June 2019 as a free download.
Noting that users are implementing FS-HDR in various new HDR workflows, while still producing SDR deliverables, AJA wants to expand their options by continuing to align with HDR standards and formats, as they evolve.
A new integrated Colorfront Engine Film Mode has a large number of new grading and look creation tools with optional ACES colourspace and ASC Color Decision List (CDL) controls. The built-in LOOK selection includes film emulation looks as well as variable Output Mastering Nit Levels for PQ from 48 to 4000 nits, HLG Extended, P3 colour space clamp and others. Clamping values makes sure that the blackest blacks and whitest whites are visible on an intended display device. Users can assign acceptable values to colours that are either too light or dark for the intended display.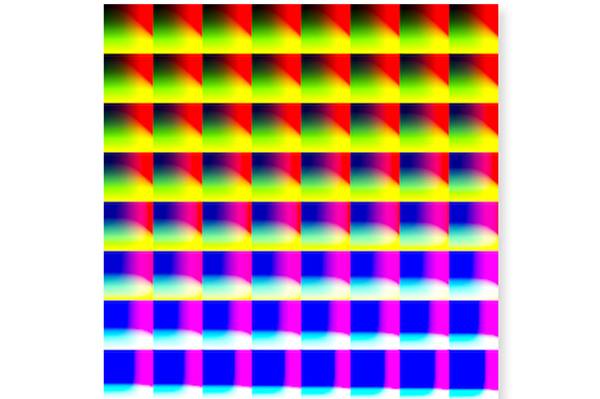 BBC HLG v1.3 conversion LUTs
The original Colorfront Engine Transform Mode has also been upgraded with new functionality and renamed Colorfront Engine Live Mode. The v3.0 firmware includes, for example, Output Mastering Nit Level controls for PQ, the HLG Extended standard, P3 colour space clamp and other updates, as well as the most recent improvements to the BBC's licensed HLG v1.3 conversion LUTs.
Both the input and output dynamic range and supported gamuts now include SDR, PQ, HLG, HLG Extended, Sony Slog3, ARRI Log C and ACEScct. Many others are supported in the input range.
The existing single-channel Dynamic LUT Mode already supports 4K resolutions, and v3.0 brings new support for multiple channel HD workflows. Pomfort's LiveGrade Pro on-set look development application, and TVLogic's WonderLookPro colour management software for complex video productions, can now be integrated for continuous real-time LUT updates as grading is performed in third party software. SDR previews are possible for HDR output.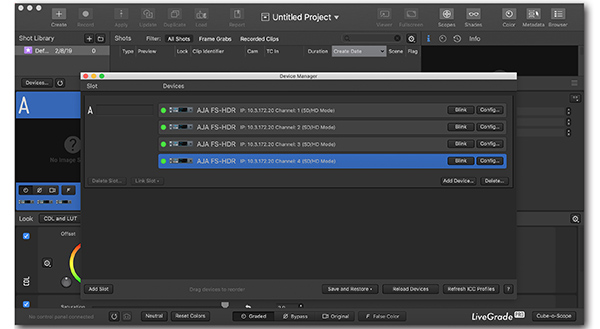 LiveGrade Pro integration for FS-HDR multi-channel mode.
"Extending the integration of LiveGrade Pro for the FS-HDR multi-channel mode means LiveGrade Pro can control four independent channels - inside the device," said Patrick Renner, Product Manager at Pomfort. "The combination is now very useful for customers looking for a compact, rack-mount system for configuring multiple camera and multiple monitor set-ups." www.aja.com