ftrack Keeps Remote Teams Closer with Synchronised Media Review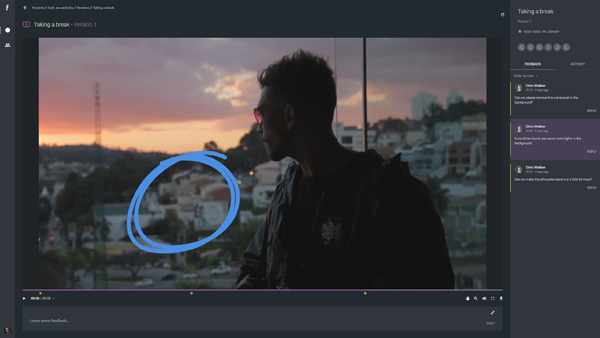 ftrack real-time synchronised media review is available now in ftrack Review and ftrack Studio, added to keep all team members participating in review sessions more closely connected. It is one of several updates across the ftrack project management platform designed to improve remote collaboration for dispersed teams.
Real-time synchronisation means that actions performed in a remote creative review session – such as jotting down feedback, sketching on an image or jumping to a different video frame or PDF page – will display on all participants' screens simultaneously. Whether the participants work across the office or overseas, they will see the same frame at the same time, in high resolution and with full-speed playback.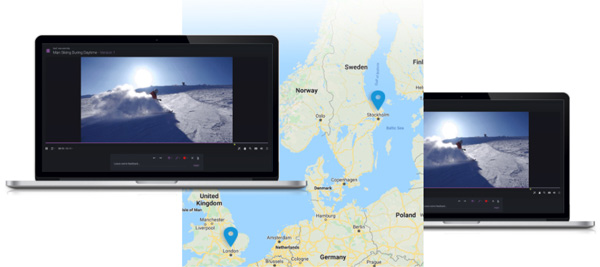 Synchronised review sessions in ftrack Review and ftrack Studio are responsive and accurate, unlike streaming, which is highly dependent on bandwidth, or screen sharing, which is often low resolution and delayed. ftrack review participants can add comments asynchronously and in their own time but can convert the review to a synchronised session at any point.
Synchronized review in ftrack runs on the same system as cineSync, an Emmy- and Academy Award-winning review and approval tool that ftrack acquired in October 2019. Synchronisation for two simultaneous reviewers is included as part of all ftrack Studio and ftrack Review workspaces. Users can then extend its reach to a wider team by purchasing the extra Review Pro add-on software, which raises the potential number of simultaneous sync participants to ten.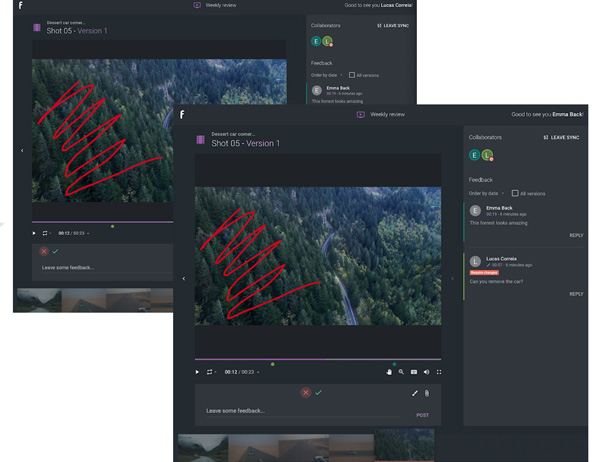 It also increases the total storage from 250GB to 500GB and the maximum video resolution from 1080p (HD) to 2160p (4K). In effect, Review Pro allows more people to supply simultaneous feedback, working with higher-quality media. ftrack CEO Fredrik Limsäter said, "ftrack with sync means creative teams can work in parallel regardless of the distance that separates them. This goal is important to us now. We're now developing other functions that help teams work together and focus their review cycles on what matters most, the art."
With the synchronisation, some other updates were made to media review operation in ftrack, including the default maximum 1080p video resolution and maximum 8192×8192 px image resolution. Side-by-side media comparison, dispalying two versions of the same asset side-by-side, and PNG support with transparency are also new.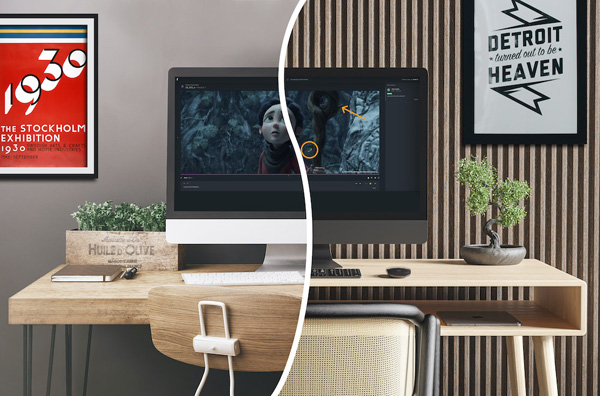 Video review shared between remote offices.
ftrack Studio 4.5
The above review updates and the Review Pro add-on are now part of ftrack Studio 4.5 as well, available now. ftrack Studio is the company's management, production tracking and media review application.
Version 4.5 also makes changes to producer workflows, improving spreadsheets, versioning and timeline views. To start new projects faster you can clone workflow schemas created for earlier projects. Common API queries are now faster, for example, when filtering on task names and querying custom attribute values. www.ftrack.com