ENVY Keeps Media Pipelines Moving on Media Shuttle Transfers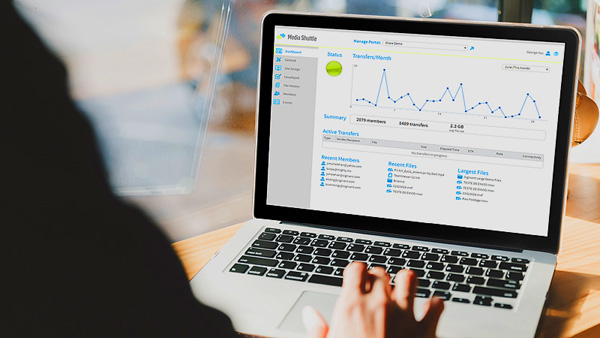 Since its launch in 2006, ENVY Post Production has been working from its office in London with studios, broadcasters and networks around the world including the BBC, Discovery and Netflix. ENVY's business has two sides – one side for short-form and advertising work, and a long-form broadcast content side producing TV programming from documentaries like 'Leaving Neverland' to entertainment and scripted series such as 'Top Gear' and 'Gold Rush'.
Services cover offline and online editing in Avid Media Composer and Symphony, motion graphics and VFX, colour and sound, supported by standards conversion, deep and LTO archiving, file transfer and a 24hr MCR service. While running all of these services, the team aim to keep the quality and accuracy of their output as high as possible, meet tight deadlines and maintain high security standards.
Early Adopter
ENVY was an early adopter of Media Shuttle, file transfer software developed by Signaint and supplied as a service. The company started using Media Shuttle in 2013, only about a year after it was released. Before that, ENVY used either FTP or regular consumer services like WeTransfer. But they realised that neither option was really appropriate for the size and value of the content they were working with.
They faced a number of challenges, from speed and reliability to security considerations, as well as the need to maintain a strong client-friendly experience. ENVY looked for a system that was a better match for their particular type of work and client base.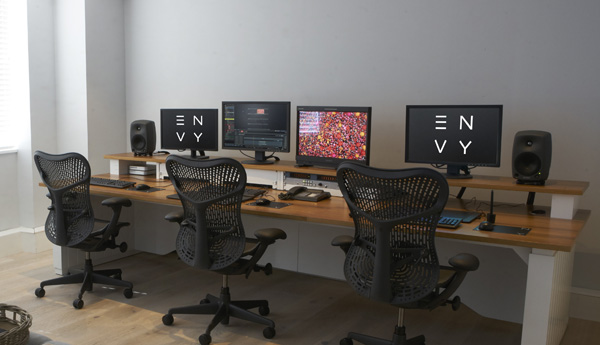 "When we began with Media Shuttle in 2013 there was nothing like it on the market for easy, fast, secure access to media assets for our team and partners anywhere in the world," said Jai Cave, ENVY's technical operations director. "Its user experience and the ability to custom-brand portals for each project sets it apart from similar systems available now."
Storage of Choice
Using Media Shuttle means ENVY has direct access to the scalability of the cloud for file management and transfer processes but they can still keep assets under their control, in their own storage -- on-premises or in AWS, Microsoft Azure or Google Cloud Storage. The Media Shuttle platform shares some attributes with online file-sharing services like Box or Dropbox, but Signiant does not re-sell or bundle the application with cloud storage.
It's also possible to allocate the same storage location for all portals or different storage for each one, and move content between storage locations for different purposes. An example is using Media Shuttle as a fast cloud ingest portal for archives and backups.
Task-Specific Portals
ENVY creates branded Media Shuttle portals for each of their projects, which makes moving files more straightforward for their employees, freelancers, clients and partners, and visually matches their brand. Via these portals, clients have a secured way to access assets and transfer files, from a web browser at any location.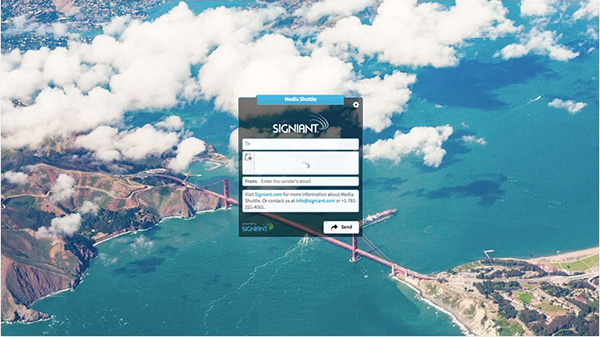 Three types of portals can be created to address different use cases. SHARE portals are set up to upload and download files within a designated storage location. They expose a file directory for a group of people to organise and browse files. SUBMIT portals just allow people to submit content into a single collection point. SEND portals are used to quickly send files to someone by entering their email address.
Media Shuttle users can create an unlimited number of send, share or submit portals for different projects or workflows, and customise each one with their own or their client's brand colours, logo and image background. Jai remarked, "We are client-facing, so the branded Media Shuttle portals are an extension of us, of our brand."
Flexible
Over time, ENVY has been using Media Shuttle across the organisation in diverse ways. They create pipelines for collaboration with VFX partners, for instance, and can centrally manage archive footage, and enable ENVY's supporting operations on demand, such as sharing proxies and full-res files. Meanwhile, they maintain complete control of all movements.
Their original 400Mb/s connection has grown to over 3Gb/s to accommodate larger files, and Signiant's acceleration system allows ENVY to take advantage of whatever bandwidth they have -- that is, it grows with their business. The faster the pipe, the faster Media Shuttle is able to deliver, and once the studiio started taking on UHD and even some 8K projects, the need for speed and reliability has increased.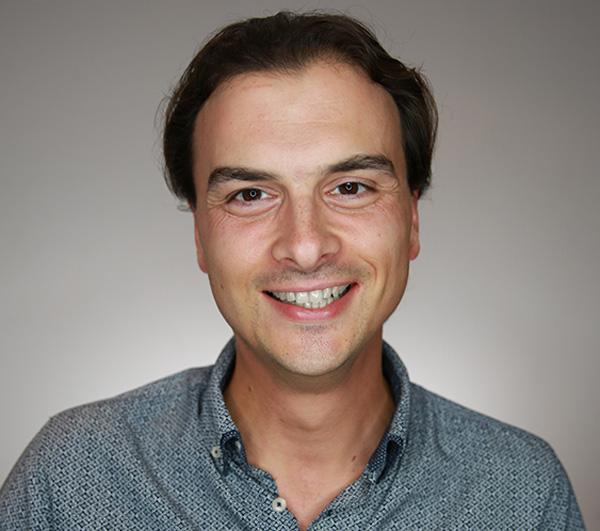 Adapting to a Hybrid Future
When the pandemic hit in March 2020, ENVY shifted relatively quickly to a full remote work environment, as they already had remote edit capabilities in place and Media Shuttle to move media around. ENVY was well-positioned and able to keep their projects moving without interruption. As a consequence, ENVY's use of Media Shuttle has doubled since this time last year
"We have successfully moved an entire facility to remote operation, from offline to finishing post, in a matter of weeks," said Jai. "We have been able to deliver on our projects without disruption and are looking forward to seeing some new filming start for future productions scheduled with us."
As production returns, they expect to continue with a hybrid approach — with some projects on-site, and some remote — for the foreseeable future. This approach, taking advantage of the cloud while maintaining control of assets so companies can collaborate with anyone anywhere, appears to be the future of post production. www.signiant.com