Adobe Creative Cloud Adds AI Tools, Stock Audio, UI/UX Refinements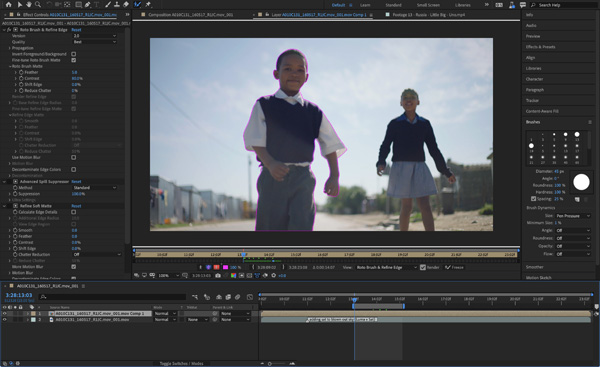 Roto Brush 2 in After Effects
Adobe has updated most of its Creative Cloud software, applying Machine Learning and Artificial Intelligence to some applications, extending Adobe Stock to sound tracks and sound effects and expanding options for Adobe Camera Raw in Photoshop. Also, Adobe XD continues to evolve into a collaborative design tool for UX design groups. Photoshop, Premiere Pro, After Effects and XD updates are covered below.
Photoshop – Precise Selections, Patterns and Camera Raw
Select Subject has been improved with new Sensei AI machine learning algorithms that make selections of portraits more accurate and precise, especially for hair. Select Subject is now content aware, and applies new custom algorithms whenever it detects a person is in the scene. Each algorithm performs a different task – find the object, make the selection, remove shadows, clean the edges and so on. The software first detects the type of object you're selecting and then applies specialised selection methods according to the content.

When working with Adobe Camera Raw, it is now possible to navigate to several different photo editing tools at the same time from organised panels, such as Adjustment Brush, Graduated Filter, and Radial Filter. The improved Curve panel allows you to switch between Parametric and Point Curve channels and make precise adjustments with input values for the point curve and the red, green, and blue channels.
Users can create and set ISO adaptive presets as raw defaults.
Options to merge photos is now available in the context menu to create a panorama or HDR panorama, and there are film strip orientation options such as horizontal and image-focused, or vertical with image names and ratings.
The Hue slider is accessible in the Adjustment Brush, Graduated Filter and Radial Filter panels. This slider allows you to change colours in specific areas without affecting the rest of the photo. Fine Adjustment is best if you're adjusting skin tone, when you need extremely precise hue adjustments.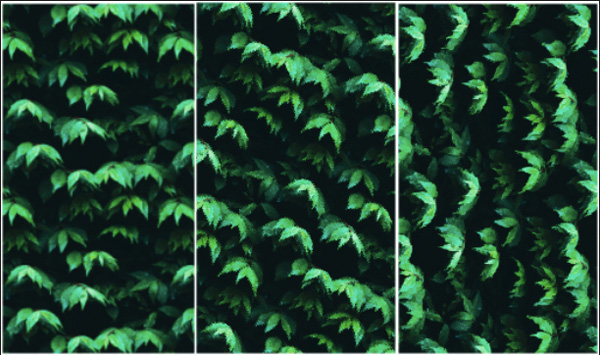 Roatable patterns
Aligning a part of the photo exactly in the centre of the frame has been difficult to do precisely owing to the 3x3 grid overlay. A new option is using a 2x2 grid overlay while cropping a photo, which guides you to precisely crop the centre of the photo.
Any pattern applied in Photoshop can now be rotated as a property of that pattern, similar to adjusting the scale of a pattern. Changing the rotation angle of pattern fills, pattern overlays and even pattern strokes, now becomes easier. The rotation is also non-destructive and can easily be reset or altered.
You can now find and sync Adobe Fonts more easily by opening documents while connected to the internet – Photoshop now automatically finds and adds all available Adobe Fonts to your libraries. Powered by Adobe Sensei, the Match Font feature uses advanced machine learning algorithm to detect the font used in a photo by matching it to fonts available on the user's computer or in Adobe Fonts and suggest similar fonts. The matching functions now support more fonts, vertical text and multiple-line detection.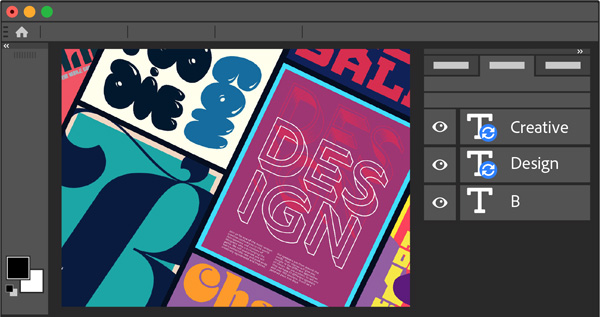 Automatically activate fonts
Premiere Pro - Adobe Stock Audio, Scene Edit Detection
This release of Premiere Pro includes Adobe Stock audio, a new integration that helps editors find soundtracks for video. Adobe Stock audio aggregates music clips from Epidemic Sound and Jamendo, royalty free music and sound effects suppliers. The integration with Premiere Pro is unusual for allowing users to search, preview and license audio tracks within the editorial workflow.
Thousands of royalty-free music tracks are available and users can search for suitable music based on mood, genre, tempo and duration through the Essential Sound Panel. For previewing several tracks, you can use Timeline Sync, built into the Panel, to test a series of music selections back-to-back, in sync with your edit in the timeline. You can also edit with the music in place without audio watermarks. You can complete an entire edit and mix with unwatermarked preview audio files, and in the end only license the music you want to use.
Music licensing is done directly inside the Essential Sound panel or from the Project panel. Licensed audio automatically replaces preview files with the high-quality version throughout the edit.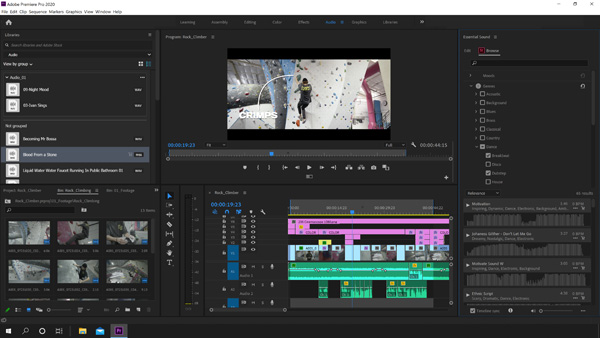 Adobe Stock audio in Premiere Pro
On MacOS, you can now use the Apple Afterburner video card with Premiere Pro to decode ProRes 422 and ProRes 4444 media - in other words, Premiere will decode in hardware instead of software. The Afterburner card accelerates ProRes and ProRes RAW video codecs in Final Cut Pro X, QuickTime Player X and supported third-party applications like Premiere Pro.
More AI and ML Tools to Come
As well as Photoshop, several Creative Cloud applications will soon have new functionality running on Adobe Sensei, the company's artificial intelligence (AI) and machine learning (ML) engine, to accelerate production tasks. An example is Scene Edit Detection in Premiere Pro, which will use Adobe Sensei to analyse exported or archived video files and accurately identify edits. Scene Edit Detection will automatically add cuts or markers at each edit point, turning rendered files into editable timelines and enabling per-clip adjustments such as colour correction or reframing.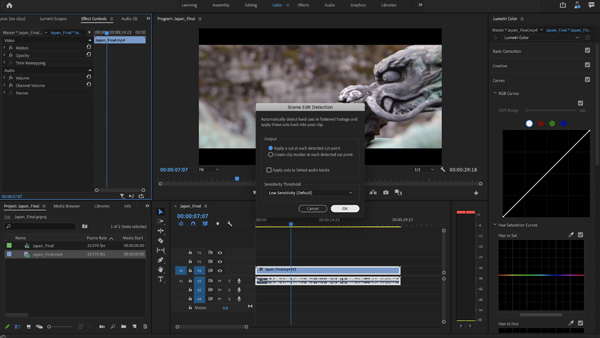 Scene Edit Detection in Premiere Pro
Roto Brush 2 in After Effects will make rotoscoping more practical for more users. Roto Brush 2 uses Adobe Sensei machine learning algorithms to generate more accurate mattes (see screen shot at the top of this article) when separating foreground and background elements in video sequences. Users first paint over the objects they want to isolate in a reference frame, including edge refinements for hair or other textures. Roto Brush 2 will remember and track the object automatically through subsequent frames, following its motion so the user can avoid manual frame-by-frame rotoscoping.
Adobe XD - UI/UX Design
In Adobe XD, the Creative Cloud application for UI/UX design, prototyping and collaboration, Stacks are a new way to work with groups and components in XD. Stacks are columns or rows of objects with set spacing between them. As you add, remove, reorder, or resize objects in a stack, all the other objects automatically adjust, maintaining the spacing as you change your designs.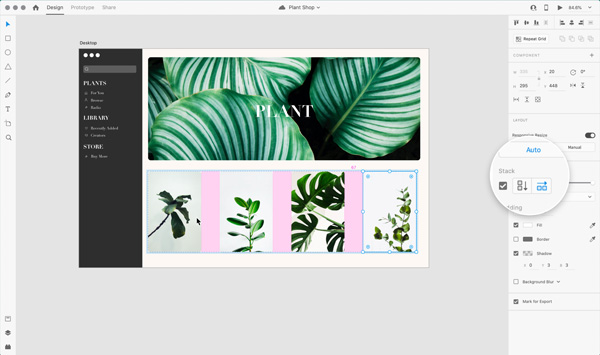 Component Stacks for XD
When you create a stack, XD detects the vertical or horizontal orientation. You can adjust spacing between objects right on the canvas, either distributing objects evenly or not. This helps minimise adjustments when designing common UI elements like cards, dropdowns, navigations and modal screens requiring user interaction.
Stacks and other Content-Aware Layout functions make components flexible and dynamic. Component can be taken directly from the user's design system and customised without having to reconstruct the component every time.
Scroll Groups make prototypes behave like live websites and apps. You can now make parts of your designs scroll for designing feeds, lists, carousels, galleries and so on. Any part of a design can be changed into a Scroll Group and set to scroll vertically, horizontally or both.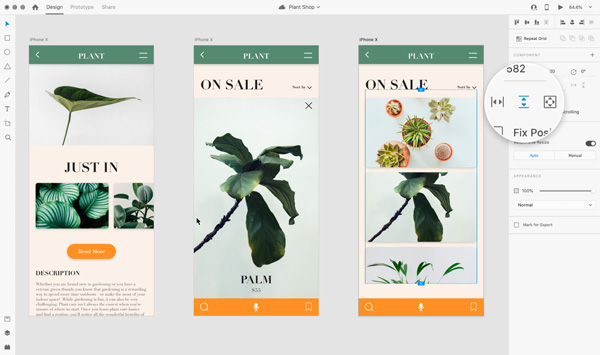 Scroll Groups
Design collaboration is a fundamental aspect of XD. Design Tokens are a new way for designers and developers to work together with XD. Custom names may be added to colours and character styles in the Assets panel that are automatically published into downloadable CSS files for developers. Developers can reference the CSS file in their code and any styling in the designs changes, they can take the updated CSS without having to update their code manually. It's not necessary to change the workflow or use additional tools.
The Creative Cloud app for Slack is used to share assets and receive notifications in order to stay up to date on design projects. The new Creative Cloud + Slack integration adds support for shared channels, introduces an Activity Stream to deliver updates, and has a series of new bot commands to manage notifications and give feedback.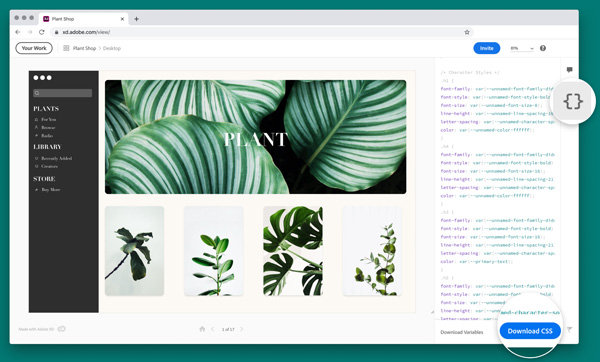 Design Tokens for collaboration
Chart is a new free plugin for XD that allows you to add data visualisations to designs very quickly. Chart builds editable vector charts – line charts, area charts, bar charts, scatter plots and others.
Chart can generate the data itself or you can use real data from Google Sheets, CSV, JSON or a REST API endpoint. Users can also customise the look of charts using Templates to customise colours, text styles, line thickness and other styles to be consistent with brand guidelines and associated designs. www.adobe.com