Brainstorm's new Tracking Exporter for After Effects works with The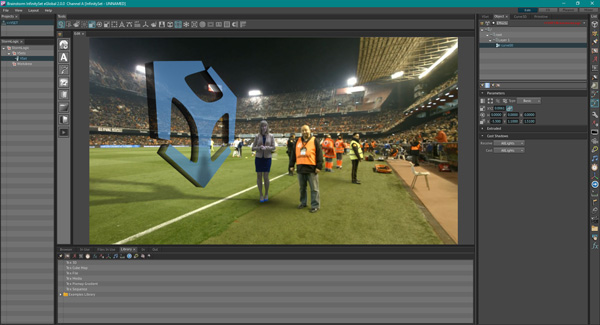 Foundry's CameraTracker plug-in to generate videos with tracking
data for AR applications inside Brainstorm's virtual sets.
---
Brainstorm's After Effects Plug-in Creates Tracked Video for AR Projects
Brainstorm Multimediahas developed a new application calledTracking Exporter for Adobe After Effects, in conjunction withThe Foundry's CameraTrackerplug-in. This application generates videos with tracking data forAugmented Realityelements, presentations and environments within Brainstorm'sInfinity Setvirtual set software.
The video tracking process begins withimage analysisin order to extract position and rotation information relating to the camera that originally recorded the video. From a video tracked in After Effects using The Foundry's CameraTracker, Brainstorm's Tracking Exporter generates a new video with integrated tracking information within the video archive. Once loaded into Infinity Set, this new video allows both people and 3D elements to be accurately inserted within it as Augmented Reality content.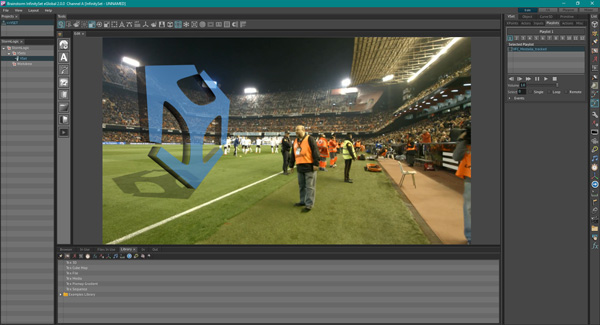 Brainstorm Multimedia is still the only company using the virtualTele-Transporter, which creates real-time insertions of live characters performing in a real-time event happening at a remote location. To keep the inserted character in sync with the real, live talent in the virtual scene, Brainstorm uses its independent camera tracking system,TrackFree, that can detect the exact location of the presenter and ensure the correct positioning of all talent within the same scene.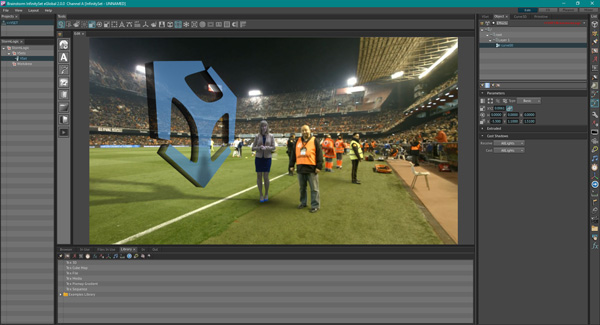 In this way, TrackFree combines in a single virtual camera the precision of a conventional camera tracking system with the ease of use of simpler, trackless virtual sets. TrackFree can use both internal chroma keying software and external chroma key hardware, even in the same production.
TrackFree can generate a true 3D representation of the live character from a video feed as areal-time 3D volumethat is continuouslyregenerated, repositionedandremappedbased on the camera parameters. For example, it allows the character to cast real shadows over virtual 3D elements while interacting with elements in the scene.
Infinity Set also allows the incorporation of external post-production tracking hardware and software data along with real-time tracking data, combining both with objects or sets in the scene. Also,external tracking datacoming from real cameras or other tracking software can be included as metadata in live feeds or pre-recorded videos, and immediately be transferred and applied to the virtual camera's parameters.
Now with the new After Effects Tracking Exporter, Brainstorm's Tele-Transporter can be used more widely. This developmenta also extends Brainstorm Multimedia's compatibility with Adobe After Effects, which began in 2014 when the company showed the first After Effects Exporter plug-in. This tool converts 2D After Effects projects into templates for Aston's Brainstorm software for real-time 3D graphics creation, CG and playout.www.brainstorm.es