Colorfront has demonstrated recent developments in its on-set dailies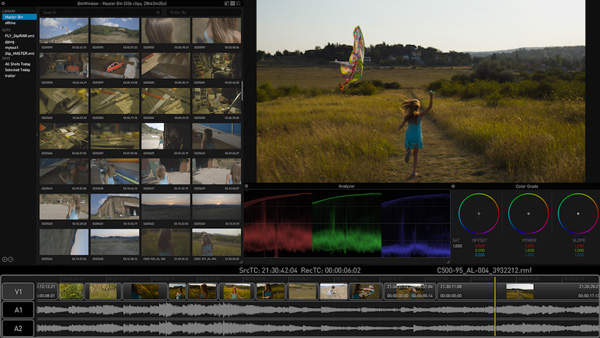 and transcoding systems, which currently support UHD HDR productions,
during the Cine Gear Expo 2015.
---
Colorfront Demos UHD HDR Production & Post at Cine Gear 2015
Colorfronthas demonstrated recent developments in its on-set dailies and transcoding systems, which currently supportUHD HDR productionandpost, during theCine Gear Expo 2015, held 4-7 June at The Studios at Paramount in Hollywood.
Colorfront products shown were the 2015 versions ofExpress Dailies, On-Set DailiesandTranskoder, all running on MacPro workstations, plusOn-Set Live 2015running on the new Retina MacBook Pro. All of the company's software is based onColorfront Engine, a colour pipeline with tools that a team can use to create looks on set, and then ensure the colour fidelity of UHD HDR materials and metadata through to end of post production. Within these tools, HDR is not an add-on facility but an integrated part of the pipeline, again, from set to the final delivery of the program or shots.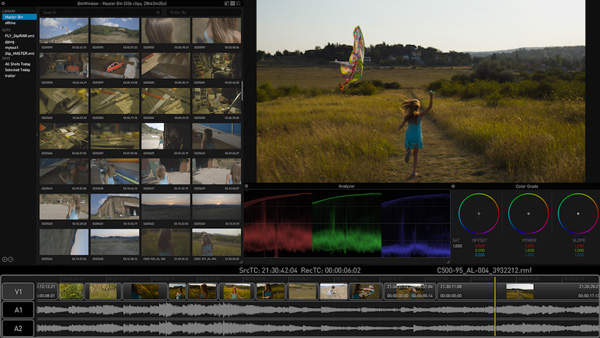 During Cine Gear Expo, Colorfront was demonstrated as a part of workflows supporting the newer colour, digital cinema camera and editorial formats. For example, fullACES 1.0support is now incorporated across the product line to produce complete ACES-compliant productions. Colorfront is a member of theACES Logo Program, recognising that the Academy Color Encoding System ACES is becoming a standard for managing colour throughout movie and TV production lifecycles.
Supported camera formats now includeARRI Alexa 65andAlexa SXT, Panasonic Varicam V-RAWandAJA Cion,plusSony XAVCencoding and decoding. Colorfront On-Set Live 2015 was shown grading footage from a Sony F55 camera using 3D LUTs stored onAJAandHDLink Pro LUT boxes. To show HDR monitoring and display, Colorfront demonstrated playback on professional and consumer high dynamic range UltraHD displays, including a 65-inchSamsung JS9500 UHD HDR TVset.
Supporting UHD post production, Colorfront showed rendering of4K DNxHRfor editing, finishing and delivering in 4K inAVID Media Composer. Also in AVID, Colorfront's standalone file-conversion and mastering system for digital cinema and UHDTV production,Transkoder 2015on Mac, was demonstrated creating4K DCPdeliverables from AVID DNxHR editorial footage.
Colorfront Transkoder in Action
Transkoder is now in use at major broadcasters such asBBC, NHKandMGO, and in VFX asset management systems such as TheCreative-Cartel's Joust, which uses the engine for 2K, 4K, 3D4K, 8K, UHDTV and high frame rate processing tasks. The Creative-Cartel is a digital pipeline management company specialising in digital workflows for feature films.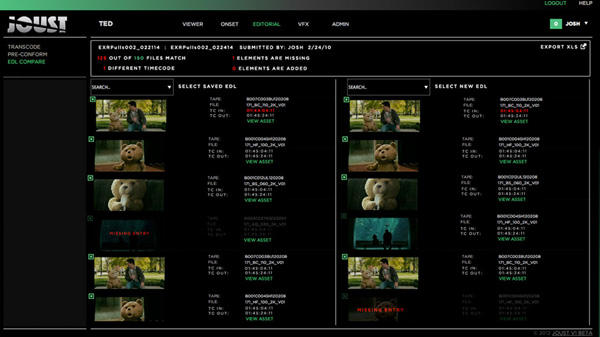 On-set or near-set, their team controls camera data using their ownJoustsoftware and various third party applications, moving EDLs, VFX dailies and metadata from camera to post to delivery on screen. Joust works as a digital repository through which VFX vendors access and distribute RAW assets, cyberscans, their VFX composites and other work-in-progress, plus camera reports.
The Creative-Cartel runsColorfront On-Set Dailiessystems for near-set operations, andTranskoder Engineto power six Joust VFX management systems. These systems are packed into flight-cases built to follow productions working on locations, using SFTP or Aspera to set up fast broadband connections with VFX, editorial and DI facilities.
The Creative-Cartel collaborates with each production in advance to establish the workflow, file formats and file-naming conventions required, and to assign Transkoder Engine pre-sets accordingly. Transkoder typically undertakes the initial 'heavy lifting' processes of transcoding RAW files to the various DPX, EXR, QT and MXF files formats the VFX and editorial teams and DI finishing studio will use. It is also capable of outputting most other codecs and mezzanine delivery formats currently in use.
Following this stage, Transkoder Engine continuously reads and auto-conforms the EDLs from editorial. Users can select the RAW pulls and deliverables they need using pre-sets in Joust, which then pushes these assets to the vendor in the required format. Joust also has a dailies viewer used to review shots-in-progress, and a live interactive review function for dispersed teams.
Jenny Fulle, CEO of Creative-Cartel said, "Being able to use Transkoder as part of an automated system, meant we could develop Joust into a standalone package that users can interact with directly themselves. Once production is set in motion Joust's functionality is automated via a web user-interface. Depending on the file sizes, turnaround times can be shortened to the point that delivery is close to immediate." Editors and editorial teams, for example, don't have to wait several days for VFX pulls to arrive.
Jenny said that what has separated Transkoder Engine from alternative transcoders is the ability to write directly into theTranskoder API. Other systems they evaluated had a translator step in between, resulting in a more complicated workflow. Colorfront products are generally ready with support as new cameras and formats emerge as well. She also said that her company is considering moving into automated cloud-based operations, and therefore looking forward to the next developments from Colorfront. www.colorfront.com