Sweden's VFX studio Fido created retro-style looks and 400 effects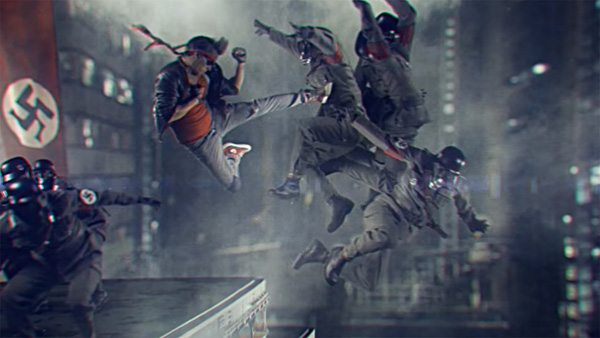 shots for comic thriller 'Kung Fury', working with Autodesk 3D software
and their in-house production tracking tool, ftrack.
---
Fido Packs High Action VFX for 'Kung Fury' with Autodesk and ftrack
Following a successful Cannes Film Festival premiere, the short film comedy'Kung Fury', inspired by 1980s action thrillers, recently made its debut online. The 30-minute film follows a kung fu-fighting cop from Miami as he time-travels from the '80s to the 1940s on a mission to take out Adolf Hitler – an unmissable storyline augmented by hundreds of frenetic VFX shots. Watch the film,here.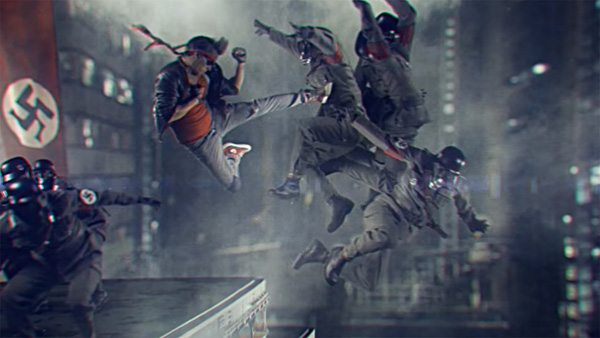 Apart from the overwhelming success of the 'Kung Fury' trailer, which has so far received well over 11 million views, and its Kickstarter campaign funded by 17,000 supporters, the project has some unusual aspects in its background and production. One is the director,David Sandberg, who wrote the script, took the lead role and created the visual effects for thetrailer. To refine and build out the scope of the effects for the film itself, he hired VFX studioFido, located in Stockholm, who completed about 400 shots for the project.
Singular Vision
David Sandberg, after directing many music videos and commercials over the years, was able to shoot the scenes for the initial trailer and produce the effects himself. Aware that the out-dated look for the film – sending up 1980s video and filmmaking techniques and fashion – had attracted many of his backers to the project, he was keen for Fido to recreate this style faithfully. Their team got started on 'Kung Fury' shortly after the crowdfunding effort had concluded in early 2014 and worked through a seven-month post production period, completing the project in April 2015.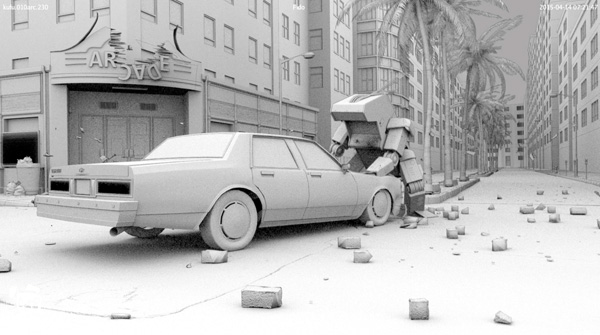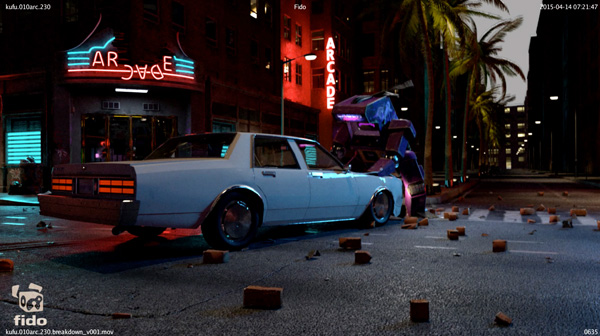 "For the trailer, David had done more or less all of the VFX by himself," saidNils Lagergren, executive producer at Fido. "Those scenes were included in the film, but about 90 per cent of the new VFX shots were produced by Fido. David is the kind of director who has a very strong creative vision, but also a deep understanding of the work process. This meant we could discuss the VFX shots from both a creative and technical angle with him."
Both David and Fido's 46-person team of artists created the assets withAutodesk3ds Max, MayaandMudbox. The 'Kung Fury' story unfolds in three major environments – an inner-city street intersection, a police station interior and a huge steampunk-style Nazi hall. Fido created each environment digitally and then integrated the work with live action green screen footage of actors. Given the trailer assets David had originally designed in 3ds Max, Fido transferred the files to their Maya workstations using Maya's Alembic support.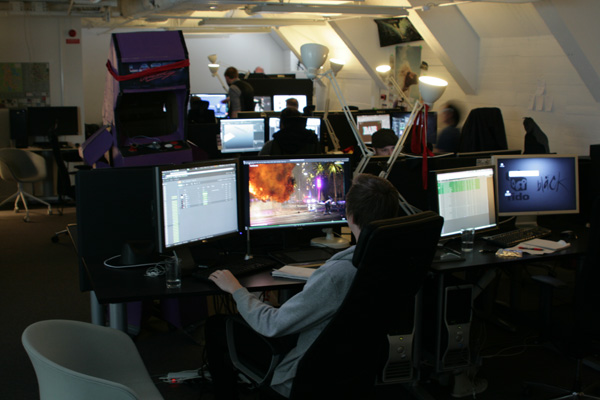 These assets served as an aesthetic guideline to model, texture and refine the film's environments, elements and main CG characters, including two robots, a Tyrannosaurus rex and an eagle. After finalizing the VFX work and compositing, Fido's crew then applied a specially designed filter to the images to achieve a look resembling VHS footage that David envisioned.
In the Studio with Fido
During post-production, David and the team from his company Laser Unicorns moved into Fido's studio to help guide the project. This arrangement helped them work very closely with David, for example, when finding the proper 'VHS-style colour aberration' look he envisioned for the film. Having him in-house also made sure that time wasn't wasted on waiting for feedback, which helped the production stay on schedule.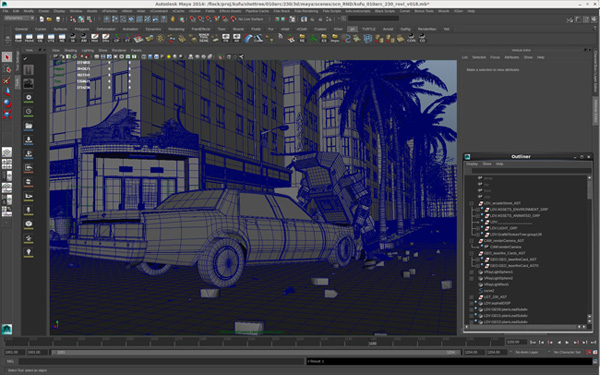 David's direct involvement in the project as he continued to tweak his vision during production meant that Fido needed to adapt readily to changes. "In any project of this type, it's important to keep track of different versions of shots and assets. 'King Fury' was especially demanding in this way," Nils said. "Like the trailer, the production of the film had an organic and flexible nature, with edits, shots and effects re-imagined from start to finish."
Fido's team are the developers offtrackvisual effects production tracking software, and therefore know how to take advantage of it. ftrack started life at the studio in 2008 as an internal production tool, eventually evolving into the commercial product now available for sale to other studios.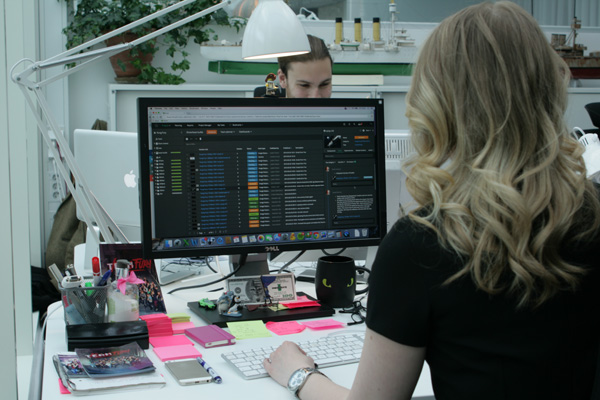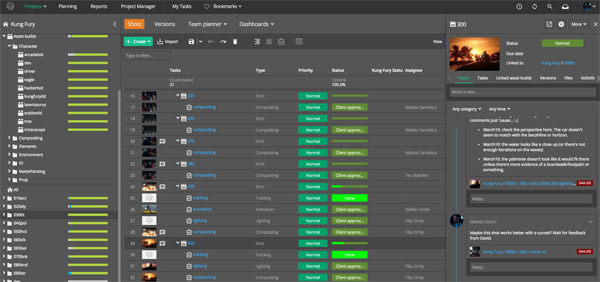 "Using ftrack, we can handle projects of any size using the same production management and workflow structure, regardless of whether it's just one shot in a commercial or a 400-shot project like 'Kung Fury'," Nils said. "This structure also allows a degree of inspired improvisation without losing direction – that was an absolute necessity in the 'Kung Fury' project."
Top-Down and Close-Up
As well as scaling between large and small projects, ftrack also lets you see individual projects from macro and micro levels. On 'Kung Fury', which features effects ranging from giant creatures to machine gun muzzle flashes, the ability to view the project at different user-levels was quite useful. Nils said, "You can fly high above the project and keep track of the general progress of it with the Status and Time Reports, for example. Then you can useNotesto dive down into small details whenever you need to, to look up-close on a shot or task level."

The Notes tool allows the studio to manage multiple artists without wasting time. They could swap and change artists between shots without stopping to bring them up to speed on each new assignment because all of the progress information they needed was stored in Notes. They sometimes had over 100 submits in their dailies sessions and used Notes to efficiently distribute feedback and instructions.
Fido also put some custom tweaks into ftrack to align it to specific needs for the show. One was to add customShot Category tagsfor characters in the film, so that they could be sorted and artists could focus on specific characters or creatures in their work. Another customisation built on ftrack's existing integrations with other software such asNUKEandMayato add extra functionality. Fido also has acustomisable launcher, for example, and various other tools.http://fido.se