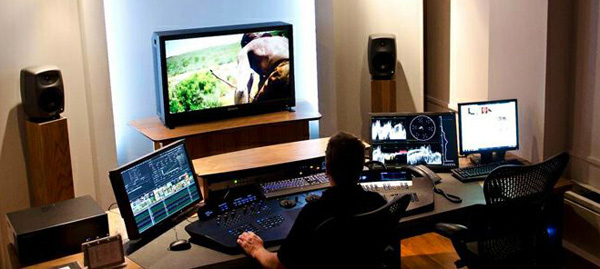 ENVY Post Production in London, like media facilities around the world, moved its entire facility, from offline to finishing, to fully remote operations in a matter of weeks in early 2020. In terms of delivering on projects without disruption, their move has been successful.
Technical operations director, Jai Cave, believes ENVY's ability to adapt to cloud-based systems helped the company continue working under challenging circumstances. Aware that the pandemic has also pushed the industry to migrate to more expansive remote collaborative workflows, the team has developed and introduced ENVY Remote, a full-service collaboration platform. The software unifies their artists and producers across departments and locations, making it easier to manage post production projects.
Development Journey
Reaching its final design has been a development journey for the team at ENVY. But now, under one secure login, in one platform and interface, ENVY Remote supports remote editing, file exchange and organisation. Users can conduct live chats, generate review links, notes and tasks, and set up calendars and virtual storyboards. All of the functionality is available on the desktop and via mobile devices and is designed for multiple users across varied locations, on-site and remote.
For example, teams can access their Avid workstations remotely, add edit and production notes with versioning control, and import comments directly into Avid. Members can live chat with the team and assign tasks to individual team members.
Via ENVY Remote, both the editors and the producers can access editing systems and work within the same project simultaneously. Changes are visible in real-time, so that supply chains are not held up by the need to repeatedly send versions of a file back and forth.
Structured Media Automation
When a new project is created, ENVY Remote grants access to content by automatically creating portals in Signiant's cloud-native SaaS Media Shuttle with a template of folders, already set up and complete with administrative permissions that can be tailored to serve the folder structure. From the teams' point of view, the application broadcasts texts to individuals with passwords, emails and instructions, making the process largely self-service.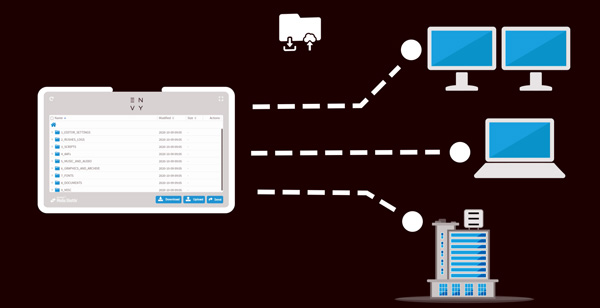 Once teams are given access to their Client Store of project content through Media Shuttle, clients can organise the environment as required. They can rearrange, reject or augment the template and continue to add new folders as necessary.
At this point in the development of Remote, ENVY realised that giving users this much control over production exposed a lot of production complexity. Quantities of content had to be moved around – large files and thousands of smaller ones – and a substantial number of applications taken into account. It was necessary to think about integrations and file transfer.
Integration allows the platform to work behind the scenes without developing internal software to perform tasks that facilities already have tools for. What makes ENVY Remote useful is that it doesn't replace the products that organisations rely on. Instead, it creates a hub through which access to all necessary applications and personnel is simple and natural, and makes workflows efficient.
Files on the Move
When working with ENVY Remote, users need a secure and efficient way to move content into and out of the platform. For this, ENVY uses its service called Files, based on Signiant Media Shuttle to give the team secure access to their Client Store, allowing them to upload all types of audio and video files directly to editorial.
"All projects have secure access to the Client Store internally, but now users working on the project remotely have direct access to it via Media Shuttle," said Jai. "This allows them to upload content to editors and the wider team, who may be working on-site or remote."
Although methods vary when ingesting larger files – some producers still ship their footage and dailies via drives – he has noticed that Media Shuttle is used more often now for rushes transfer to make sure assets reach ENVY securely and on time. Therefore, Signiant is woven into ENVY's platform on a foundational level.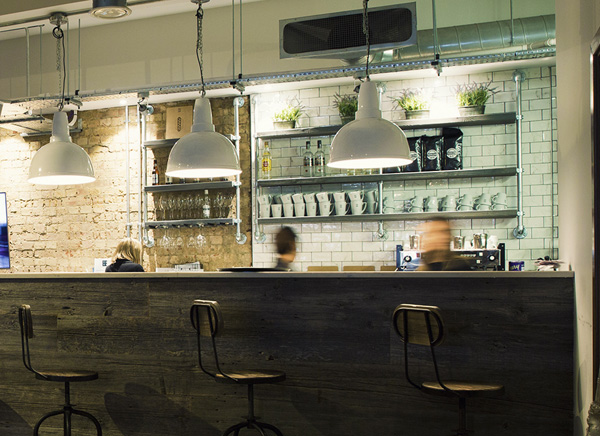 Speed, Security, Flexibility
"There are three advantages to Media Shuttle," he said. "Full acceleration is one, because people need to receive material as quickly as they can. Security is another major factor, and it also brings flexibility. Clients could use a Dropbox account or WeTransfer for some tasks, but that involves an external service and it doesn't actually link into our infrastructure on-site. For us, the purpose of the Remote platform is to serve as an extension of on-site. With Media Shuttle, we can set up the portal and don't need to add outside entities to the mix."
In contrast, online file-sharing tools may put limitations on file size, especially for M&E companies working at up to 8K, and potential security risks regarding control over the destination within a complex organisation like ENVY.
Businesses are making remote collaboration and distributed production a permanent part of their workflows as a more adaptable way to work and open themselves to new opportunities. Their teams need systems that make it easy, fast, and secure to access their assets quickly, connect teams dispersed teams, and manage complex supply chains. envybroadcast.co.uk