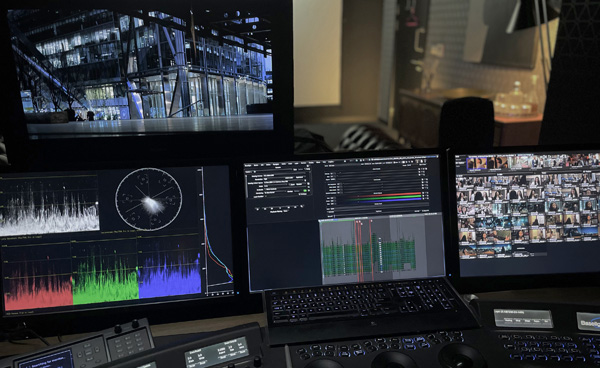 Sony Trimaster BVM-HX310 LCD monitor in use at Gorilla Group's Cardiff Bay headquarters.
Film and video production house Gorilla Group operates from headquarters in Cardiff Bay adjacent to BBC Wales' Drama village. Gorilla was established in 1999 and is now Wales' largest post production company, occupying five floors at Cardiff Bay with annex facilities in the city. Its facility delivers all post services and hundreds of hours of content to UK and International Broadcasters. The studio is Netflix and BBC Worldwide accredited and encompasses over 80 Avid edit bays, UHD/HDR colour grading on Baselight, ProTools audio suites and VFX.
"4K HDR has become the default standard for all digital film and high-value TV productions," said Rhodri James, Director of Technology & Operations, Gorilla Group. "4K HDR is capable of capturing content in extremely realistic quality but needs very careful monitoring throughout the post production process to ensure those qualities are carried all the way through to the viewing audience.
"After evaluating the various high grade 4K HDR monitors currently on the market, we recently chose to purchase the Sony Trimaster BVM-HX310 LCD monitor for its picture quality, operational versatility, logical control features and flexible connectivity."
HDR Standards
The BVM-HX310 supports standard EOTFs (Electro-Optical Transfer Functions) for HDR including SMPTE ST.2084 and ITU-R BT.2100 (HLG), the standards used to match broadcast and feature film requirements. For live and post production applications, further EOTF tables include S-Log2 and S-Log3 for HDR and S-Log3 for Live HDR. By supporting VPID (Video Payload ID) the monitor identifies the EOTF, colour space and RGB source information embedded in the SDI signal and adjusts its settings automatically.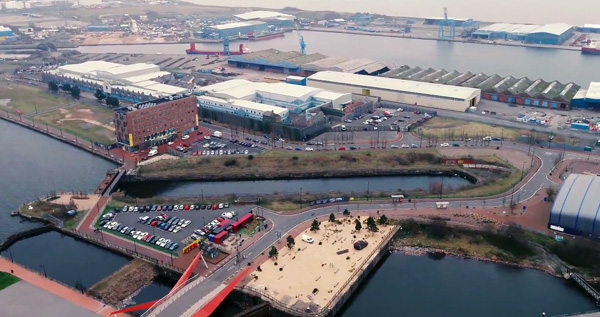 GloWorks Creative Industries, Cardiff Bay.
It has a single-cable 12G-SDI input for integration into the existing post pipeline, plus connections for 3G-SDI, HD-SDI and HDMI. Users on set or in post can check the effect of different LUTs, loading customised LUT files for comparison during pre-grading or with a different EOTF. A Quad View Display mode permits up to four sets of display settings to be compared including EOTF, colour space, transfer matrix and colour temperature, contrast, brightness and chroma.
From OLED to LCD
Gorilla bought the monitor through supplier Big Pic Media, who also organises support for their existing BVM-X300 monitor. "Their support made good sense for us commercially because OLED panels have to be used carefully to avoid burn-in and are expensive to replace. On the other hand, we expect that, as an LCD monitor, the BVM-HX310 will have a long working life as well as better power efficiency than the OLED generation. Wide-gamut colour rendition is maintained across all luma levels from daytime highlights to night scenes."
Due to its million-to-one dynamic contrast ratio and dual-layer LCD, it can reproduce very bright images, but still deliver the true blacks that until recently could only be achieved with OLEDs. With a processing delay of less than one video frame, the monitor is a good choice for broadcast where delays are more critical. Users have seven assignable function buttons alongside the manual controls for aperture, chroma, brightness and contrast.
Colour Calibration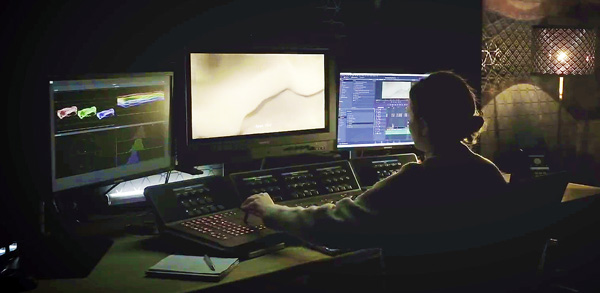 Big Pic Media also supplied Gorilla with a Calman colour calibration package made by Portrait Displays, which Gorilla uses to check the performance parameters of its monitor displays in detail and make sure of consistent image quality between its grading, mastering and edit suites. The supplied system comprises Calman Ultimate software, a C6 HDR2000 colorimeter and VideoForge PRO pattern generator.
The kit has the tools needed to carry out precise monitor calibration in just a few steps. The software outputs a display calibration report to ensure conformity with streaming TV services such as HBO and Sky, as well as Netflix and BBC Worldwide. The BVM-HX310 also has a software-based colour temperature, or white balance, calibration function, accessed via a PC and these calibration tools. www.bigpicmedia.net