.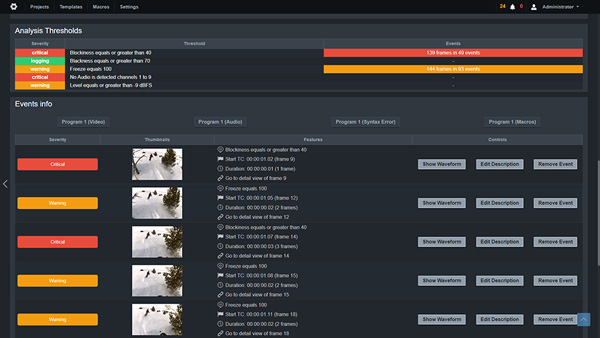 QScan automated quality control software now includes High Dynamic Range (HDR) measurements in its media compliance process. It also has a new, easier to use web-based GUI, and is now equally accessible to professional and occasional content creators via a pay-as-you-go monthly payment model.
The updates reflect various changes taking place in professional video production, delivery and distribution. Qscan now makes the quality control process more comprehensive and gives access to analytical detail within content that is especially relevant for media compliance today.
Daniel Roques, QScan Product Manager said, "QScan now includes functionality that a growing number of users need to deliver extremely high quality content. We are also making it more affordable for all users and easier to integrate into video workflows." A wider range of producers is now preparing content for distribution, including those with limited experience of compliance testing. LWKS wants to make their automated tools as accessible and affordable to all producers as possible.
HDR and IMF
Users can now measure the underlying video levels in HDR content. By enabling the gamut for HDR, users can measure Maximum Frame Average Light Level, maximum Contrast Light Level (MaxFALL/MaxCLL values), with graphical representation throughout the file, and check for pixels violating colour space restrictions, with visual representation in a new CIE Diagram. The SDR and HDR reports also have more parameters for different formats.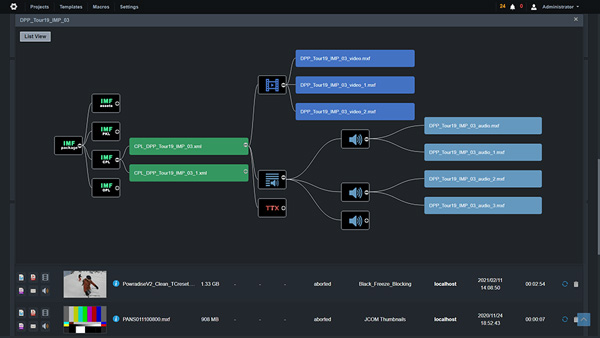 IMF compliance
The software also makes it less critical for users to have technical engineering knowledge. Creating IMF compliant files, for example, needs an image track, any number of audio tracks, data tracks such as subtitles and captions in IMSC Times Text, and dynamic metadata in human readable XML. Using a template, QScan automatically checks for all of these requirements and makes sure of compliance according to Application #2, Application #2 Extended and SMPTE-2121 (application DPP) and then displays an IMF package diagram view.
Templates and Macros
QScan is preloaded with templates for other industry standards as well, including OTT/VOD services like Amazon, Netflix and HBO, or YouTube and Vimeo, and broadcast standards. Custom templates and macros combining many different measurements may be created and adjusted to match user-defined analysis parameters. This kind of automation avoids human QC errors and is faster.
Using a visual timeline, you can see the results of the automatic testing QScan has performed. Comparative Analysis is also visual. Users can evaluate and identify differences between versions of the same file, for any parameter, with both global and detailed timeline views of up to four files at a time.
The Qscan user interface has been redesigned for ease of use and accessibility in mind. Users select files and custom or ready-made templates directly through the UI, which is web-based and accessible from anywhere through a browser.
Technical and occasional users can access and move between QScan's tools and their own third-party applications more easily now using LWKS' API. A facility can integrate Qscan into existing pipelines without changing the workflows from the users' point of view.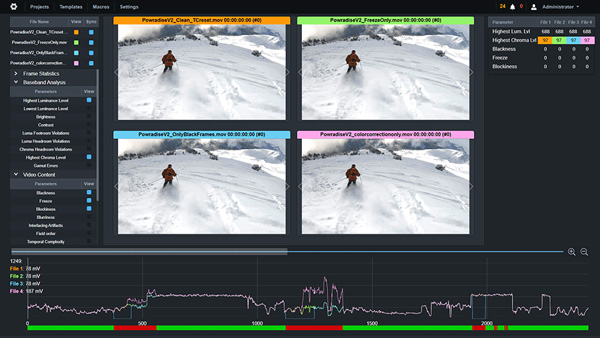 Timeline views of up to four files at a time.
Pay As You Go
LWKS are making the different versions of QScan 2021 available via a new pay-as-you-go pricing model so that users can access the different QC features according the requirements of each project, only paying for what they use. Licensing is based on how many instances of QScan are running, not the hardware environment they are running on.
QScan One processes one file at time and suits small post facilities that don't need to check large volumes of media concurrently. QScan Pro supports up to four concurrent scans. Users can work with user defined projects, access files located in network servers, send reports and automate actions on media based on results.
QScan MAX is for larger post and broadcast enterprises working with HDR content. By adding nodes, users can scale up QC workflows to handle quantities of files simultaneously. This version is required for macro customisation and creating specific combinations of parameters for advanced QC. QScan Max also includes new pre-made templates for different platforms including HDR checks. www.lwks.com