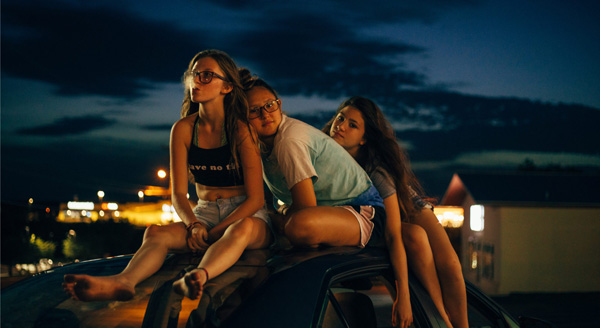 Freelance Senior Colourist Andrew Francis graded a new documentary titled 'Cusp', winner of a US Documentary Special Jury Award: Emerging Filmmaker at the 2021 Sundance Film Festival. He carried out the grading work from London in a home studio he devised at the beginning of the pandemic.
It comprises the DaVinci Resolve Mini Panel, Teranex Mini SDI to DisplayPort 8K HDR and UltraStudio 4K alongside an Apple Pro Display XDR monitor – all of which he uses to work in DaVinci Resolve Studio software. Since starting to use this set-up, he has been able to deliver the same quality of work remotely that he was used to delivering from a larger post house environment.
Directed by Isabel Bethencourt and Parker Hill, 'Cusp' follows three teenage girls in a Texas military town as they confront the dark side of adolescence at the end of summer. The 2021 Sundance Film Festival was the film's premiere.
Close-up, Authentic Portrait
Codirector Isabel Bethencourt described the film as a close-up, true portrait of three teenage girls in Texas that explores what it means to grow up with trauma. "After spending so much time on the ground, immersing ourselves in the lives of our main characters, we wanted to enhance the natural richness of Texas with authentic, intimate colour," she said.
"We started collaborating with Andrew early on during production by sending stills to set looks from. This was so helpful in understanding what we could get away with in-camera and how flexible the process was going to be for us."
"From that stage, working remotely on the grade didn't require changing the workflow at all," said Codirector Parker Hill. "Andrew was able to bring out even more complexity in our colour than we thought possible. The look of this film is so important to understanding the tone of the story, and Andrew's work helped widen the scope of the project for viewers."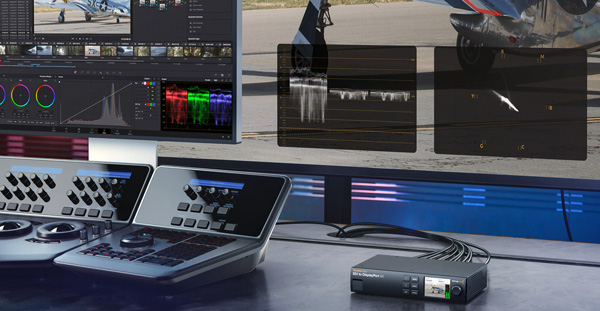 Teranex Mini SDI to DisplayPort 8K HDR
Accurate and Consistent
"The plug and play nature of the setup is very efficient. I have been working in some of the world's top post houses for well over 20 years and find my at home system is not only straightforward to use, but also precise," said Andrew. "Using the UltraStudio 4K and Teranex Mini SDI to DisplayPort 8K HDR gives me confidence that the content I'm monitoring is accurate and consistent with what the production – and viewers – would be seeing. The on-screen scope display has versatile positioning and sizing options, and the devices run very quietly."
Teranex Mini 8K HDR is a professional grade monitoring system for large screen DisplayPort monitors, and is built for studios and broadcasters who need colour accuracy. Unlike a basic converter, it can use third party calibration probes to accurately align connected displays to increase colour precision. It also works with recent model 8K DisplayPort monitors. Users can display two on-screen scopes at once, selecting between WFM, Parade, Vector and Histogram.
"This setup has meant I need less hardware and can limit space devoted to equipment in my home suite. By sending my signal from DaVinci Resolve Studio through the UltraStudio 4K to a propriety IP encoder system I've been able to send my clients an experience as close to 'in room' as we could make it, independent of location, which has been crucial over this past year," he said.
London to New York and Back
He has seen a steady stream of projects, mainly shorts and independent films, over the past year and into 2021, despite the pandemic. As part of the post production process for 'Cusp', Andrew in London collaborated with Samuel Gursky from the post house Irving Harvey in New York, who used DaVinci Resolve Studio for the conform and consolidation of the camera media.
"When Irving Harvey finished conforming, all they had to do was share a .drp file and I was up and running with the colour grade. Since we were both using DaVinci Resolve Studio, we were able to collaborate whenever needed. It was as if we were in the same building, instead of on different continents across the Atlantic," said Andrew. Resolve .drp files are used to back up work and move it to a new machine, where it will launch Resolve and load that project into the Resolve database.
Senior Colourist Andrew Francis, freelance
True Narrative
Andrew's goal as a colourist is always to further the narrative with colour without being too heavy handed. "I have quite a distinctive colour approach and DaVinci Resolve Studio is instrumental for me. I try to achieve the vision of my collaborating filmmakers with as few adjustments as possible so that the work appears elegantly photographed, organic and most importantly, in camera. A significant part of the colourist's job involves hiding his or her hand," he said.
"Furthermore, the DaVinci Resolve Studio workflow means that I can align my render and QC processes – they are consistent for the different deliverables – and make the job simpler. Creative colour grading is very rewarding, but when a colourist fails to deliver the final renders perfectly, the client's confidence is lost.
"While freelancing, avoiding simple errors is paramount. 'Cusp' was one of those projects in which the colour process combined with the directors' vision to really beautiful effect, but once we stopped work, I still needed to print two masters, DCiP3 and REC_709, on a very tight deadline for Sundance. DaVinci Resolve Studio brought us over the finish line." www.blackmagicdesign.com