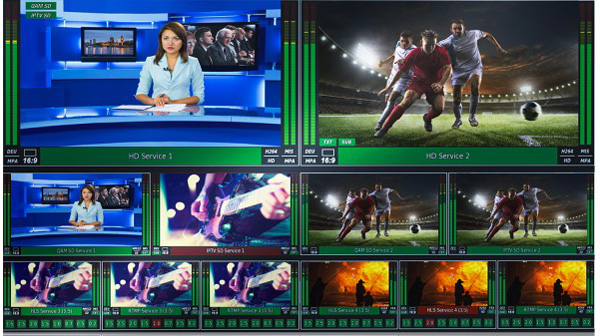 R&S PRISMON Multiviewer
Rohde & Schwarz has updated CLIPSTER mastering system for feature films and episodic TV with advanced Dolby Atmos and IMF capabilities and developed Scalable Distributed IP Multiviewing for R&S PRISMON for broadcast and OTT.
Rohde & Schwarz CLIPSTER has a new software upgrade (version 6.9.1) including extended support for Dolby Atmos multi-channel surround sound production and the latest IMF (ST2067-X) delivery standards.

CLIPSTER is a long-standing production tool for visual QC, DCP and IMF mastering, as well as generic file transcoding. This new version of its software targets content producers delivering home entertainment content. It ensures that whether the need is for a distinctive audio experience or full motion video, media content can be mastered and delivered via a wide range of IMF-compliant streaming service providers.

In recent years, Dolby Atmos has successfully spanned multichannel surround sound environments including 5.1 and 7.1 soundscapes. Now, CLIPSTER users can add all variants of Dolby Atmos files to their edit timeline very quickly and edit them in the same way they would edit any other file. Users can create IMF packages that feature Dolby Atmos audio, and perform real-time QC including the immersive audio tracks prior to and after the creation of the deliverable.


Whether the package is for streaming services from the major studios with their own channels or for OTT services, IMF has significantly changed the international content creation market, resulting in a level playing field for all sizes and scales of production operation. Broadcasters around the world are also adopting IMF as a way to accelerate their workflows for packaging content to their global partners.

Now CLIPSTER supports the most recent IMF standards, as well as supporting legacy content that was created using previous IMF standards. The revised standards simplify the distribution and archival of IMF content packages by removing previous constraints regarding the required types and number of assets referenced by the Composition Playlists.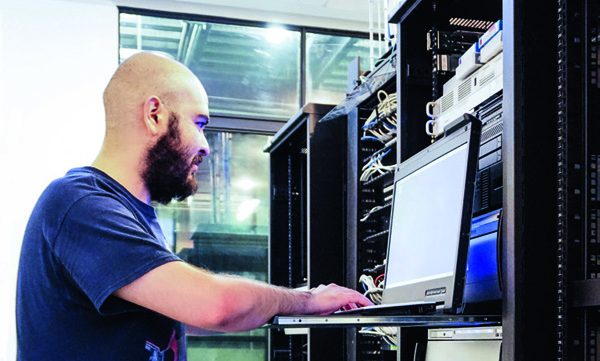 Scalable Distributed IP Multiviewing for R&S PRISMON
R&S progresses IP-based monitoring with scalable distributed multiviewer features in R&S PRISMON broadcast channel monitoring and multiviewer system, increasing flexibility and reducing processing power needed to support the network.

New IP-related functionality now available in PRISMON is set to make a major difference in IP workflow multiviewing. Its scalable distributed multiviewer feature gives a large margin of configuration flexibility for users through its any-to-any function. This feature can be added to existing PRISMON installations to allow any input to any output connectivity through IP proxy networks for up to 36 remote devices.
When this scalability option is applied, users can display a mosaic view on one PRISMON system, with input services decoded on any other PRISMON system within the same proxy IP network. For example, users can render a view with multiple UHD inputs that would exceed the decoding capacity of a single system. Furthermore, it helps overcome the fact that only a limited number of physical ASI and SDI interfaces are available on a single system.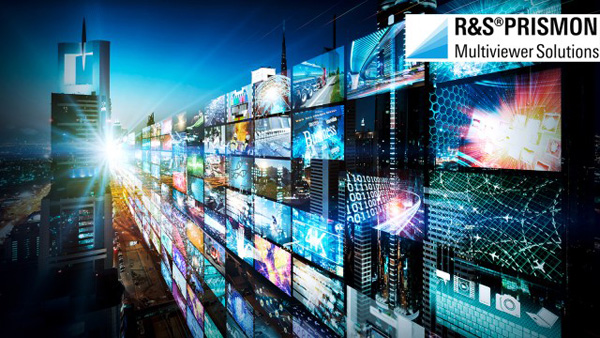 Through its Scalable Distributed Multiviewer (SDM) functionality, Rohde & Schwarz is targeting the large market of studio galleries and master control rooms that are planned to migrate to IP-based workflows. At the same time, the multiviewer functionality can be used to adapt the specific production resources needed to support new UHD production formats.
As well as more flexibility, the new Scalable Distributed Multiviewer Function has been designed to address several other common issues found within IP-based production and distribution networks – in particular, resource allocation. The latest version of PRISMON needs notably less CPU power and fewer decoding licenses. The SDM feature also has higher networking flexibility and is part of a series of new tool sets that will allow configuration of a large number of PRISMONs through a centralised control user interface – the Multiviewer Control Center. www.rohde-schwarz.com