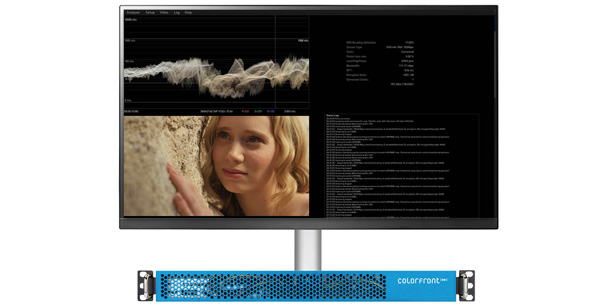 The new Colorfront Streaming Server is a live-streaming appliance built to carry out a range of post production operations remotely and in real-time, and assure colour fidelity.
The new hardware combines critical elements of Colorfront's On-Set Dailies, Transkoder and Colorfront Engine systems and can be used to set up an environment in which all teams, individuals and multiple clients – remote and local – can collaborate. All participants can simultaneously see the same material with identical colour accuracy, in grading suite or screening room image-quality.
Transkoder software automates digital file deliverables up to 8K for broadcast, studios and VFX production. Based on GPU architecture, it uses commodity hardware to transcode, decode, convert, wrap and process files to various formats in faster-than-real time. On-Set Dailies handles colour grading, high-resolution playback, audio sync, and media and metadata management, and produces simultaneous faster-than-real-time deliverables.
The Colorfront Engine colour processing pipeline maps various input formats, including camera original and graded images, to a range of SDR and HDR output formats, aiming to maintain the creative intent. Its perceptual model is based on knowledge of how the human visual system works.
Colorfront Remote
Colorfront has also developed remote working practices in film and television production and post over many years, including streaming options from On-Set Dailies using existing in-facility Transkoder systems, and launching high-performance, interactive Transkoders in the cloud. Now, Colorfront Streaming Server makes the company's tools available to post-production facilities who must learn to follow accurate, remote working practices, safely and securely, on a regular basis.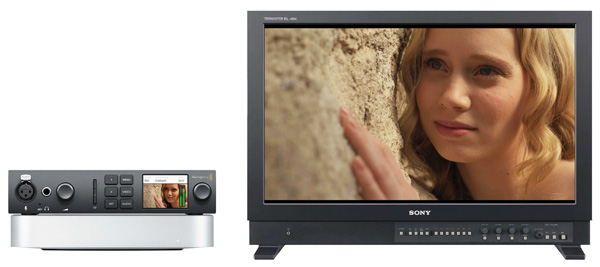 Blackmagic Design UltraStudio 4K Mini supports 4K HDR output via both SDI and HDMI
Colorfront Streaming Server is housed in a 1RU form factor, and can live-stream colour- and frame-accurate footage in reference quality 4K HDR from third-party grading, editorial and VFX applications – including Blackmagic Resolve, FilmLight Baselight, Adobe Premiere, Avid Media Composer, Apple Final Cut and Autodesk Flame – to multiple remote clients simultaneously anywhere in the world.
The appliance works in real-time with HD, 2K, 4K and stereo3D content, in Rec709 SDR or HDR with Dolby Vision, and uses SRT (Secure Reliable Transport Protocol) to deliver original-quality, low-latency live video, plus multi-channel audio, over the public internet to multiple remote clients concurrently. NexGuard forensic watermarking and 256-bit AES encryption are used to secure and protect the content.
Hardware Set-up
On the client side, inexpensive small form-factor set-ups support Colorfront's Streaming Server's complementary Streaming Player software and support colour-accurate viewing and QC on professional 4K HDR reference displays and prosumer screens.
An example of low-cost equipment would use AJA T-Tap Pro to connect users to a prosumer OLED and drive it in Dolby Vision, PQ, Hybrid Log Gamma (HLG) and HDR10. The Blackmagic Design UltraStudio 4K Mini supports 4K HDR output via both SDI and HDMI, and an Apple M1 Mac Mini allows connection to an Apple XDR Pro display directly via Thunderbolt 3, or to a prosumer OLED monitor via the HDMI output.
Following a beta-test program, a number of Hollywood facilities and independent post houses have started using Colorfront Streaming Server to live-stream footage to their clients during post production sessions as they work remotely on motion-picture and episodic productions.
Phil Harrelson, VP of US operations at Light Iron in Los Angeles, said, "Colorfront Streaming Server has opened doors for our team when it comes to working remotely. Throughout the pandemic, our entire dailies workflow relied on the Streaming Server for colour-critical evaluation within home working environments. For our finishing teams, Colorfront's system makes a robust, colour-calibrated and keenly-priced alternative to other remote collaboration solutions on the market." www.colorfront.com