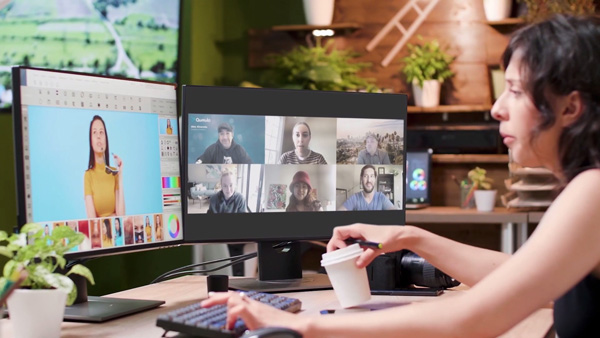 Qumulo Studio Q is a post production platform for creative teams that replicates collaborative editorial production in the cloud. Using AWS CloudFormation for simple deployment, studios, broadcasters and corporate video production teams can use Studio Q as a cloud-based way to run Adobe Premiere Pro, After Effects and associated workflows with a high level of performance.
AWS, Adobe and Teradici at Studio Q
The Studio Q system involves four companies – Qumulo, AWS, Adobe and Teradici. Users can move petabytes of video to the cloud, edit with Adobe tools and connect files to AWS services. Studio Q combines the Qumulo Core file system with Teradici CAP PCoIP to set up a unique, virtual desktop for each editor.
Editors can then use the file system to store, manage and build workflows and applications with data in its native format, at scale across on-premises and cloud environments, without disruption. It supports collaboration between multiple editors working with multiple timelines.
The result is that editors can use Creative Cloud from anywhere. Because AWS services are actually set up for networking and compute power, and not large scale file data management, Qumulo developed an AWS CloudFormation template called Studio Q Quick Start to make this environment faster to set up. The template automates the process of combining the four component suppliers into a cloud-based studio, so that users do not need a detailed knowledge of AWS.
"Qumulo on AWS gives us the performance gains needed over object stores and the ability to use our highly active file data at any scale in the cloud," said Graham Peddie, COO from Cinesite. "Qumulo, with its capacity-based consumption options, allows our Line of Business and IT teams to work together on our digital projects without compromising on choice of how we manage our unstructured data or control costs."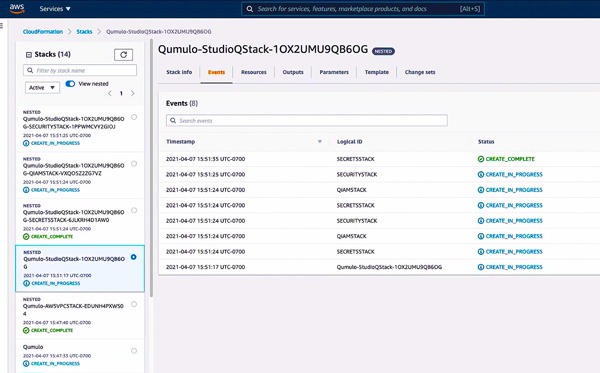 Setting up Studio Q on AWS services.
Pre-configured EC2 Instances
A team can use Studio Q Quick Start to select pre-configured Amazon EC2 instances and launch the entire Studio Q environment in AWS, bypassing hundreds of manual procedures in a few steps. Teradici CAS allows the team the flexibility to work from anywhere with secure access to Studio Q. Teradici PCoIP reduces latency enough to give the remote desktop a responsiveness similar to an office workstation.
Ben Gitenstein, Vice President of Product at Qumulo said, "Studio Q is a cloud solution that allows global teams to run Adobe Premiere Pro on AWS with the same performance of an on-premise workstation. While it benefits the enduser, like editors, artists and so on, we designed it for the infrastructure side of the business such as engineers and development operations teams."
Studio Q is well-suited to environments that are very dynamic in terms of capacity and performance. It is one application of Qumulo's cloud system, which looks after the entire data lifecycle from on-premises or data centre to public cloud, and across small or large projects.
Cloud Native
"Content creation was where Qumulo's business started, working with studios and broadcasters to develop a system to store file data of all types," said Ben. "The Qumulo Core file system handles ingest of raw camera video, interactive file manipulation and archiving in a HPC environment within a private or public cloud. It is also very scalable, which VFX studios especially appreciate along with the visibility of their files that it gives."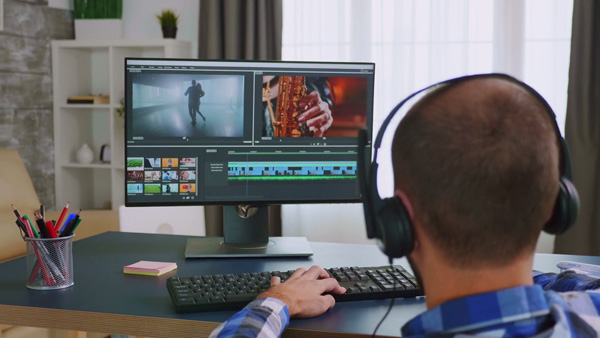 Qumulo software is cloud native and specialised to simplify file data management across hybrid cloud environments. Running a company entirely in the cloud may sound challenging but actually, managing a hybrid system is more complex. Ben said, "We're finding that at least some form of cloud adoption is very widespread across the M&E industry now, and that existing enterprises tend to reserve the cloud for clearly defined applications like excess capacity, or use it workload-by-workload.
"We based Studio Q on AWS because it is so widely used among M&E users. Teradici is also well-recognised within that market and in fact, some Teradici customers had started trying to use their systems to build their own set-ups similar to Studio Q.
Qumulo API
"Adobe is also prominent and made a good starting point, but Studio Q can be adapted to other software fairly easily. What is important with software is setting up pipelines as API endpoints for Qumulo's API. This API will then handle system connections, permissions, data protection and disaster recovery – many different tasks."
Two platform service options are available via the AWS Quick Start landing page. Customers can use Studio Q's self-service model through their own AWS account, or follow a guided sales process to test editorial workstations. The testing and developing route will support customers' transition by moving current workstations to the cloud and, consequently, may be eligible for AWS credits as part of the testing. qumulo.com