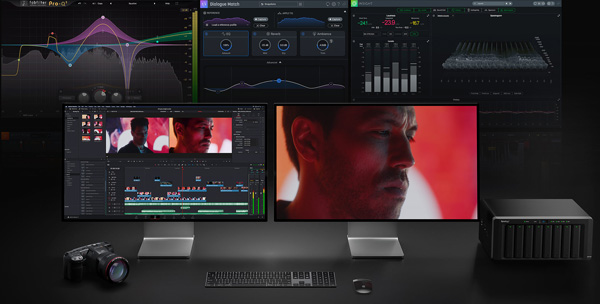 Blackmagic Design's version 17.4 of DaVinci Resolve accelerates the software's performance on the new Apple Mac models with the M1 Pro and M1 Max chips. With a speed increase of up to 5 times, according to Blackmagic, users can play back, edit and grade 8K projects at speed, and work with up to 12 streams of 8K video.
DaVinci Resolve 17.4 also increases the decoding speed of 12K Blackmagic RAW files, and H.265 rendering is faster as well. The DaVinci Neural Engine performance is several times faster for real time facial recognition, object detection and smart reframing. Support for Apple displays with ProMotion 120Hz results in smooth playback and editing, and HDR viewers on the new Apple MacBook HDR displays are also supported. ProMotion is capable of adaptive refresh rates and response times, dynamically changing the refresh rate of display screens to accommodate the content.
DaVinci Resolve 17.4 also adds Dropbox Replay integration. Projects will flow smoothly from DaVinci Resolve Studio directly to Dropbox Replay, a service for video review and approval. Frame accurate coloured markers, comments and annotations made in Dropbox Replay are synced to the DaVinci Resolve timeline almost instantly. With a login, users will only have to sign in once, giving them access to features including render set-up with dedicated Dropbox and Dropbox Replay presets, and automatic background uploads that are monitored for status and confirmed when complete.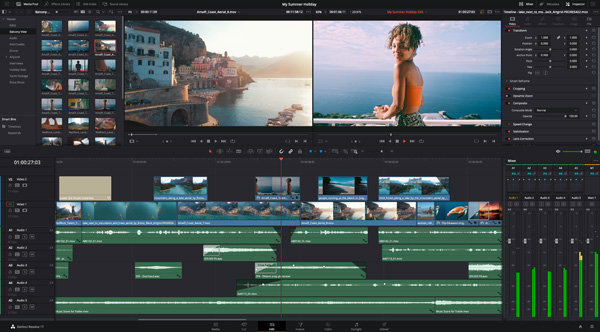 Edit page
For subtitling, DaVinci Resolve 17.4 includes automatic resizing of backgrounds and cursor placement when creating captions, as well as nested timeline subtitle tracks that now automatically populate the main timeline to speed up caption creation.
In the edit page, better functionality for position curves in the timeline make it easier to adjust the ease-in and out points, customising transitions from one point to another when applying zoom or image position adjustments. The DaVinci Resolve Speed Editor can now be used to switch between cameras in multi-camera clips, making it faster to cut programs together. Support for asymmetrical trimming allows users to adjust a transition's in point without affecting its out point, or vice versa, for quicker fine tuning.
Fusion now has more support for languages with combined glyphs and others that are written right to left, such as Arabic and Hebrew. Vertical layouts, rotation and line direction have also been improved for working with Text+ to help users work in a wider range of languages and layouts.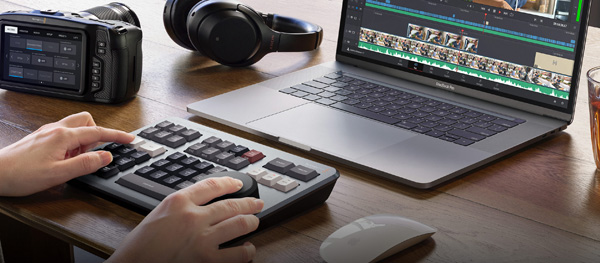 Speed Editor
Colourists will find greater support for automatic colour management in DaVinci Resolve 17.4, making it faster and simpler to set up projects. Support for ACES 1.3 has been added as well, including gamut compression. This mean that wide gamut images can now be displayed more accurately to be certain that users are receiving the best representation of the source image.
A new Resolve FX called custom mixer allows you to combine effects and make adjustments to grades with finer control. A new 3D keyer also allows users to make finer adjustments to the key and matte finesse settings, resulting in cleaner masks with more accurate keys and finer edges. In DaVinci Resolve Studio, a new film halation will add the effect of a glow or light reflections around high contrast edges, giving images a more filmic look.
Fairlight audio now has support for Steinberg VST3 audio plugins, giving access to more audio effects for developing soundtracks. Keyboard shortcuts or click and drag functions to reorder, move and duplicate effects are now available in the Fairlight mixer, with added support for multi channel audio outputs.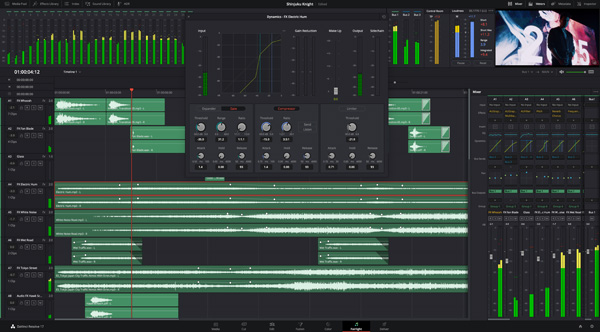 Fairlight
When finishing projects, users can now export projects with YouTube video chapters, better encode settings for the YouTube render preset and the ability to use hardware-accelerated H.265 on Windows.
DaVinci Resolve 17.4 is available now for download, free of charge from the Blackmagic Design website. www.blackmagicdesign.com