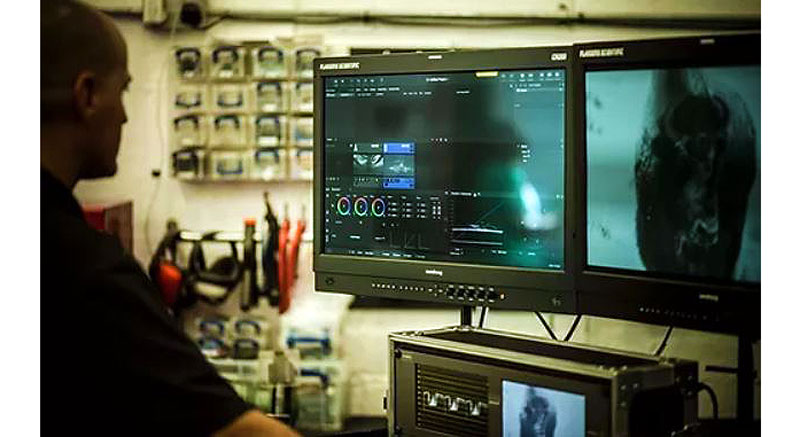 Digital film and television content producers and broadcasters around the world spent 2021 producing huge amounts of video at UHD or higher resolution, often in HDR formats, that needed to be monitored, analysed and tested to maintain its quality and standards compliance. In that environment, adoption of Leader Electronic's video, audio and data test instruments has been growing throughout the year, in use by DITs and post and production service providers across Europe. The company has also released a new device for high bit-rate IP media traffic.
For many media organisations, the 2021 summer of sport involved greater use of UHD/HDR, immersive audio and remote IP production to enhance the viewing experience for audiences. At those events, Leader's LV5600 waveform monitor was used to monitor SDI and IP sources simultaneously.
Video Assist Hungary
Media service provider Video Assist Hungary chose a Leader LV5350 waveform monitor as part of its expansion into 4K HDR video mastering, colour grading and post-production. They are also including the monitor as part of the company's HDR rental fleet, which is available both for OB content capture and in-studio finishing. "We have been using Leader test instruments for over 10 years, all of them purchased through Thameside TV," said Balázs Rozgonyi, CEO at Video Assist Hungary. "Our operators use them to make repeatable, reliable measurements very quickly. The devices have complete sets of diverse tools combined with a robust build, which are important when working on location.
"The LV5350 makes an accurate reference for camera crews shooting in 4K, making sure that content is precisely in focus and correctly colour balanced from the start of production. It also contains all the tools needed during post to ensure the end result conforms to the standards required for terrestrial and satellite broadcasting, and the most recent update to 4K WCG HDR video on demand."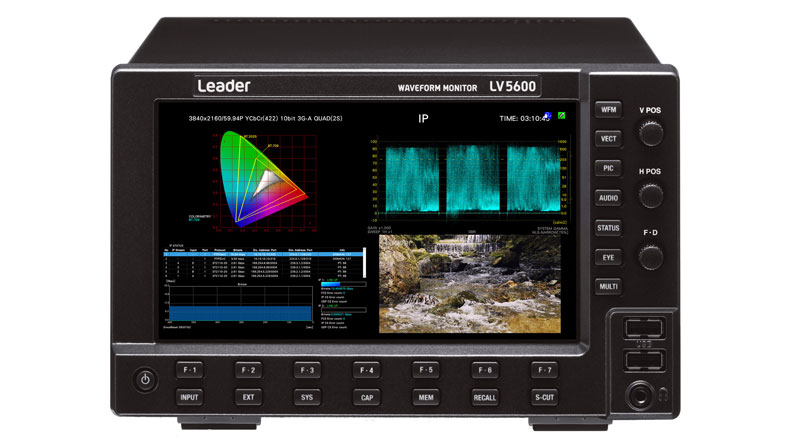 Phoebe Fraser Ltd – Film, TV and Radio
Phoebe Fraser Ltd, a specialist provider of production support services for film, television and radio, invested in a Leader LV5350 waveform monitor as well, which is in use at the company's London headquarters and on location. Its first project was the film 'Matilda', based on the novel by Roald Dahl. "The front panel video monitor gives us the ability to compare specific elements – luma waveform or chroma vectors for example – in freeform multiscreen mode," Phoebe said.
"If something needs special attention, we can select the relevant single-display view for close-up inspection. Almost every feature is accessible quickly and easily from the front panel. We also have the option of adding extra software or hardware modules as or when needed to handle new standards such as ultra high definition, high dynamic range and wide colour gamut."
AVC-Systems AG
The Swiss broadcast infrastructure and services supplier AVC-Systems AG purchased a Leader LV5600 SDI/IP multi-screen waveform monitor as the central reference of a new IP demo unit. The demonstrator is used to explain the operational and technical advantages of IP connectivity to Swiss TV and radio channel managers, content producers, broadcast systems integrators and telco service providers. The model chosen is equipped with a 25 GbE single-mode video-over-IP/multi-mode fibre IP interface. The combination conforms very accurately with the SMPTE ST 2110 suite of standards for transmitting full uncompressed 4K via Ethernet.
Fifty Fifty
London production and postproduction house Fifty Fifty chose a Leader LV5600 broadcast-quality waveform monitor for use at its Soho headquarters. The instrument is being used as the master reference for quality control of television and digital film productions. "The LV5600's tools ensure that we are conforming exactly to the strict standards laid down by the major VOD content providers," said Fifty Fifty's operational managing director Alex Meade.
"The control menu is well structured and straightforward to follow. A major advantage of the LV5600 is that its CINELITE and CINEZONE tools allow real-time signal monitoring, giving us the ability to drill down for closer study when specific elements of the signal flow need detailed inspection."
Leader's CINELITE, a software-based option, adds camera sensitivity set-up facilities to the monitoring devices. Camera operators use it to evaluate their lighting and exposure in a natural, visual way without needing detailed understanding of video waveforms. You can use the CINELITE cursor to select any 3 points and display their f-stop numbers, percentage values and level values, or analyse a single pixel or a small area by setting the size of the area to measure.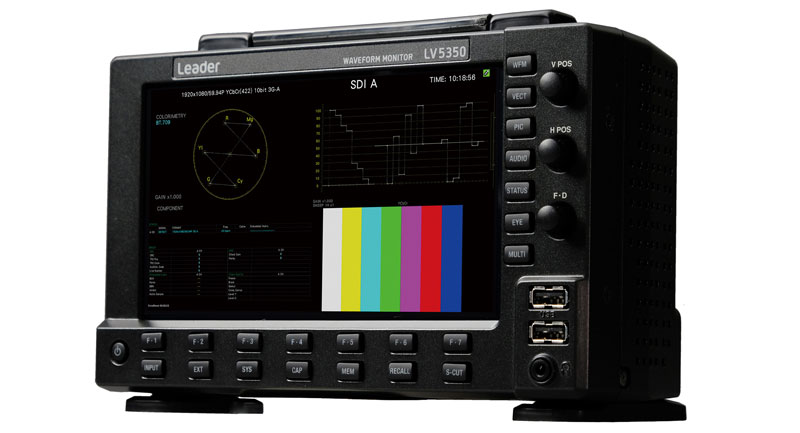 CINEZONE is used to display the luminance levels in the picture using different colours, which helps to quickly determine the overall luminance distribution in the picture, spot overexposure, underexposure and different luminance levels in dark areas. It uses the colour spectrum to represent luminance values on an image, and avoids setting up complicated waveform representations. Levels over the adjustable maximum are displayed in white, highlights in red, mid-grays in green, shadows in blue and levels under the adjustable minimum in black. Users can learn to see that the camera is actually delivering what is expected.
Digital Dailies Mission
DIT and digital dailies service provider Mission invested in Leader LV5350 test instruments to support its monitoring of SDR and HDR on-set DIT, lab and DI pipelines. They are used primarily on location from the company's facility in North Kensington, London. "Leader test equipment has proved consistently accurate, versatile and robust over many years," said Tom Mitchell, Mission's technical director.
"They supply all the resources we need to make sure full signal quality is maintained through the whole workflow chain, from ingest to customer acceptance. The information DITs require is presented in a clean and logical style so that any defects in the source signal can be identified and corrected efficiently, without wasting time or effort."
DIT Kevin Bell
Digital imaging technician (DIT) Kevin Bell purchased an LV5350 waveform monitor. "The Leader LV5350 is an essential tool for DITs working in film and television," he commented. "It has all the reference tools like waveform, vectorscope, histogram and gamma displays, plus gamut and level error display, and with CINELITE and CINEZONE built in, I can monitor f-stop values relative to a set reference point or convert picture luminance levels to an RGB or gradation display.
"There's also the option to add extra software modules when you need them. Focus Assist helps make camera lens adjustment simpler and Customised Layout allows you to customise multi-screen layouts. When using the rasterizing output, I can view on a second screen to compare multiple signal parameters simultaneously.
"I can also copy measurements to removable USB memory for reference and share with other technicians on-set, which is a powerful resource. The LV5350 is compact, portable and fast to set up and operate, and has so many tools that I feel confident that I always have what we need, no matter where we're filming."
IP Media Traffic Analyzer

Leader's main new product developed and released in 2021 is the LVB440 IP Analyzer, which monitors and analyses high bit-rate IP media traffic. A compact 1U device, it suits broadcast production studios, OB vehicles, master control facilities and transmission networks. The LVB440 supports data rates of up to 50 gigabit/s, extending to 100 gigabit/s when dual interfaces are used. The core processor is able to handle the 48 gigabit/s data rate required for full bandwidth source 8K.
Included as standard, the HTML5 video monitor, via the Widgets API, allows waveforms from multiple cameras to be supervised via a single HTML5 video monitor view. The resulting data can be shared by production team members cooperating across multiple locations. With an optional Instrument View Engine, a user can deploy an 11 inch Apple iPad Pro mobile workstation as a colour-accurate touch panel with detailed analytics. Other LVB440 features include JPEG XS analysis, closed captioning measurement, rolling packet capture measurement, 7.1 and 5.1 multichannel sound display and stereo mix-down monitoring. www.leader.co.jp