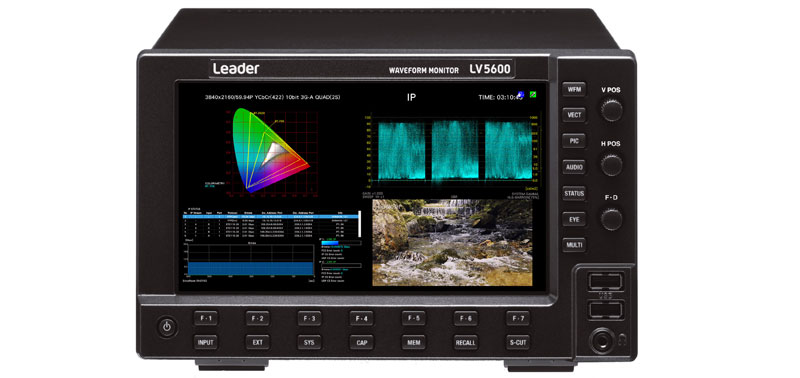 Cromorama, a specialist in film and television colour management, was founded in Poland just over a year ago by Pablo Garcia Soriano, a pioneer in the implementation of multi-delivery HDR and SDR for large sports events. In recent years he has become a worldwide expert on colour control systems for broadcast and digital cinematography productions, and has worked on projects for Host Broadcast Services, Olympic Broadcasting Services, UEFA and the Football World Cup.
Cromorama has chosen Leader LV5600 reference instrumentation for use at its Warsaw headquarters and on location. "I have been an avid user of Leader test equipment for six years," Pablo said. "Leader ZEN series instruments helped us create the ORION-CONVERT LUT algorithm which we use to support OB coverage of major sporting events. Our role is to ensure precise simultaneous management of HDR and SDR shading in a unified HDR/SDR production workflow."
Accurate representations of pictures are critical for camera shaders and HDR supervisors, who must must trust their viewing environment. Cromorama looks after them by carrying out monitor calibration services for the projects that they are involved in.
Conversion Transforms
Camera conversions from a manufacturer's Log space to another, as well as to a production's working spaces for colour managed workflows, are essential to their work. Consequently, in conjunction with Antler Post, Cromorama developed the ORION-CONVERT algorithm to create conversion transforms for any standards – SDR to HDR, HDR to SDR and others, including display calibration LUTs.
Selecting one of the colours above shows where the gamut error is located.
"A crucial advantage of the LV5600 its compactness and versatility. It accommodates all the tools we need for very complex projects, in a robust, transportable unit. Everything can be accessed quickly from the front panel, including a video monitor that can be configured to allow side-by-side comparison of multiple HDR transfer characteristics as well as SDR," said Pablo.
HDR/SDR Workflows
"HDR/SDR workflows are required to help OB producers deliver more realistic coverage of major events such as stadium sports," said Leader's European sales engineering manager Kevin Salvidge. "Many streaming services now use the SMPTE 2084 (PQ) standard to deliver HDR to home viewers, while satellite and terrestrial digital broadcasters need to be equipped for HLG. All of these HDR and SDR standards will obviously co-exist for many years to come as the industry advances, and so we are pleased to help specialists like Cromorama achieve that progression."
Leader's LV5600 is a mains-powered SDI/IP waveform monitor in a half-rack width 3U desktop chassis with a HD resolution 7-inch colour touchscreen with dedicated menu control buttons. It can be configured with the functions needed to monitor UHD/HD/SD-SDI as well as video-over-IP signals within a hybrid operating environment.
Engineering-related features within the LV5600 include a test pattern generation, eye pattern display, closed-caption monitoring, CIE colour chart, high dynamic range measurement, focus assist, adjustable screen layout, tally interface, 4K/UHD operation, 10G IP input and 12G-SDI interfaces. SMPTE 2022-6, SMPTE 2022-7 and SMPTE 2110 protocols are supported.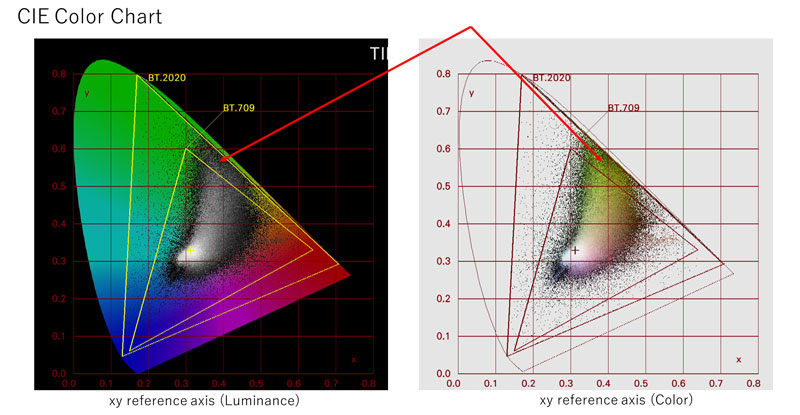 Diagram showing that the colour gamut lies outside BT.709.
CINEZONE and CINELITE
The LV5600 also incorporates Leader's CINEZONE and CINELITE tools, which many content production staff now recognise. By using CINELITE, video and film operatives can evaluate their lighting and exposure visually, without needing detailed understanding of video waveforms. A cursor can be used to select any 3 points on a video image and display their f-stop numbers and levels. Operators can choose to analyze a single pixel or a small area by setting the size of the measured area to 1 pixel, or to the average value for 9 or 81 pixels.
CINEZONE helps users identify overexposure or underexposure by using the colour spectrum to represent luminance values on regular images. It also reveals variations in luminance levels across dark areas. Luminance levels can be confirmed quickly without relying on waveform representations. Levels over the adjustable maximum are displayed in white, highlights in red, mid-grays in green, shadows in blue and levels under the adjustable minimum in black. This helps to confirm that the camera is actually delivering what is expected and, with a few minutes of practise, becomes a quicker reference than the original picture.
Some options that Cromorama has specified for the LV5600 include (SER-01) SDI inputs, SER-31 colorimetry imaging zone display and SER-40 extended gamut plug-in hardware modules, plus software licences supporting 12G/6G-SDI, 4K/UHD, CIE chroma chart, closed-caption display, eye and jitter measurement, HDR measurement and test pattern generation. www.leader.co.jp/en