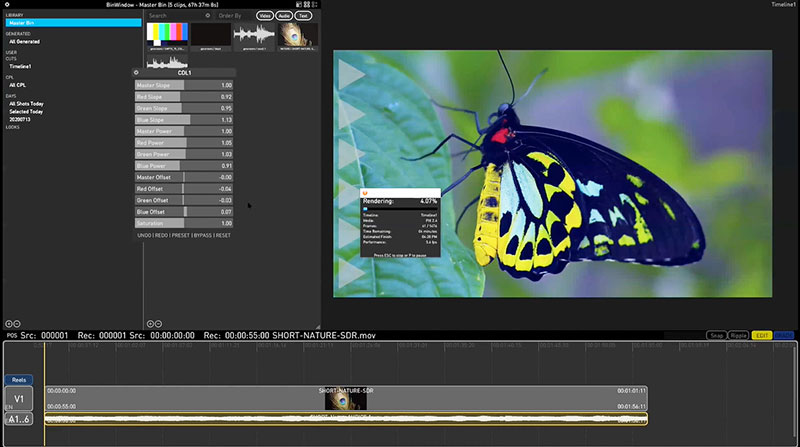 Colorfront's dailies and transcoding systems are now updated with more accelerated capabilities and more expansive DCP/IMF mastering tools across its product lines, plus a recently developed integration with Frame.io's Camera to Cloud workflow initiative.
Colorfront software and systems – Express Dailies, On-Set Dailies and Transkoder – support studios and facilities producing motion pictures, OTT, broadcast and commercials projects. Colorfront Dailies systems are recognised for their contribution to feature film and TV production over the past decade and more, due to their performance and the continuous implementation of up-to-date capabilities.
The colour pipeline capabilities of Colorfront's Express Dailies 2022 are now powered by the recently rebuilt Colorfront Engine. Changes include support for the new ACES 1.3 Academy Metadata (AMF) released one year ago, and Common LUT (CLF) formats which, together with direct integration into Express Dailies' Parametric Look Modification Transforms (LMTs), make up a full ACES-compliant pipeline carried from set to dailies to finishing. Colorfront's On-Set Dailies 2022 has also been updated with the same support for ACES and the latest camera formats.
Formats and Transforms
The AMF is an XML-based file format that describes the look metadata for recreating the same image on different systems. It holds a pipeline description with a list of all the transforms that need to be applied to the image to recreate the creative intent on another system. The CLF, also an XML based format, communicates a line-up of selected colour operators or processing nodes that are sequentially processed to achieve a specific result.
LMTs are used to apply a variety of looks to images in ACES-based workflows. Similar to presets, using an LMT for a complex look is more efficient because the colourist can reach the desired outcome quickly. From there, any adjustment away from a given reference render is considered a look within an ACES framework.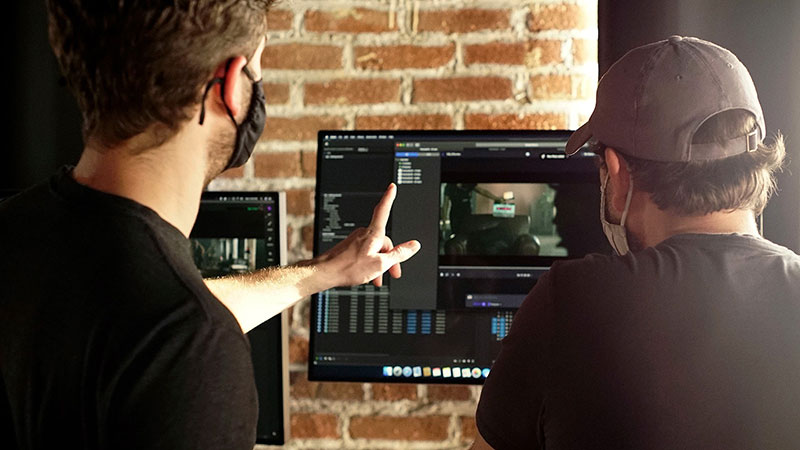 LMTs can also define a creative look in advance, while staying within the context of an ACES-based workflow and viewing through the ACES Output Transform. Building up a library of looks made up of pre-built filters can be used to quickly decide on an initial grade or a show-specific LUT look. Grading adjustments are then made on top of the new starting point. Also, it's easier for a colourist to model very complex creative looks in a systematically derived transform than by using colour correction tools alone.
Apple M1, Camera Formats, Frame.io
Further updates to Express Dailies 2022 support new native camera formats such as Red V-Raptor 8K VV and Sony Venice 2 8.6K, and give better performance on Blackmagic Design 12K RAW. At NAB 2022 in April, Express Dailies 2022 was shown processing footage shot by DP Claudio Miranda ASC at 8.6K on the Sony Venice 2, outputting to different SDR/HDR deliverable formats.
Following engineering collaborations with Apple, Express Dailies 2022 is optimised to access extremely high performance from the new Mac Studio M1 Ultra workstation, and was shown processing SDR and HDR footage simultaneously, with output to Apple XDR displays as a convenient, cost-effective combined proposition for those involved in dailies operations.
Colorfront's R&D team has been working with Frame.io, now part of Adobe, to integrate its products into Frame.io's Camera to Cloud enterprise. The Camera to Cloud workflow starts on set, where the camera simultaneously records to camera cards and sends a video signal to a cloud-connected encoder, which generates proxy files with camera metadata as the camera records. When the camera cuts, the proxy is uploaded to Frame.io, where it can be immediately viewed and downloaded by the editorial team who can download the proxies and begin working on scenes. Also, crew members not on set can watch takes as they are recorded. An Express Dailies 2022 workflow was displayed as part of this initiative on the main NAB showfloor at Frame.io's Booth..
Transkoder 2022 DCP/IMF Mastering
Colorfront's updates to the Transkoder DCP/IMF mastering tool continues its long collaboration with Dolby. Transkoder 2022 can now export Dolby Vision HEVC, using the Dolby Encoding Engine, and adds support for the most recent Dolby Atmos immersive audio processing, plus Dolby Vision Live Creation developed for televised events.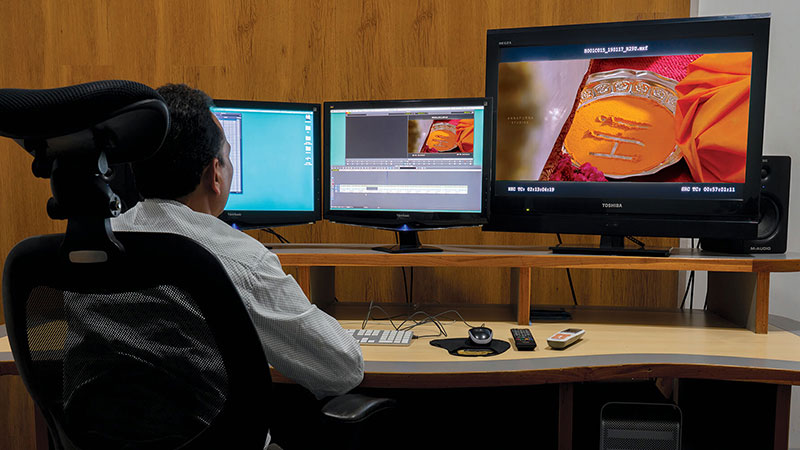 Editorial at Annapurna Studios.
Dolby Vision IMF mastering is enhanced with new support for HTJ2K (High-Throughput JPEG 2000,) and ISXD (Isochronous Stream of XML Documents) dynamic metadata track file support. Output formats have been extended to include SMPTE 2.1A DCP.
On the audio side, Transkoder 2022 now features loudness analysis and reporting that allows users to check thresholds on content, plus improved multichannel-to-stereo audio mix-down (render) tools.
CV Rao, VP Post Production at Annapurna Studios in Hyderabad, India, said, "Transkoder has been easy to integrate and operate reliably within our mastering workflow, where we output 40 DCP versions of movies several times each week. Whenever we have needed support, Colorfront has delivered it fast and dependably, which is exactly what you need in such a busy environment as this."
During NAB 2022, Colorfront hosted independent demonstrations, and also showed their gear as part of the Camera to Cloud workflow display on the Frame.io booth at the exhibition. colorfront.com