Starting his career in the mid 1990s, colourist Eric Whipp now specialises in feature films and is co-founder and senior colourist at Alter Ego VFX and colour studio in Toronto.
In 2007 he worked with George Miller for the first time on the Academy Award winning movie Happy Feet and joined him again in 2014 for Mad Max: Fury Road. His latest project was yet another collaboration with George Miller – the new film Three Thousand Years of Longing. Its familiar story follows a lonely academic on a trip to Istanbul. She discovers a djinn, or genie, who offers her three wishes in exchange for his freedom.
"Having worked on a few films with George Miller, we already had a good relationship – when George calls, you say yes!" Eric said. Three Thousand Years of Longing also gave Eric and George a chance to work again with cinematographer John Seale, who came out of retirement to shoot the movie. The three of them had previously worked together on Mad Max: Fury Road.
Eye for Detail
Eric and the team started working on the colour about 15 months before they delivered. "The edit was only just getting to rough assembly mode at that point, but it was enough to start exploring looks and see takes that we were confident would be in the film," he said.
"George is extremely visual and has an amazing eye for detail. He loves being in the grading suite and using it as a chance to explore looks and finesse the image. He tends to like richer colours, but if you just dial up the saturation on your footage, it generally looks terrible. It's my job to find ways to achieve a rich colourful image in a nice way that fits with Georges' story."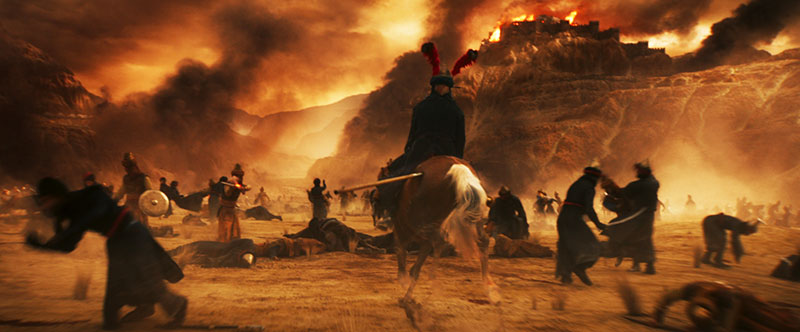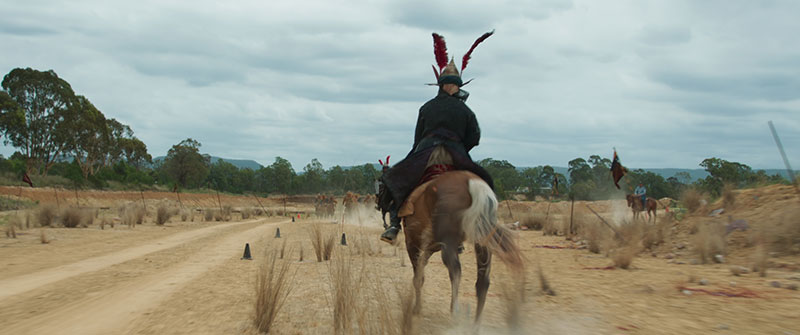 Describing how they referred to a lot of paintings for inspiration for the grade, Eric said, "The idea was to make the story's hotel room feel neutral, clean and bright, and then contrast the djinn's stories with a very painterly look, like a storybook. Sometimes it might be more like a Rembrandt painting and for other scenes closer to those war paintings from the early 1800s."
A Bigger Toolbox
Every shot of the film presented a unique challenge, either specifically in relation to colour or due to heavy VFX requirements. Working on a FilmLight Baselight grading system, the team found themselves using a wide range of the software's effects and tools to achieve the director's vision.
"We were using tools that I'd never expected I would need," Eric said. "For example, I used a puddle warp tool for one shot, when the bottle hits the bottom of the ocean. For Queen Sheeba we used texture equalizer to create the flawless skin."
Texture Equaliser divides the image texture into bands according to spatial frequency. The bands can be adjusted individually, for precise control. You can soften or enhance textures and, at the same time, preserve the texture of fine details that are distinctive. If using Texture Blend as well, the artist can apply grading operations according to image detail, allowing fine control over the interaction of colour and texture.
"A huge amount of VFX work was done in the suite as well. We created vapour coming off the djinn, sky replacements, 'djinn vision' FX and some very complicated transitions." During the grade, Eric created complex transitions with smoke, lens blurs, chroma warp – which separates the image into spectral bands and warps them by different amounts – and other tools within Baselight, to take the story smoothly from one frame to the next.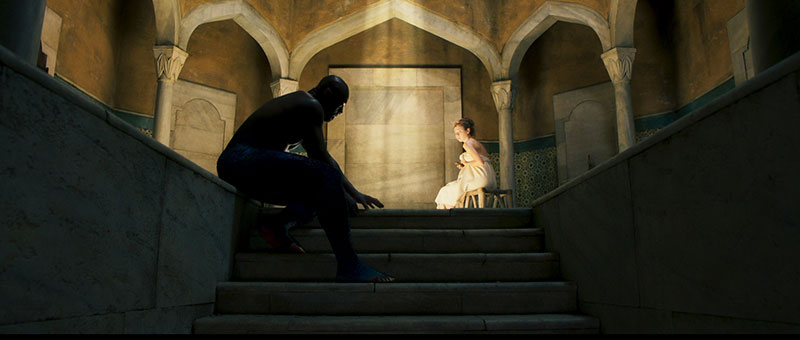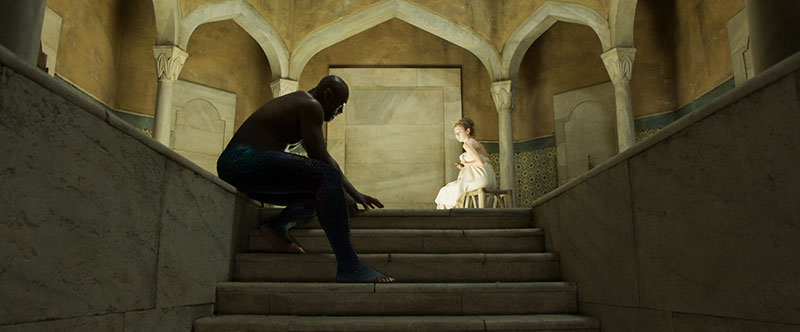 "Due to the way Baselight is architected, it was possible to manage all of these tasks in the suite without the need to involve the VFX team," he said. "At times, this was a life saver, because we were able to keep the grades of the incoming and outgoing shots live, rather than stopping to bake them down and supply to VFX."
Behind the Camera
John Seale, the cinematographer, also felt the Baselight grading system was a key asset to finessing the images. "The complex look developed for the flashbacks became much less of a challenge for us during the shoot because we knew that grad filtering, vignettes and sun shafts could all be handled in post. This saved us a lot of time and worry, and meant we could work through the shoot quickly.
"The ability to reframe shots and reduce excess movement in handheld or steadicam shots were further advantages, as was controlling exposure and colour in selected areas within the frame to maintain continuity through the edit. Many of the effects captured in the imaging – such as exposing the actors' eyes, shimmering in the image, highlights on liquids – were fine-tuned with full control in Baselight."
Millennia of Colour
Within the movie, the audience listens to several of the djinn's stories, spanning across three thousand years and four different time periods. Since each story needed a specific look to suit its era, one of the most challenging parts of the project for Eric was to find looks for each of these time periods while still finding a way to keep the film unified.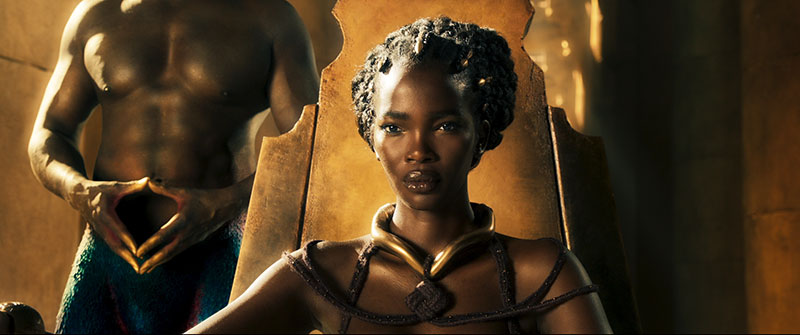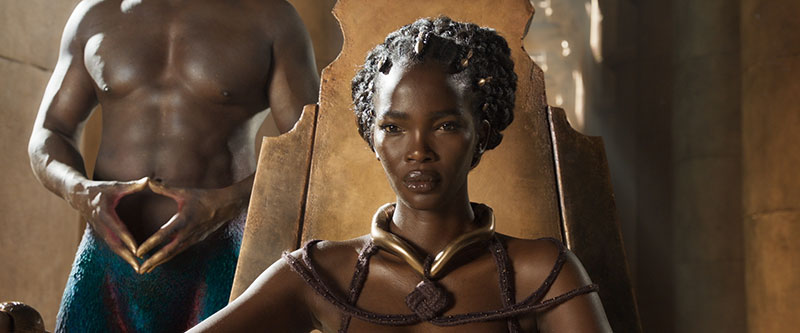 He said, "When thinking about a film that takes place over 3,000 years, there's no easy way to reference a specific look for it. We did however play into the palettes of the time. The Queen Sheeba scenes have a very rich golden look, which we felt might be a way of conveying how rich and exotic it must have felt to be there at that time."
An abstract, dream-like shot, lasting about a minute and a half, was also particularly challenging. "For this shot I was adding vapour coming off the djinn and the surrounding elements. Each piece required several layers of compositing. We had about four or five layers of wafting smoke tracked to the djinn's shoulder alone, using a range of different blending modes. Then we repeated that for the other shoulder, then the forearm and so on. I think we ended up with around 160 layers," said Eric.
The Complexity of White
The film's editor Margaret Sixel had the idea of fading to white at the end of the shot, instead of black, although Eric had misgivings about how this might look. "So I had the idea of white smoke that emanates from behind the djinn and comes toward the camera to fill the frame," he said. "Once George saw that, he liked the idea of smoke filling the room, but also wanted to see Tilda's eyes clear at the end – that is, leaving the audience with a very graphic white frame with just her eyes remaining."
However, these decisions meant the Eric suddenly had a very complicated transition to white that needed to be tracked and animated to time perfectly with the edit, while dealing with the actresses' eyes, on their own, in the frame at the end. The requirement to supply the shot as a HDR deliverable as well made this task especially challenging.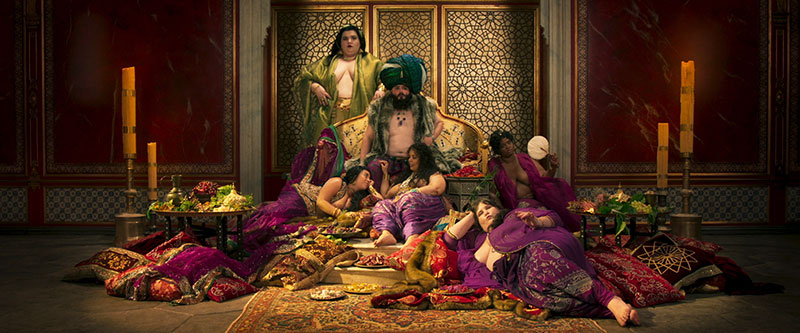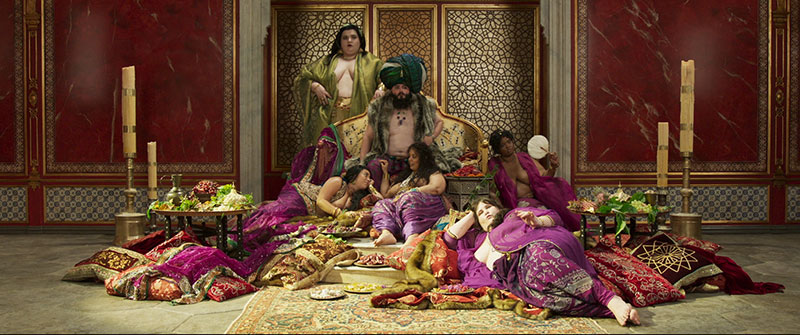 "Fading to pure white in HDR is not a good idea, as 1000 nits of pure white is too blinding, so I had to make this fade work in all the deliverable formats," said Eric.
The two wildly different skin tones of Tilda Swinton and Idris Elba posed an interesting creative challenge for the colourists. "John Seale did an amazing job of making sure that the lighting on the actors was beautiful," said Eric. "My task was, where necessary, to bring Tilda's skin down a touch and prevent her from looking too pale. For Idris, on the other hand, it was a matter of ensuring that he didn't appear too dark and that we could see his face clearly. We also tracked and rotoscoped every eyeball in this film, adding a touch of sharpness and brightness."
Workflow
The process began with set looks, developed in ACES and recorded as QuickTime files. These looks could then be translated to the full resolution EXR sequences – in other words, any of the looks saved in the QuickTimes could be copied over to the final images. Eric said, "Before we had processed all our high res files to EXR, we were able to grade the offline QuickTime files through ACES, and the grades carried directly through to the high res EXR. When we're working in the ACES format, we don't use a LUT. We just use custom grades and look strips to develop looks.
The project was shot on the ARRI Alexa LF, Alexa Mini LF and RED Komodo. Editing took place in Sydney, Australia, while Eric worked on the grade in Toronto. He said, "We moved the full resolution material across our remote servers and when the time came for live sessions, we streamed 4K images to Sydney for George and John in less than three seconds with almost no perceptual loss of quality due to compression.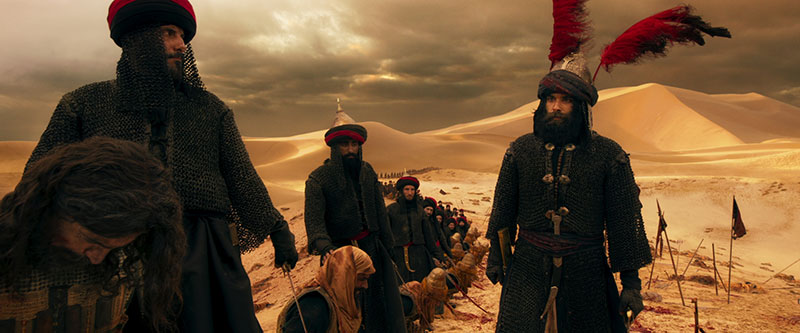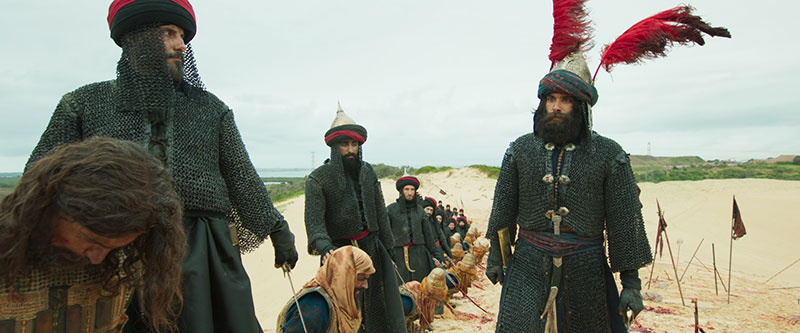 "Earlier on in the process, the plan had been for me to fly to Sydney to sit with George in person, but this was all happening in the middle of COVID and lockdowns were becoming an issue. So, we looked into different streaming systems and found a great result." They tested several options and found that the Colorfront Remote Streaming system came much closer to the speed and functionality they were looking for – especially streaming to Sydney, Australia, where the internet connections are not usually as fast as in North America.
"It was really useful to be able to send Baselight scenes back and forth from Sydney to Toronto," he commented. "At any time, a scene could be opened on a Baselight 2 system in Sydney, and we could do the same in Toronto."
On the Toronto side at Alter Ego, Eric was supported by colourist Andrew Ross because so many details required careful shapes and tracking. "For instance, the djinn's goatee beard had actually been blonde hair when they shot the film," said Eric. "But after sitting with the film for a while, George decided it would look better if it were red. So, Andrew had the fun job of roto'ing and tracking his beard in every shot."
A key part of the colour team's job was working alongside the VFX department. VFX Supervisor Paul Butterworth from the studio, Kennedy Miller Mitchell, joined the first several colour sessions when they all began to collaborate on how best to achieve the desired outcome. "On some shots it was clear that the desired look was too complicated for Baselight and would need VFX help, and then there were other shots where we took the work off the VFX team, because we could achieve it all in the DI Suite," Eric said.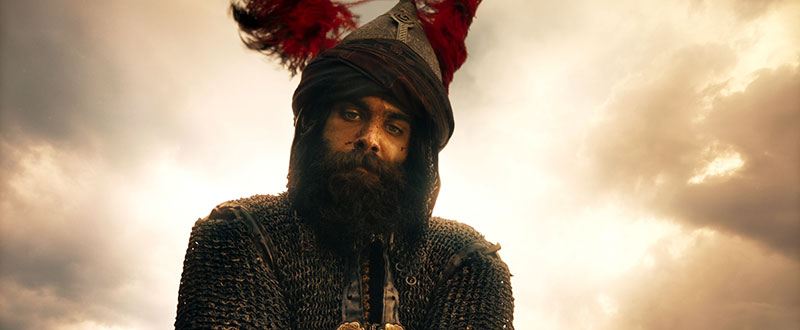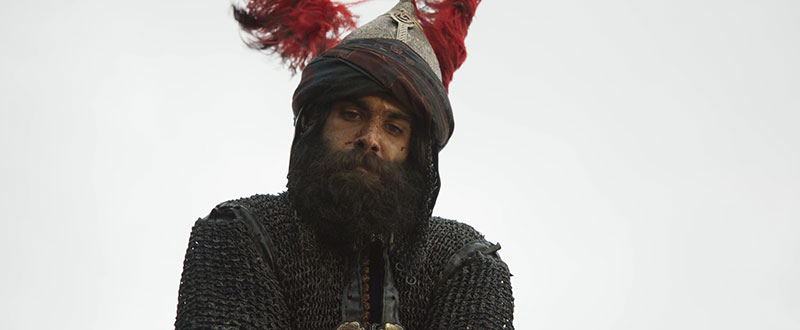 Swan Song
"We used a lot of mattes, as they're a great way of tying everything together. Sometimes VFX shots come back and the new background, for example, might be too bright compared to the surrounding shots. With a matte, you can control the background without having to darken the foreground as well."
He reflected that he has learned a lot from this project, really pushing himself on the VFX side of the grade and learning new techniques and tricks that he'll definitely use on future projects.
"One thing that did play in my head the whole time was that this was essentially John Seale's last film," Eric remarked. "He had decided to officially retire afterwards, so I really wanted to do him justice and make sure people walked away from this film thinking, "The visuals are stunning and beautiful." I hope we achieved that." www.filmlight.ltd.uk