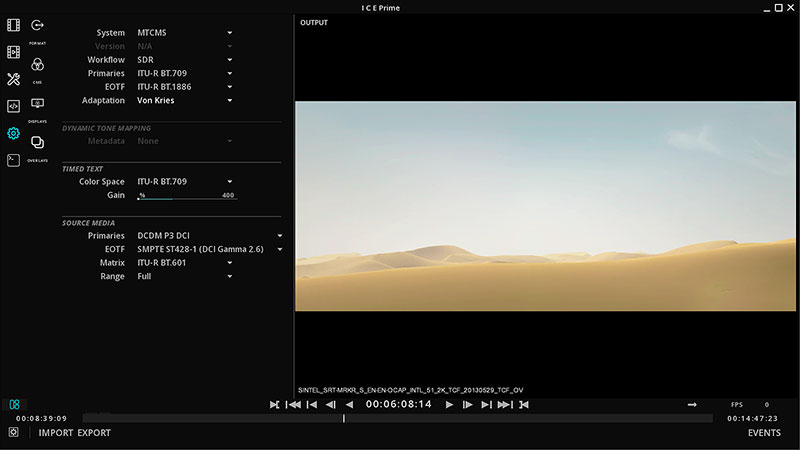 Marquise Technologies has chosen to include support for SMPTE VC-6 (ST-2117) in the company's ICE Prime player. Prompting their decision was SMPTE's recent standardisation of the mapping of VC-6 encoded video in MXF. ICE Prime player is Marquise's reference player for QC and real-time playback of broadcast, digital cinema and OTT industry standards on regular desktop systems.
Built for QC of IMF, DCP, AS-10, AS-11, XAVC and ProRes masters, while handling playback up to 4K resolution, ICE Prime supports camera RAW and dailies formats, as well as TIFF, DPX and Open EXR image sequences. Combined with ACES, HDR, Dolby Atmos and HFR compatibility, ICE Prime's native format support is among the widest available.
VC-6, or SMPTE VC-6, is a mezzanine codec developed by V-Nova for use in decentralised, cloud-based production, post-production and mastering workflows. VC-6 carries out lossless or lossy encoding and decoding, functioning with high computational efficiency. Once VC-6 assets have been encoded, users can extract lower resolution proxies from them for use as regions of interest.
Lower resolution proxies can be extracted from VC-6 assets for use as regions of interest.
V-Nova VC-6 is a high-performance AI-powered software library for SMPTE VC-6, used primarily for professional production workflows and imaging applications. Various companies have so far partnered with V-Nova, incorporating VC-6 in their systems for TV, media, entertainment, security, aerospace, defence and automotive applications.
Laurence Stoll, CEO at Marquise Technologies, said, "The standardisation of VC-6 carriage in MXF containers is an important step in the adoption of VC-6 in post-production workflows. The ability to extract high quality, lower resolution proxies from a VC-6 encoded file gives us significant advantages when supplying cloud-based workflows, and we are working with V-Nova to further exploit the potential of VC-6 in our systems and services."
"Marquise is known for the high quality of their products in the post-production world," said Guido Meardi, CEO at V-Nova. "The availability of VC-6 in ICE Prime, following SMPTE's MXF encapsulation standardisation, is a great example of how market and technology developers continue to push the possibilities of video technology – to bring the best to customers. We look forward to continue working with Marquise and their customers to realise the benefits of VC-6 in post-production workflows." www.marquise-tech.com