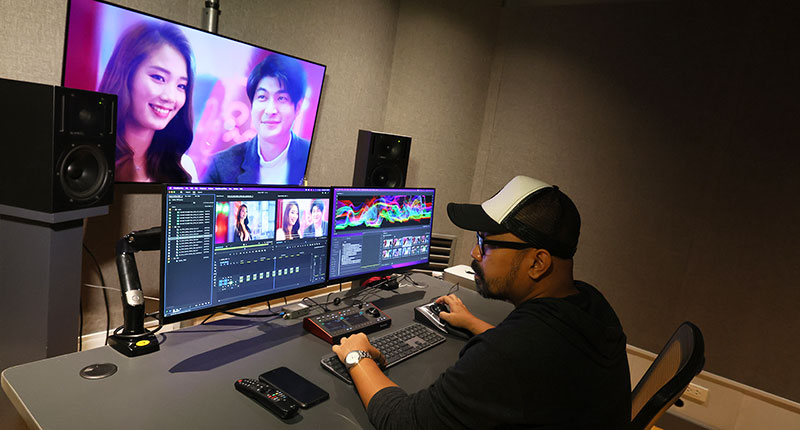 Video editing suite
HIT Productions is a post-production studio in Manila's central business district of Makati, serving advertising, music, film and streaming localisation clients. In business for over 30 years, the company grew acutely aware that recent changes in content creation, distribution and consumption meant that its existing facility no longer met the needs of its production teams and clients.
Studios in the earlier facility were based on analogue point-to-point connections built at a time when specialised rooms were built with limited signal routing options, resulting in inefficient use of space and resources. When a new building became available in 2021, HIT jumped at the opportunity to build a new facility to help them keep up with the constant flow of change in today's industry. 
Flexible AV Design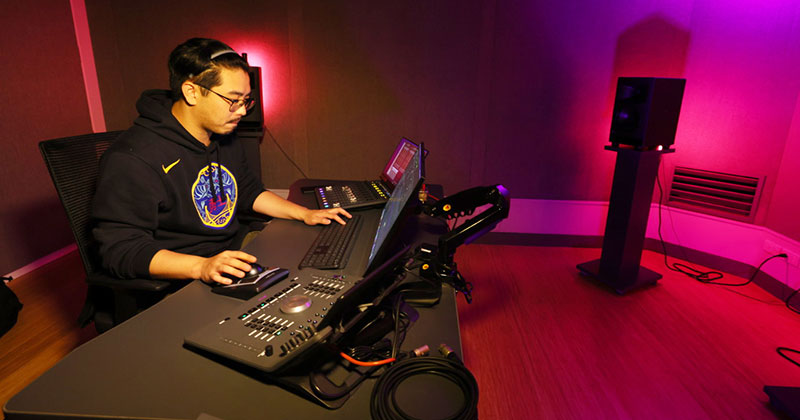 Surround mixing studio
Dennis Cham, Founding Partner and Chief Technology Officer of HIT Productions, decided to implement an AV-over-IP video system, Audinate Dante AV, as the transport mechanism for all audio and video between rooms. He recognised that the new facility needed a flexible AV design to support the physical reconfiguration of the studios for contrasting production requirements, with direct re-routing of audio and video streams as needed.
Because the pandemic forced many employees to work remotely to keep the onsite headcount low in each room, the AV system also had to support hybrid workflows for the company's employees. "Dante AV gave us the flexibility to connect rooms in any number of combinations with standard Cat 6 Ethernet cables," said Dennis. "Audio and video quality is extremely good, and the flexibility to route audio and video around the facility on just a few cables was very liberating for managing our projects."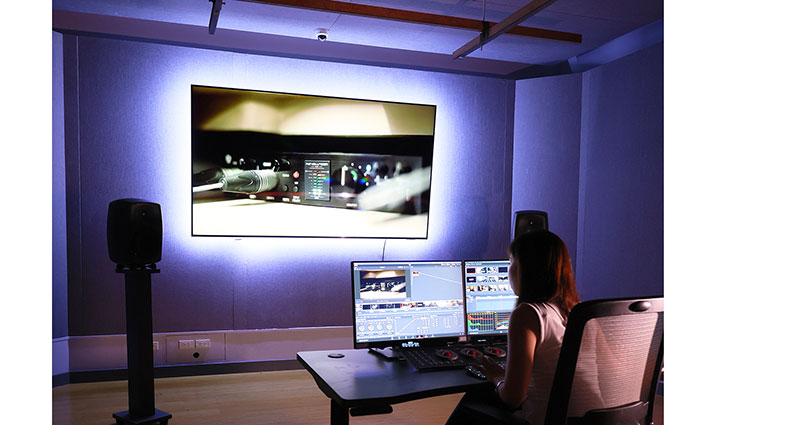 Grading suite
 
Dante AV is a complete integrated audio and video networking system. Although Dante originally focussed on audio-over-IP connectivity, all Dante AV family products use a single application to manage audio and video, helping to visualise configurations and control the devices more easily. They are also interoperable with the more than 3,500 Dante products already on the market. Dennis commented, "Dante AV was the simplest way for us to send audio and video all over the facility with the lowest latency."
Independent Routing
Dante AV uses a single lead clock for the entire system – regardless of the number of endpoints, transporting audio and video with low deterministic latency – that is, defined, predictable latency. The user can independently route audio and video streams while maintaining precise synchronisation. HIT Productions, for instance, uses high-performance Patton FiberPlex FPX6000 gateways to route video signals via Dante over the network to wherever they are needed.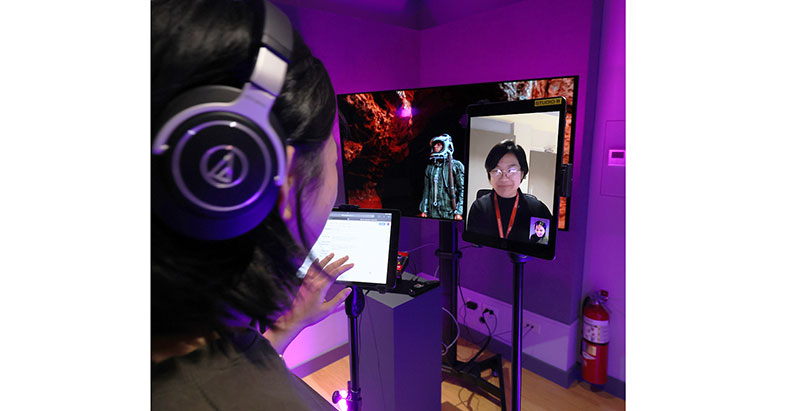 Voice-over booth
Using these gateways, HIT can insert Dante AV with 8 audio channels and 1 HDCP (High-bandwidth Digital Content Protection) encryption support video channel into an existing Ethernet network backbone without the typical AV-over-IP performance and management issues. The HDCP protocol protects digital audio and video content from being copied and distributed as the signals travel through connections to devices.
Meanwhile, Dante's sub-microsecond audio/video synchronisation avoids alignment problems and can significantly reduce harmonic distortion and phasing caused by jitter, wander and delay often found on standard Ethernet networks.
Audio Signal I/O
Audio studio
Audio I/O is routed via multiple Focusrite RedNet X2P portable Dante interfaces controlled by RedNet R1 controllers. RedNet X2P adds Dante audio interfaces by integrating power, audio, clock and remote control over a single Ethernet cable. Through the larger production suites, Dante is also connecting several Focusrite Red and Avid MTRX Studio audio interfaces.
 
HIT Productions currently has 12 production rooms running on Dante AV, and plans to expand it to all 28 rooms over time. Dedicated Dante cabling has also been installed in the 12 hot desk-style workstations and the facility's four conference and group meeting rooms. www.audinate.com