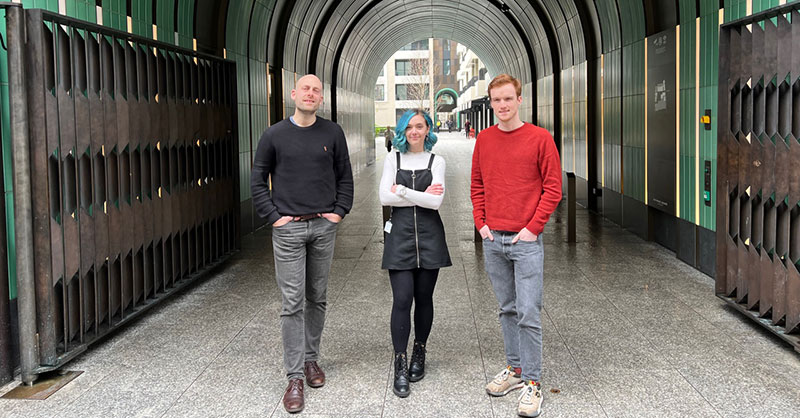 L-R Head of CG Rob Hopper, FX Supervisor Sam Hiscock and Lighting Supervisor Jonas Vonk.
Over the last year, the Union VFX team has been developing a bespoke USD-based, CG pipeline from the ground up, ideally matching their artists and projects.
The flexible, open-source USD file format, developed by Pixar, supports robust interchange between tools, allowing simultaneous collaboration without conflict. Because the CG team, led by Head of CG Rob Hopper, uses a variety of software, basing the pipeline on USD increases workflow efficiency while making the most of everyone's expertise.
Marvel Studio's Moon Knight was the first project to use the new pipelinein production. Since then, the team has created impressive CG work for a wide variety of projects including The Wheel of Time (Disney), Pennyworth (Warner Bros.), The Banshees of Inisherin (Fox Searchlight) and The Sandman (Disney).
Rob Hopper joined Union just before the pandemic from MPC where he was Head of FX working on shows including The Jungle Book (Disney), The Lion King (Disney), Suicide Squad (Warner Bros.) and X-Men: The Apocalypse (Fox).
Since joining Union he has grown a strong team of CG experts both internally and through appointments, most recently recruiting Sam Hiscock as FX Supervisor and Jonas Vonk as Lighting Supervisor.
Sam also joins Union from MPC, where she managed a team across multiple sequences for TV series and feature films including House of the Dragon (HBO), Maleficent: Mistress of Evil (Disney), The Lion King (Disney) and Prehistoric Planet (Apple TV+).
Jonas has come to Union from the lighting team at DNEG where some of his notable credits include The Rings of Power (Amazon), The Matrix Resurrections (Warner Bros.), No Time to Die (MGM) and The Adam Project (Netflix).
This new way of working on a USD pipeline and the key talent hires signify the evolution and increased importance of CG within the facility. Rob commented, "The steady growth of the department over the past 18 months means we are able to take on bigger projects and more complex work than earlier on.
"Each project presents its own set of challenges, allowing the CG pipeline to evolve each time and making it the best it can be for us. In this way, it's future proofed and in a solid place to progress even further. Instead of being stuck with a legacy format, Union's pipeline is nimble, allowing artists to be trained in the process of working so they can concentrate on the creative."
Union is currently working on The Power (Amazon Studios), Poor Things (Searchlight) and Emerald Fennell's Saltburn (Amazon Studios). Watch the studio's reel here. www.unionvfx.com