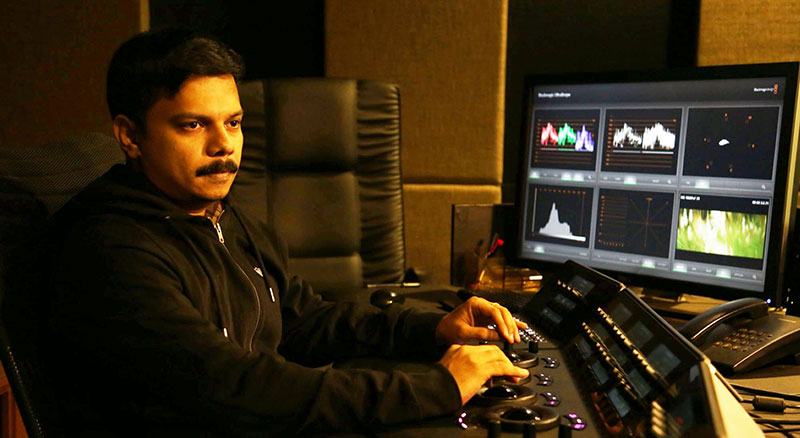 'Kantara' is a 2022 blockbuster that brought India's lush, vibrant filmmaking style to a global audience, attracting attention worldwide. An action thriller, it blends the traditional culture and natural beauty of India.

Written and directed by all-rounder filmmaker Rishab Shetty, who also starred in the film, 'Kantara' is about a Kambala buffalo racing champion who clashes with a hard-line forest officer. The story begins in an Indian village inside a deep forest where the people worship God through dancing called Buta Kola, which they perform as a form of art that calls on nature and animals. Here at the village, the movie portrays Buta Kola performers, regarded as divine dancers who paint their faces, wrap in a Siri made of coconut feathers and dance, invoking the deity.
Capturing Spectacles
The film also captures the extreme spectacle of Kambala, an annual buffalo racing festival held in the Indian states of Kerala and Karnataka. This sequence, combined with the brilliant colours of the Buta Kola ritual dance performances, challenged the colourist Remesh CP who was tasked with creating a look in every frame that brought out a cinematic feel but also captured the natural look of the festival and culture.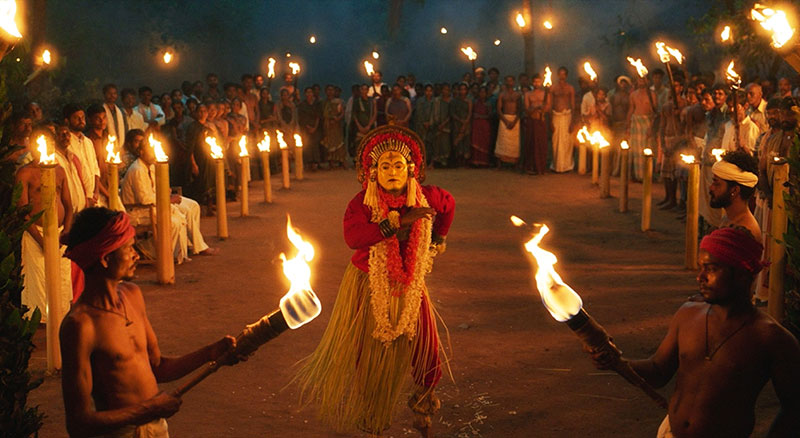 Now working at his own post house, Color Planet Studios in Ernakulam, Kerala, Remesh CP has graded more than 150 feature length and short films and more than 250 television commercials over the course of his 15 year career, winning several awards. Since starting out in 2007, he has used DaVinci Resolve Studio for the majority of his work, which has included many well known titles in India including 'Kumbalangi Nights', 'Ajagajantharam', 'Palthu Janwar', '777 Charlie' and 'Gandhadagudi'.
"Rishab Shetty wanted each scene to look beautiful and engaging, and the whole film to include the proper continuity, and adequate explanation for the crucial scenes. The action, fantasy concepts and backdrop, which made the film strong visually, were achievable and controllable with the DaVinci Resolve control surface," he said.
Colour Management
Remesh CP used an ACES colour management workflow for the project. He was tasked with working with large EXR VFX shots as well. All were required within a tight deadline that had to include versions for theatres and global streaming. Choosing the ACES workflow gave Ramesh CP certain advantages for these demands. For instance, ACES 16-bit files are able to hold all the colour information and dynamic range of the original source material more precisely than earlier 10-bit file types. This means more highlight and shadow information becomes available to colourists during grading.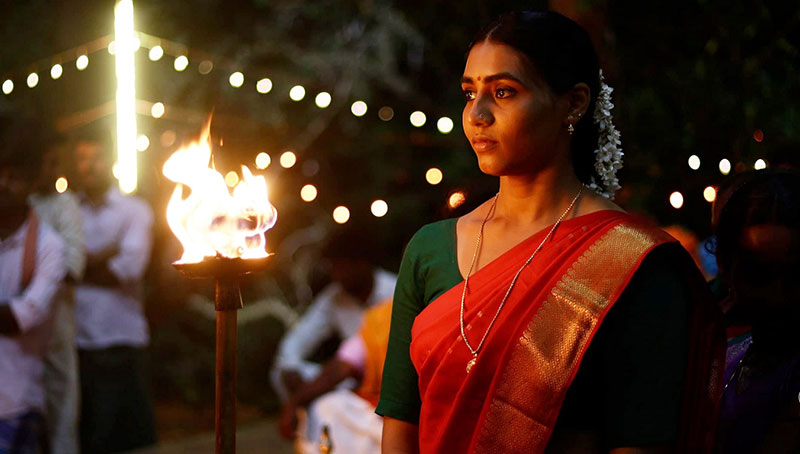 For the VFX work, ACES uses the OpenEXR file format to hold 16-bits of scene data as well. ACES files can hold 30 stops of scene information, and encode all the colours that people are capable of seeing. That wider pallet is especially useful when grading on displays with varying dynamic ranges and allows more flexibility if traditional digital displays are used, such as digital cinema projectors.

Remesh CP said, "Resolve can load almost any format, including deep raster formats like OpenEXR. This made my job easier and quicker. The Advanced control surface also made me incredibly efficient by helping me to tweak values precisely, and the reverse and forward tracking of Power Windows are very easy to manage. I also made constant use of Resolve's colour warper and qualifier tools, along with its HDR colour wheels and noise reduction tools throughout the grade."
The colour warper is a visual way to adjust the hue and saturation of colours in an image by overlaying a diagram over the vectorscope and dragging the mouse in different directions. This allows you to watch precisely how the values are changing as you work.
Hunting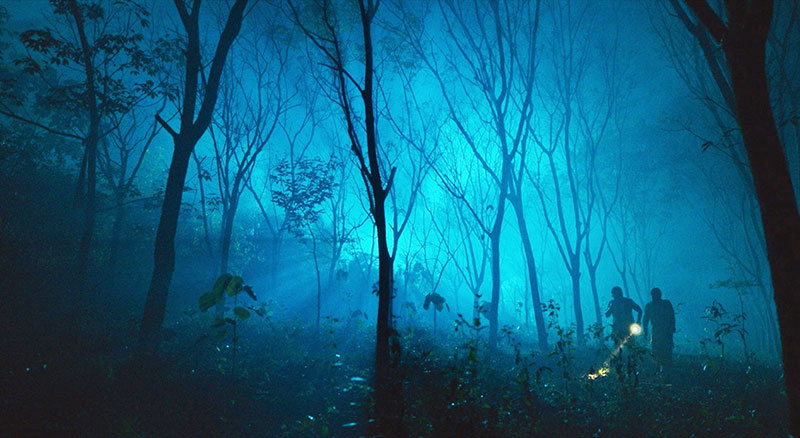 One of the scenes that highlighted the film's natural beauty and cinematic feel was when four of the main characters were hunting boar in the middle of the night, using only moonlight and head lamps. Using DaVinci Resolve Studio, Remesh CP was tasked with blending in the quick boar running through the trees and leaves along with the characters chasing it through a foggy forest.

"Resolve's alpha matte helped me to dynamically blend the wild boar with the night forest. I was able to apply a grain effect to the 3D model, and then control its sharpness with Power Windows in Resolve. This helped me dial in the look in each part of the scene and to efficiently achieve the realistic touch that the cinematographer and director were looking for," he said.

"I believe that we successfully set the mood that the DOP and the director wanted to achieve throughout the movie. The movie has been widely appreciated, especially for the grade, and DaVinci Resolve is an important part of making that possible."

'Kantara' is available worldwide in theatres and through streaming services now. www.blackmagicdesign.com