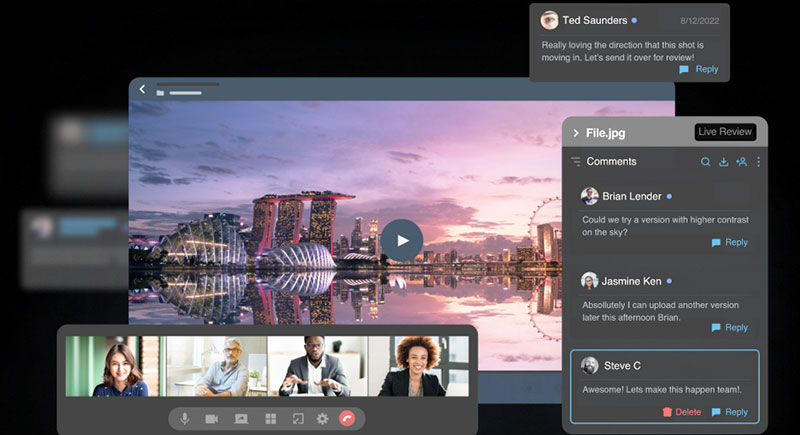 Sohonet has acquired 5th Kind, a cloud-based video collaboration platform for film and TV production. Over the last decade, 5th Kind has helped to simplify modern complex workflows with a cloud-based asset management and discovery platform allowing production members to securely collaborate at global scale, across the entire content lifecycle.
Sohonet's real-time remote collaboration system and media network combined with 5th Kind's near-time dailies review functionality and asset workflow platform will create an integrated, collaborative tool for filmmakers that is scalable and secure. The partnership will also create opportunities for productions to reduce costs and timelines, especially as more creative workflows centralise assets and workflows in the cloud
"Content creation today is becoming global, complex and data intensive," said Chuck Parker, CEO of Sohonet. "As Sohonet transforms into a creative-centric asset hub and workflow management platform, we are focused on connecting industry talent with the tools and resources they need, in the many places that they now work – on set, on-prem facilities, at home, private, public or hybrid cloud infrastructure locations."
Regarding the changes this will bring to the industry, Chuck noted that this acquisition means they now have more than 60 production facility partners supporting high-speed on-set communications for over 700 soundstages located around the world. He believes they will soon be able to take advantage of the efficiency and effectiveness of cloud-first workflows by supporting the near-time upload of original camera files (OCF) from the production's video village directly to the cloud.
"Productions will no longer be required to spend time and energy on a divided workflow where proxies created on set for editorial and full resolution video assets must be sent to the post partner via hard drives," he said. "By delivering the OCF directly into public, private or hybrid cloud repositories, productions can choose to anchor their post production workflows in the cloud. This allows their post production partners and creatives to collaborate quickly and affordably." www.sohonet.com