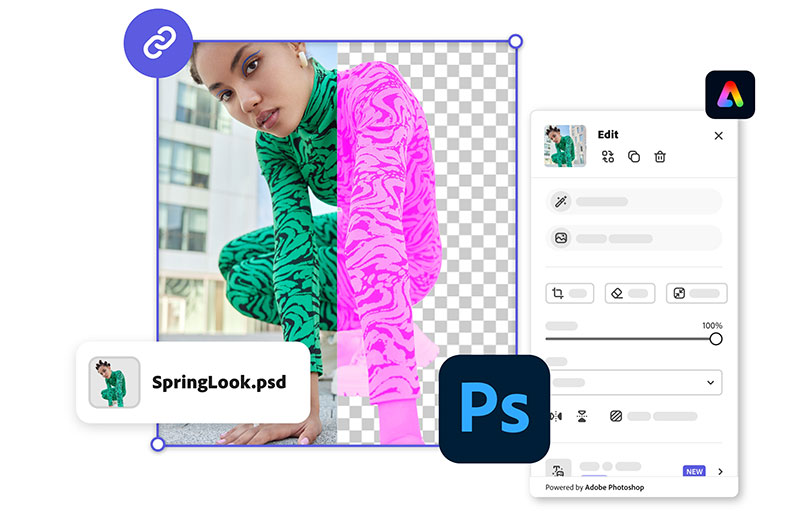 The new beta version of Adobe Express content creation software now incorporates Adobe's Firefly generative AI models into its tools and workflows. It combines Adobe's photo, design, video, document and generative AI tools into a single editor, including PDF support. The software directly integrates with Adobe Creative Cloud and Adobe Experience Manager to allow synchronisation across applications and real-time collaboration, and support scalability.
Express is based on a set of Adobe's tools from Photoshop, Illustrator, Premiere and Acrobat and is intended for use by a wide, non-specialised user base, ranging from students, enterprises and brands to professional creators, who need to produce social media posts, videos, images, PDFs, flyers, logos and other design work.
Firefly and Adobe Assets
With Firefly embedded directly into Express workflows, users are able to use of text prompts to generate images and text effects to enhance their work. The Firefly content engine is trained on Adobe's proprietary dataset – Adobe Stock images, openly licensed content and public domain content – and tagged with Content Credentials, which the creator uses to attach attribution information to the final piece of content.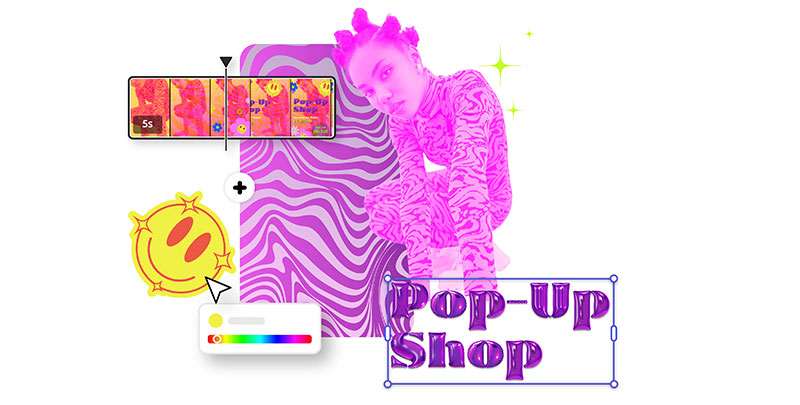 Users also have access to Adobe's video templates, photos, music and assets to help them get started on projects. This collection now has new video, multiple page templates and design elements, and totals nearly 200 million assets including video and design templates, royalty-free Adobe Stock images, video and audio assets, almost 22,000 fonts, plus more icons, backgrounds and shapes.
Adobe says that AI abilities are added to help remove the guesswork from the design process. Creators can quickly find the options best-suited to their content, or receive personalised template recommendations that match specific styles. Quick actions are also available, like removing backgrounds in images and videos, animating a character driven by audio, converting to GIF and editing PDFs, to make creating content quicker and simpler.
Real-time Collaboration
Real-time collaboration and direct review and commenting capabilities add speed to creation processes. A user can access, edit and work with creative assets from Photoshop and Illustrator directly within Express, or add linked files that always stay in sync across apps.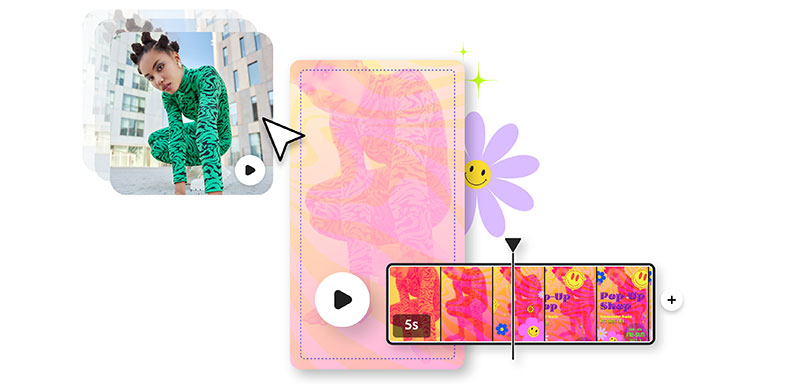 Animations such as Fade In, Pop, Flicker and Bungee add motion to text, photos, videos and assets with an approach linked to audio. With Animate from Audio, taken from Adobe Character Animator, characters can be animated by syncing their lips and gestures to recorded dialogue – either your own voice recording or a pre-recorded audio file.
Web Complement
This update contributes to the original purpose of Express, as a web complement to Creative Cloud, Experience Cloud and Acrobat applications, and affects different users in different ways. Creative Cloud members can directly import, edit and stay synced across applications, collaborate in real-time and perform quick tasks for social media content or concept approval, all of which helps teams to stay on brand.
For enterprises, the integration with Creative Cloud applications and Experience Manager extends the usefulness of the tools beyond design teams, reflected in the organisation's content velocity – the rate at which it creates and publishes new content, the frequency of content sharing, and the engagement levels of their audience – at scale.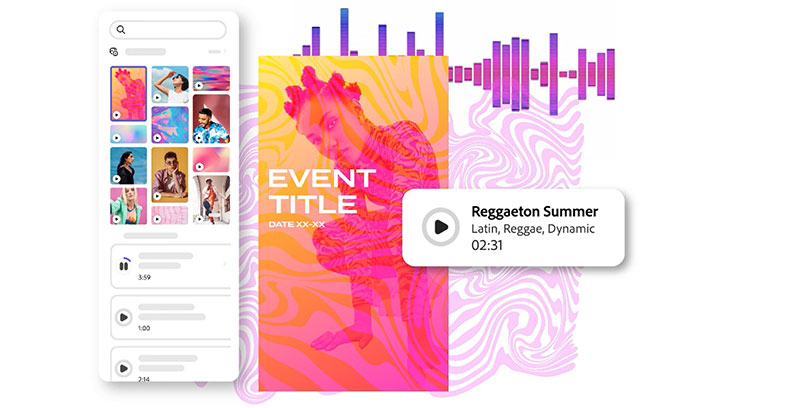 Small and medium business owners can plan, schedule, preview and publish content from the one software application. Students can also work collaboratively in real time on shared projects, school posters, webpages and animated videos, and their educators get a head start when creating infographics or illustrating presentations by adding distinctive visual elements, animation and effects.
Express and Firefly in Google Bard
Adobe is partnering with Google to bring Firefly and Express to Bard, Google's experimental conversational AI service. Firefly will become the main generative AI partner for Bard, supporting text-to-image capabilities. Due to this Bard by Google integration, users will be able to describe their vision to Bard in their own words to create Firefly generated images directly in Bard, and then modify them using Express to create custom artwork.
The new release of Adobe Express is available now in beta for desktop, free to all users. Mobile will follow soon. For existing Adobe Creative Cloud members, the Adobe Express premium plan is included. www.adobe.com