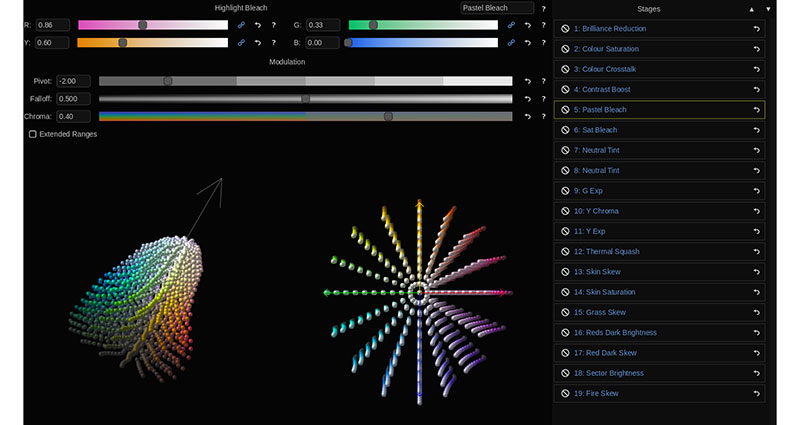 Chromogen UI
FilmLight's upcoming v6.0 of the Baselight grading software is now in beta testing with colourists around the world, and a step closer to release.
Among the new tools is an improved, modernised timeline, a new primary grading tool called X Grade and a look development tool, Chromogen. The new features are currently in use on a number of live projects with varied, complex workflows and creative requirements.
X Grade Primary Correction
The X Grade primary colour correction tool is designed for image reshaping, selectively balancing the colours in an image. Colourists can make multiple localised complex corrections in a single layer without having to create a key or matte. X Grade works with images gently and sympathetically.
X Grade works inside its own perceptual colour space with a scope display that represents the colours the image contains, and any associated edits. It also performs zonal transforms, without relying on LUTs, supporting smooth, if complex alterations to achieve results naturally. Instead of working with folds, edges or clipping to make corrections, users push their shots as far as needed, and can then apply the corrections to similar shots on the timeline – including those with a completely different colour palette.
Peter Doyle, supervising colourist at Postworks NY, has been part of the beta programme. "X Grade has refined the process of selective colour work," he commented. "It gives you a cleaner way of interacting with imagery without the convoluted process of colour space conversions and controls that are not quite optimal."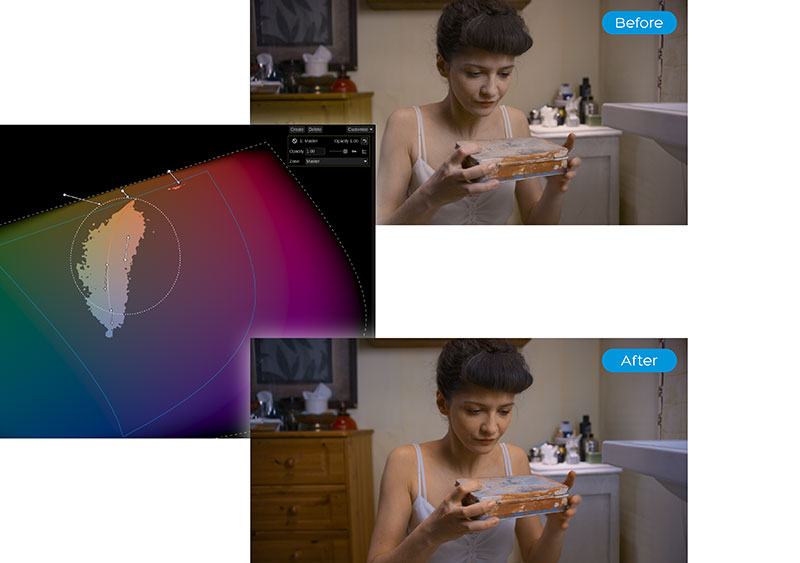 Using X Grade
Sebastian Guest, freelance colourist, recently finished a Swedish feature film using Baselight 6.0. "X Grade was an enjoyable and easy tool to use," he said. "It is intuitive and organic. Once we got started, we kept finding more ways to use it."
Chromogen Look Development
Chromogen, the v6.0 look development tool, has been developed to allow colourists greater creative freedom when producing show looks with the DoP and director. Colourists today often produce looks by blending and editing their existing film-based LUTs, which limits their ability to produce a fresh new vision. Now, colourists can use Chromogen to recreate classic cinematography looks and then adapt and modify them to create entirely distinctive imagery. They can produce film-based looks from scratch, as well as any new looks outside the popular aesthetic of film.
Technically, Chromogen addresses the fact that a look has to work across a broad range of source material under different lighting conditions. It focusses on producing scene referred looks and helps colourists work with HDR camera data.
A finished look can be saved to access quickly as a preset, or exported as a LUT to use for on-set previs. On returning to Baselight or Daylight it can be applied as a precise floating point transform, which means it automatically works across nearly any type of input material and, ultimately, any required deliverables.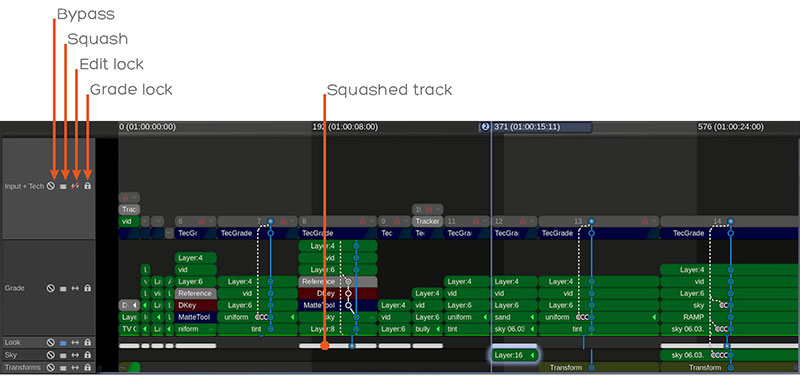 Timeline tracks

Jack Jones, colourist and CTO at Roundtable Post, recently used Chromogen to build a new LUT for an upcoming Netflix documentary. "I ended up building the look completely from scratch based on a '70's aesthetic," he said. "I built it using 31 different layers within Chromogen.
"One of the key benefits is that it is almost impossible to 'break' the footage with the tool, and you can manipulate the look on a per scene basis if necessary. It's the equivalent of being able to adjust and fix parts of a LUT." He also noted that no other true look development tool like Chromogen currently exists and that it marks a turning point in the evolution of DI.

Timline editing
Time on the Timeline
Baselight's layer compositing timeline has been completely re-built in v6.0, although it retains a familiar look and feel. New, integrated functionality includes track support and a processing tree overlay that gives the user a clearer view of the underlying node tree that the timeline represents. It now has a cleaner, more modern user interface as well.
The new edit mode is shot-aware, and when enabled behaves like a traditional editor, that is, with editing functions using a mouse on the timeline or via keyboard shortcuts.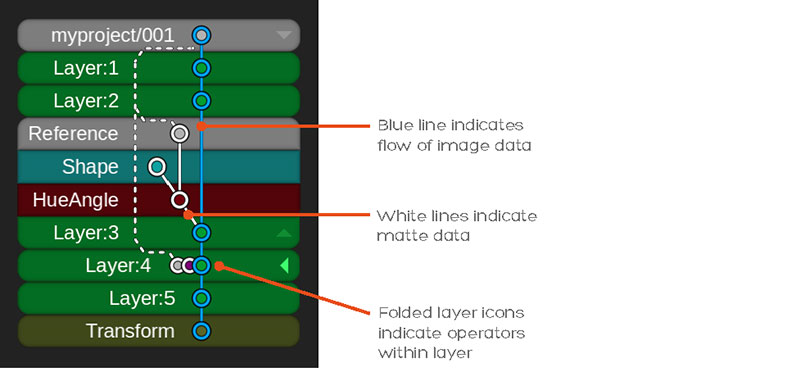 Node tree visualisation
Baselight 6.0 adds different kinds of track support to help manage the timeline. For instance, scenes can be segmented so that a group of people can handle different aspects of a project, such as editing or colour, more easily. Track bypass allows users to isolate and show the effect of a particular track, or to disable one track to replace it with another to set up different versions. Entire tracks may also be 'squashed', allowing the user to focus on other parts of the timeline. A part of squashing is a locking mechanism that locks down either the edit or the grade to prevent accidental changes.

Paul Harrison, colourist and co-founder of Residence Pictures in the UK, said that these improvements to the timeline were his favourite new feature. "It will have the biggest impact on my day-to-day work. The new UI is great, being able to collapse big timeline stacks is also really useful, and being able to lock grades to do trim passes is brilliant." www.filmlight.ltd.uk