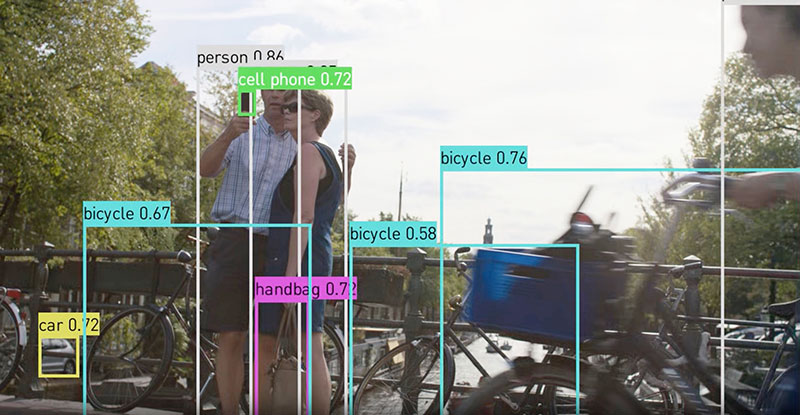 Colorfront held in-person technology demonstrations during IBC 2023 as usual at The Okura Hotel in Amsterdam – however, to show their streaming systems' ability to live-stream footage processed by Colorfront Transkoder in the cloud, using regular hotel broadband, the computing for the demo took place 435km away in Frankfurt, Germany. The company also showed their updated implementation of Transkoder on Mac Silicon during IBC 2023, featuring new AI and Dolby Vision tools, and other developments.
Demonstrations in Amsterdam and Frankfurt
The main demo was a set-up combining Colorfront Streaming Player, running locally on a Mac Mini with a HDMI 2.1 video connection to an HDR display, together with Transkoder mastering, QC and deliverables software running in AWS in Frankfurt with realtime playback directly from S3 cloud object storage.
The demonstration involved reading, de-Bayering, processing and streaming RAW camera footage, IMF and DCP packages in perceptually-perfect quality to the demo suite in Amsterdam. Colorfront's team was using public internet for transport, maintaining ultra-low latency in UHD HDR, with on-demand AWS hardware costing under $7.10 per hour running a Colorfront Transkoder license.
"We are always looking for new, more efficient ways for users to run Colorfront processes. The demonstrations at IBC show how practical it can be to use the software to cost-effectively operate remote and cloud-based workflows for image-processing and review tasks of all types, while preserving image quality," said Mark Jaszberenyi, Colorfront CEO.
"The workflows include heavy-lifting operations such as mastering IMF or DCP packages with Transkoder in the cloud, creating Dolby Vision and Atmos output, editing or review. Our Dailies tools can be efficiently used with the new 8K digital cinematography cameras, while taking advantage of our secure, AES-encrypted Streaming tools for live/remote colour grading sessions."
Meanwhile, the team also demonstrated its Colorfront Streaming Server device, and the software-only Colorfront Streaming Server Mini for Mac/PC laptops and workstations during the show.
Apple Silicon Optimisations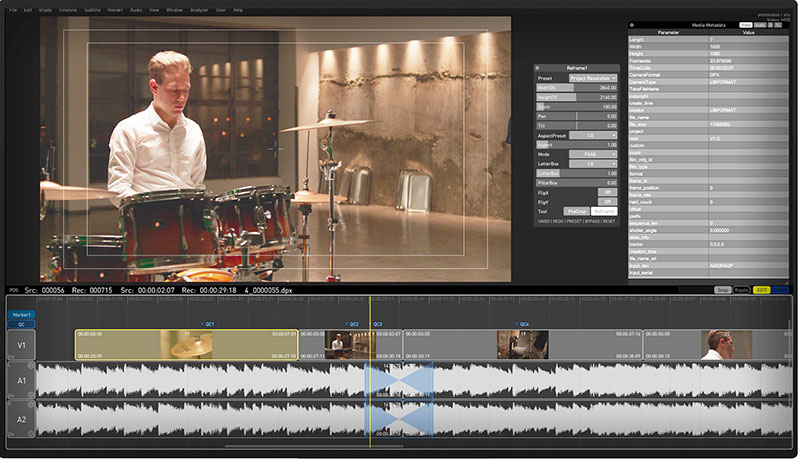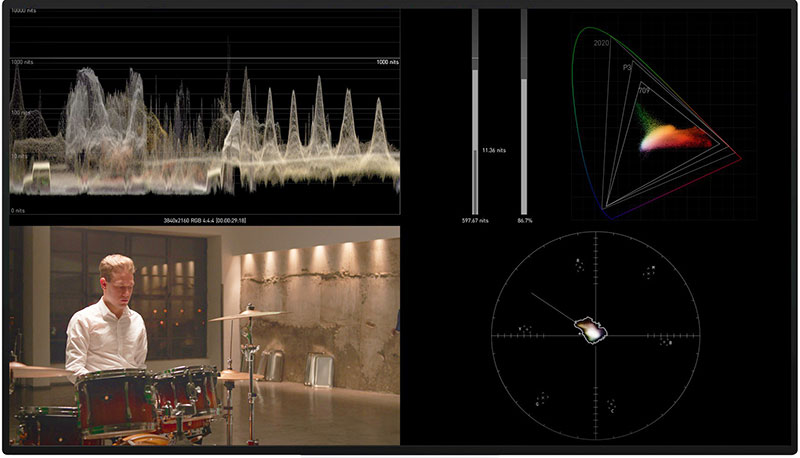 Transkoder on Mac
Transkoder has been optimized for the new Macs using Apple Silicon, making it a highly cost-effective option for Mac-based facilities and owner/operators. It was shown running in a high performance set-up on a Mac Studio M2 Ultra desktop with dual 32-inch Retina 6K Pro Display XDR monitors featuring Colorfront's new second-head Analyzer. This 1RU hardware Analyzer has been developed with AJA and is used to analyse signals – in real time – for HLG, PQ, Rec.2020, Rec.709 and native camera Log color spaces from 8K/UltraHD2/4K/UltraHD/2K/HD content in the one device. Its ability to analyse up to four signals of 4K/UltraHD simultaneously makes it especially useful.
Also added to Transkoder 2023 are multiple AI tools, including the open source Whisper automatic speech recognition system, for multi-language SRT (plain text) subtitling from audio tracks, integrated vision analysis and object detection, and operator tools to improve QC and logging. These tools are available either on local storage or via the cloud.
Dolby Vision HDR
Transkoder's Dolby Vision toolset includes updated metadata analysis at level L1, which is dynamic and automated and produces three values per shot or frame to describe the image and its dynamic range. It also supports Dolby content mapping v4.0 with Cinema trims. Transkoder has a new tool purpose-designed to help content owners repackage historic and legacy SDR catalogues of films and TV programming into Dolby Vision HDR masters with corresponding XML metadata. The processing can generate a newly-derived SDR master that matches the original.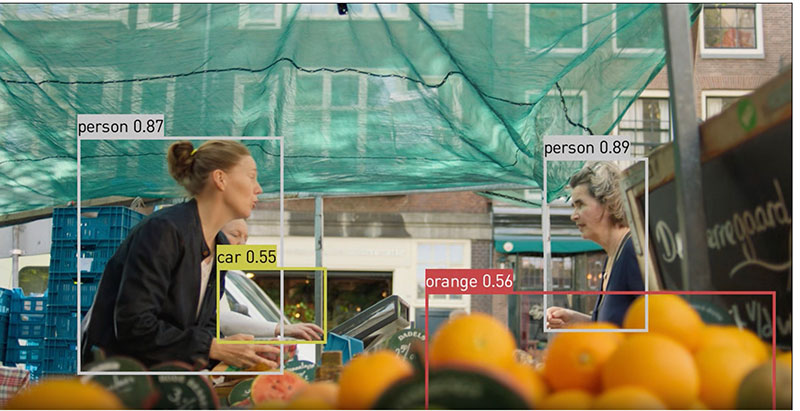 Using AI tools in Transkoder
Other new features in Transkoder encompass usability and workflow. For example, support for the OpenTimelineIO interchange format and API for editorial cut information is added, with panel-mapping for Loupedeck grading consoles. The timeline has been made more flexible and it has burn-in tools for watermarking, logos and copyright. The audio tools are now suitable for censorship edits. The Transkoder web UI is enhanced for automated render management and cloud operations. Its tools for complex mastering and QC tasks are improved and include optimised import of encrypted DCPs, PHP 8 support and rewrapping of HT-J2K files.
DCP/IMF Mastering, Camera Format Updates
Colorfront Transkoder optimizes DCP/IMF mastering workflows, accelerated HEVC H264/H265 and ProRes read/write, and delivers rapid handling of all new RAW camera formats. These now cover Sony's Burano just launched at IBC, ARRI Alexa 35 4.6K with the ARRI Reveal colour science and ARRI Textures, Sony Venice 2 8K, RED V-Raptor 8K, Blackmagic RAW and ProRes RAW.
The 2023 versions of Colorfront's On-Set Dailies and Express Dailies have also been updated to support the recent digital camera formats, including not only the Sony Burano but also augmented capabilities for ACES 1.3 workflows, such as ACES CFE LMT pipeline types and the ability to import/convert legacy ACEScct LMTs to .CLF files. New tools have been developed for retiming HFR (high-frame-rate) clips, improved rendering and QC. The shots table for metadata inspection and editing is now redefined with editable fields for burn-ins/render paths, and support for third-party OpenFX plug-ins is extended so that users can add textural qualities to their content. www.colorfront.com