NexGuard & Colorfront Demo UHDTV/HDR Forensic Watermarking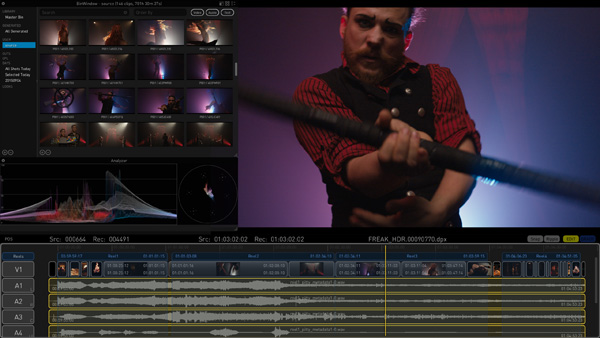 Forensic watermarking specialist NexGuard is joining Colorfront, on-set dailies and transcoding systems developer, to develop a system protecting digital content creation materials, particularly 4K/UHDTV and HDR video. Their target applications are digital cinema, broadcast, OTT internet entertainment and video-on-demand.
Forensic watermarking is the process by which a unique, invisible serial number can be added to video or audio content. The watermark remains with the content, regardless of how it might be transcoded, resized, downscaled or otherwise altered for distribution. Following the publication of the recent MovieLabs specifications for enhanced content protection, Hollywood studios are making forensic watermarking a key security requirement for operators supplying early release or UHD/4K and HDR content.
The joint NexGuard and Colorfront system combines NexGuard's forensic watermarking with Colorfront's Transkoder and On-set Dailies products, enabling protection for many types of dailies, mezzanine and master deliverables at all stages of the production and post production workflow, meanwhile allowing users to track the source of illicit B2B and B2C distribution, particularly of 4K/UHDTV and HDR content.

The NexGuard and Colorfront system is based on experience from Colorfront Transkoder deployments at Hollywood studios including Sony Pictures, Disney, Fox, Paramount, Warner Bros. and Universal. It also reflects the use of Colorfront On-Set Dailies systems in the workflows of movies and episodic TV productions such as 'The Jungle Book', 'Deadpool', 'The Revenant', 'Warcraft' and 'Game of Thrones'.
Aron Jaszberenyi, Managing Director, Colorfront, said that integrating NexGuard's robust forensic watermarking into Transkoder and On-Set Dailies has been a straightforward process, and means media assets are traceable from dailies through to the most recent UHDTV and HDR delivery formats for OTT services such as Amazon Prime and Netflix. He said, "Multiple outputs can be watermarked simultaneously with different payload IDs. For example, you can deliver DNxHD MXF to editorial, H264 for PIX, and HD ProRes for marketing -all marked with unique payload IDs – and be able to identify which one ended up being pirated."
Harrie Tholen, Managing Director at NexGuard said piracy remains a challenge for studios, post-production companies and distributors, and that the joint Colorfront and NexGuard system is an accessible means for studios to prevent illegal redistribution, especially for high value content such as UHD and HDR.
Both NexGuard and Colorfront will hold demonstrations of their collaboration during NAB 2016. NexGuard forensic watermarking was recognized with a Technology and Engineering Emmy award at CES 2016, demonstrating the role the process plays in the fight against piracy. NexGuard's forensic watermarking for HDR will be available in mid-2016.