Z CAM and ASSIMILATE Develop an Integrated Set-to-Post VR Workflow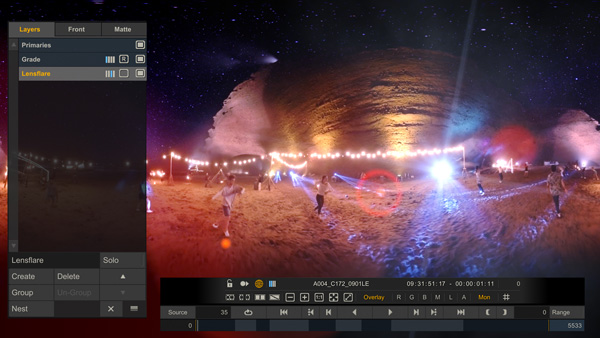 Z CAM and ASSIMILATE have partnered to combine their products and expertise into a workflow that makes high-quality VR productions easier and cheaper to produce. Their goal is to overcome the complexity and cost of creating professional VR/360 experiences, involving numerous decisions and requiring specialised tools for VR workflows – cameras, stitching and a post-production software pipeline.
Z CAM's and ASSIMILATE's new Z CAM S1 / SCRATCH VR Z workflow aims to simplify VR content creation and remove some of the unknown factors by forming an integrated VR workflow encompassing tasks from image acquisition through postproduction. It integrates the Z CAM S1 virtual reality camera and WonderStitch image stitching application, with ASSIMILATE SCRATCH VR post production software.
Kinson Loo, CEO at Z CAM described the scope of applications for VR. "The ease, lower cost and performance of an integrated package like the S1/SCRATCH VR Z integration open possibilities for content creators and professional users in various markets – entertainment, medical, engineering, education, simulation, games and other. The focus shifts to improving their story instead of spending time building up their own hardware/software system."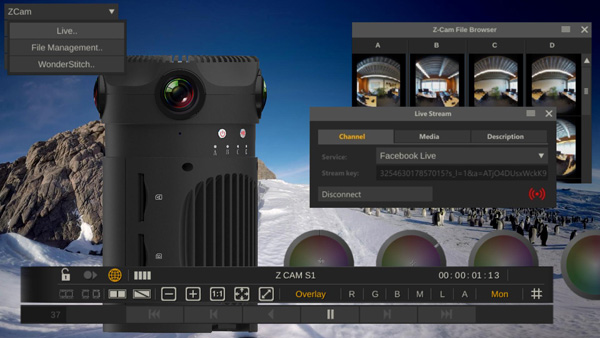 Jeff Edson, CEO at ASSIMILATE also noted that the VR market has been fragmented by the need to purchase cameras and software tools from different sources. "By partnering with Z CAM to develop an integrated VR workflow, we expect its ease-of-use and affordability to drive the growth of VR productions, and make VR/360 content a ubiquitous way to experience the world," he said.
Z CAM S1 VR Camera and SCRATCH VR
Z CAM launched Z CAM E1 in 2015 for use in VR camera rigs, and more recently designed a VR camera, the Z CAM S1. It is built with four all-glass 190° fisheye lenses, four Ambarella A9 s75 processors and four Sony Exmoor CMOS sensors. Its spherical resolution is 4K at 60fps or 6K at 30fps, and it has co-ordinated auto exposure, automatic white balance and built-in Z CAM Sync hardware. MOV file encoding is to H.264 at 60 Mbps bitrate for 4K UHD. The gamma setting is Z CAM's proprietary Z-Log designed for post flexibility. The unit accepts four SD cards of up to 128GB each, and has four mini HDMI ports for 1080p out.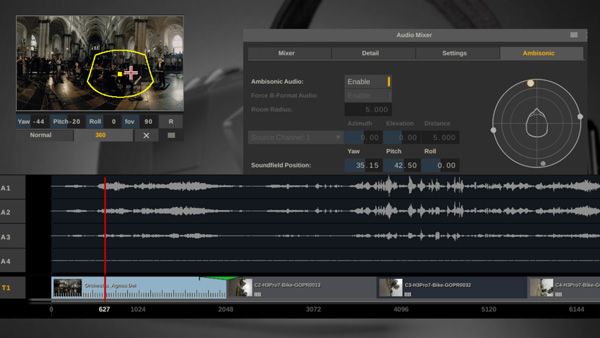 All pre- and post production tasks in the SCRATCH VR Z workflow are handled by a software integration between the Z CAM WonderStitch and SCRATCH VR applications. It can be used to do live camera preview prior to shooting with the S1. Once the shoot begins with the S1, users can carry out dailies and data management, including metadata, without removing and copying the SD cards. The connection to the PC is direct via a high-speed Ethernet port. Stitching of the imagery is then done in Z CAM's WonderStitch, integrated into SCRATCH VR Z.
Stitching and Post
Z CAM WonderStitch software processes the images with an optical flow-based stitching function within the Z CAM Controller, performing offline stitching of video files from the Z CAM S1 and Z CAM S1 Pro, and outputting to MOV format. Users need to purchase a WonderStitch software license associated with a designated Z CAM S1 or Z CAM S1 Pro.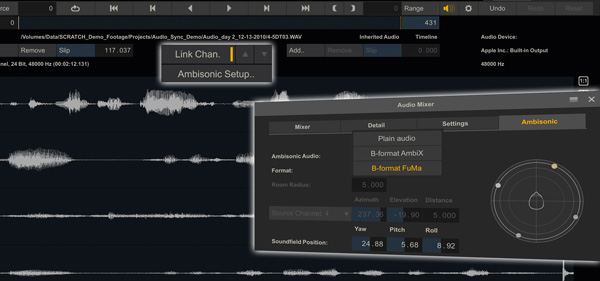 For 360 post production, the SCRATCH VR Z integration includes switching back and forth between the S1 functions and the SCRATCH VR tools. Processing can then proceed with editing, colour grading, compositing, multichannel audio – either captured from the S1 or added external ambisonic sound - finishing, and publishing to final online or stand-alone 360 platforms.

Live 360 video streaming is also possible from the Z CAM S1 through SCRATCH VR Z to Facebook Live 360. Functionality extends to real-time graphics insertion and composting of text overlays and animations, and green screen keying. www.assimilateinc.com