Dalet Tackles AI, IMF Deliverables and Cloud Workflows at NAB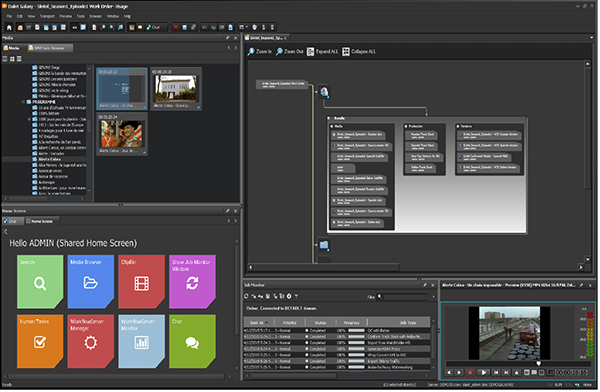 Dalet IMF Workflows
Dalet Galaxy five is the new version and name of Dalet's media asset management and workflow orchestration platform, shown at NAB 2018. Among the changes is the use of artificial intelligence (AI) across the workflow, the introduction of hybrid infrastructures with both on-premises and cloud deployments, and the further integration of social media into operations. Updated functions include editing, show automation, multiplatform production, workflow orchestration and collaboration.
Artificial Intelligence Framework
The new Dalet Galaxy five AI framework connects, orchestrates and fine-tunes combinations of AI models, developed as cognitive services for specific purposes, which can then be used in intelligent workflows that help with recommendations and use predictive analytics for provisioning and automated decision-making. They can also facilitate collaboration with smart matching – searching for media that might represent the same content based on entity types, attributes and database property values.
Users can access and use the data resulting from any of these services at various points in the platform's applications. Dalet Content Discovery, the first application to apply this new AI framework, was shown at NAB 2018, applying Auto Indexing and Natural Language Processing. It uses the generated data, combined with existing metadata, to build smart content recommendations for editorial and creative teams, employing such techniques as automatic content tagging, topic extraction and key phrase searches.
Instead of manually searching for news story assets, Dalet Content Discovery sources and serves content intelligently, finding relevant material including clips, videos, stories, pitches, wires and multimedia content as the journalist develops a new story. The Discovery Board also gives journalists and news directors a view of similar news stories that are underway, helping them to collaborate with colleagues on similar material and topics.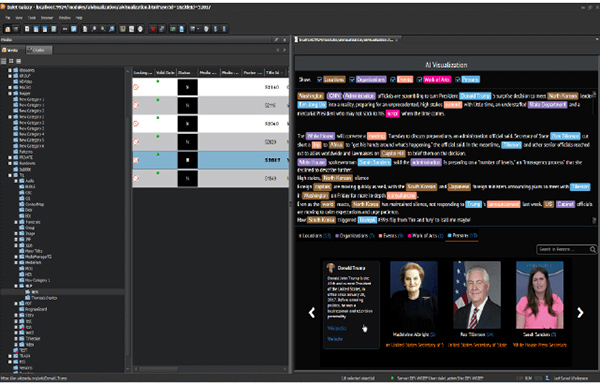 Content Discovery
Hybrid Workflows and Operations
Dalet Galaxy five's new integrations with AWS infrastructure services can be used for hybrid scalable architectures that help lower content handling costs and add more mobility for users, but still keep content secure. Two Dalet-AWS integration examples are auto-scalability to save on infrastructure costs, and the native support of S3 and Glacier. The Glacier integration results in a direct user experience - for instance, content served to the web-based and mobile app clients Dalet WebSpace and Dalet On-the-Go, respectively, can be hosted on and streamed directly from S3.
IMF and other Component-Based Workflows
Dalet Galaxy five dissociates elements and stages of the media supply chain, so that users can produce, manage and distribute content at the component level, instead of re-rendering an entire project several times throughout its lifecycle, including every version they need to distribute. The goal is more efficient, flexible mass and high-volume workflows such as multiplatform news production and international programs preparation, localisation and versioning, which often become quite complex.
The model is especially well adapted for new standards such as the Interoperable Mastering Format or IMF. Dalet Galaxy five has a new set of IMF workflow tools within WebSpace, Dalet's web client where authorised users can connect with the Dalet Content Catalog, share assets and access Dalet toolsets via a web browser.
Users now have tools to manage component-based IMF workflows from acquisition to production, versioning, packaging and distribution. Tools include receiving IMF packages, referencing IMF assets in a central repository, and putting the technical and editorial IMF metadata to work to search on all assets and data.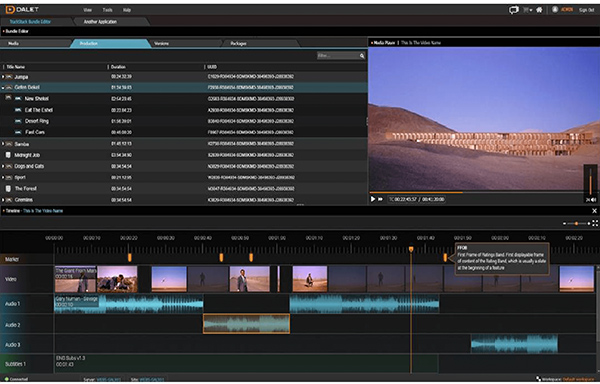 Dalet Webspace artboard
Among the numerous IMF processes and elements, the Composition Playlist (CPL) defines the playback timeline for the Composition and includes metadata. From one composition, IMF can create many different distribution formats by specifying the processing or transcoding instructions through an Output Profile List (OPL). Finally, media and data essence, and dynamic metadata, are encapsulated into time-based track files using the MXF file spec.
In Galaxy five, proxies are generated for previews of track files and CPLs in Dalet WebSpace, visualizing assets relationships - track files and CPLs, CPLs and OPLs - automating the creation of new versions, connecting CPLs using EIDR (Entertainment Identifier Registry) and ISAN (International Standard Audiovisual Number) IDs.
Social Integration
Newsrooms can now use Dalet's social media tools to handle social media as an integrated part of their overall news operation. Journalists can harvest, analyse, produce and deliver news from and to social media platforms, which have to operate at a faster pace than elsewhere, alongside traditional outlets. The workflow centres on stories, and makes use of the usual indicators such as number of views, likes, shares, plus audience comments and threads.
Journalists monitor the performance of their posts with the visual engagement data, showing audience reaction, and discover new angles audiences are expecting. The analytical tools and dynamic content, accessed very quickly, is used to evolve posts into deeper stories or transition into a new angle. These tools include social media popularity indicators, Twitter harvester, scheduling and approval of social posts, a large emoji library, contextual graphics and subtitles.
More Editing, Automation and Collaborative Tools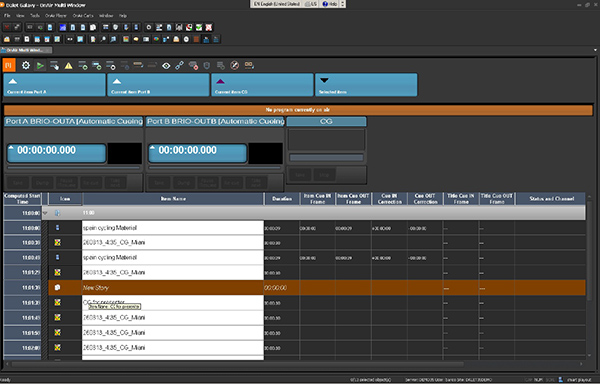 Dalet On-Air
The new version of the Dalet Workflow Engine, which automates tasks and orchestrates workflows, included in Dalet Galaxy five improves task management, availability and API services that simplify integration with third-party systems. Recent changes shown at NAB 2018 include a top-down view of group tasks and shared task lists and also task time tracking and data aggregation for reporting and analysis.
A new version of Dalet On-Air production control automation has new automation events macros for control of studio devices such as lighting, audio and camera position and also deep integration of these automation events with the orchestration layer of the platform.
As well as media management, Dalet Galaxy five is a communication and collaboration platform for connected teams. Updates include Media Bins with more sharing flexibility, and programs management tools are accessible via phones and tablets. Dalet's chat capabilities allow users to work by thread and embed assets such as graphics, audio and video files.
Specifically for collaborative editing, Dalet Webspace has a story-boarder for carrying out rough-cut editing anywhere. Dalet OneCut built-in desktop editor handles more editing tracks, new transitions and effects, the Dalet Xtend integration with Adobe Premiere Pro CC now supports Adobe Projects as well as Dalet CG on the timeline, which automatically triggers graphics during playout. www.dalet.com