Digital Artist Brings Nature into the Office with Wacom Cintiq Pro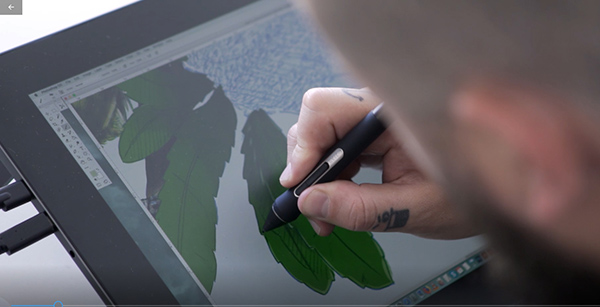 Graphic artist Thomas Jackson created a mural for Wacom's Australian Headquarters in Lane Cove, NSW near Sydney using a Wacom Cintiq Pro 16-inch tablet. Thomas designed and transferred the artwork to a blank office wall in a few days.
The Wacom team spotted Thomas' work on Instagram and was drawn to his style because it fit the theme of their office very closely, which is located in the Lane Cove National Park. Simon Marshall, Senior Manager of Content and Media at Wacom ANZ said, "All of our meeting rooms take their names from National Parks around Australia, and the space itself is open to the natural surroundings."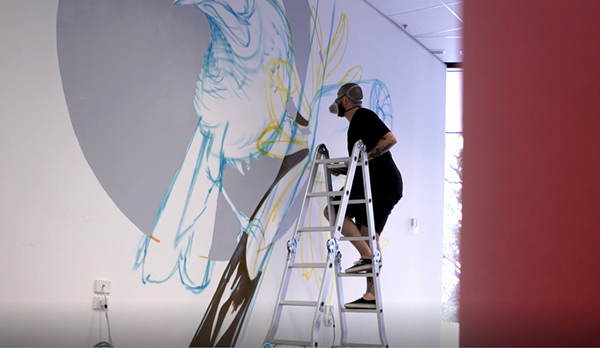 Born in the UK, Thomas moved to Sydney as a young boy and was immediately attracted to the native Australian flora and fauna. Inspired by local animals and landscapes, he observed scientific plant and animal specimens, entomology and taxidermy for reference. Today, Thomas sheds a modern light on natural history illustration, creating smaller scale works for galleries and translating these into large-scale public murals, a process he performs by eye with no special tools to scale up his original designs. His success is more a result of workflow than a single technique.
Visualisation
For the Wacom office project, Thomas first took a cue from creatures in the bordering National Park, used a Wacom Cintiq Pro 16" to create a yellow-tufted honeyeater as the focal point for the artwork. He then imported the design into Photoshop to digitally colour it before transferring it to the wall where he used aerosol paints to create the work, a method that reflects his experience with graffiti.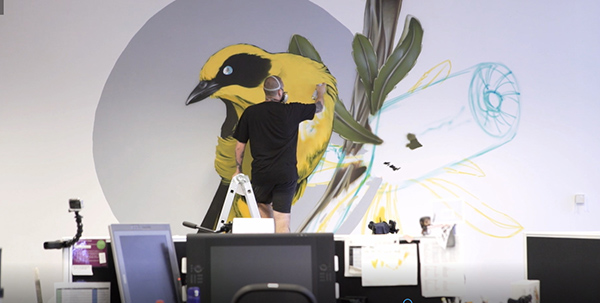 "Generally, when creating a work like this, the mock up stage involves drawing a concept sketch on paper that I can show to the client. Then I will scan it using my Wacom Cintiq Pro, transfer it to Photoshop and digitally colour it. This is a great way for me to visualise how the piece will look in the end, and the client can see exactly what colours will be used and how the design will sit, and preview the finished product," Thomas said.
Concepts and Digital Mockups
The design of Wacom Cintiq Pro interactive pen tablets, developed over the past 30 years, is intended to bridge the gap between inspiration and visible expression, with pens that perform precisely and respond in a natural, tactile way. The tablets are thin and portable to suit designers, illustrators and photographers who don't always work from one location.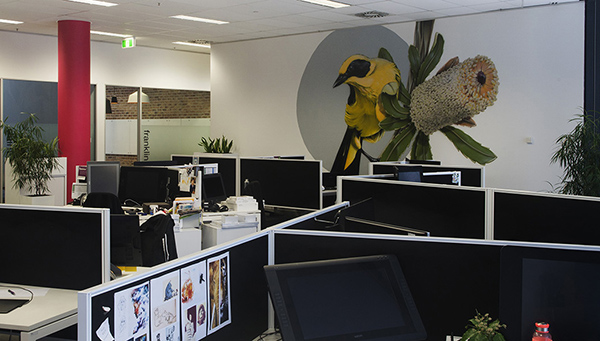 For an artist like Thomas who likes putting concepts down on paper, the Wacom Cintiq Pro 16" has enabled him to improve his workflow and productivity. "I love being able to draw straight on to the monitor and see what I am creating as I'm doing it. The slightly textured monitor feels more like a traditional way to draw," he said.
He recommends that any traditional artist try working with digital mock-ups. "The approach has helped me a lot. Using a tablet and being able to create my illustrations in colour before I go off to paint full-scale murals, has simplified my process," Thomas said. www.wacom.com