disguise vx 4 Engine Powers 4K Visual Experience for Atlanta's Beloved Benefit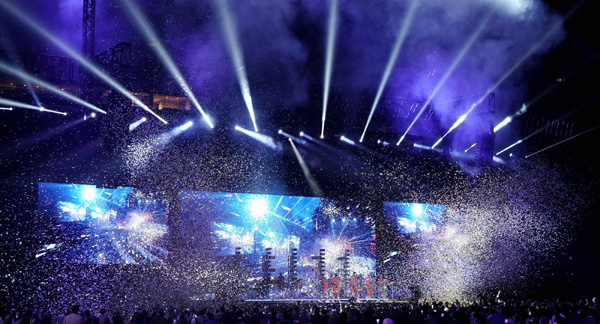 MEPTIK, an experience design agency in Atlanta specialising in live environments, delivered a dynamic audio-visual experience to attendees of the recent Beloved Benefit in Atlanta. Inspired by Dr Martin Luther King Jr.'s Beloved Community, the event brought speakers and musicians, headlined by Bruno Mars, to Mercedes-Benz Stadium to celebrate and bring awareness to the work taking place in Atlanta's Westside neighbourhoods.
MEPTIK designs and configures audio-visual components for temporary and permanent installations that include projection mapping, VR/AR and interactive installations. For the Beloved Benefit, MEPTIK used a new vx 4 media server engine developed by disguise to drive the entire visual experience across two, 25ft LED screens and multiple VER Revolution Blade LED strips. The large displays and strips ran the length of both sides of the field, with MEPTIK's creative team driving all projection mapping, screen control and technical AV design.
The project involved a number of elements that needed to work together to result in the spectacular production style MEPTIK wanted to produce. It not only needed to be very large to accommodate tens of thousands of attendees inside a stadium, but also needed to preserve the nature of the production itself within that space.
CTO and co-founder of MEPTIK Nick Rivero said, "Using the vx 4 gave us the capacity and bandwidth required to deliver an exciting theatrical piece to a huge crowd of attendees. We surrounded the audience with four outputs of 4K content, along with two HD outputs, to create a singular, cohesive visual experience of enormous scale."
Previsualisation in VR
The MEPTIK team also used the vx 4's 3D previsualisation tools to frame and test the visual content in a virtual reality environment ahead of the event. Basing their previz work on a CAD model of the stadium, MEPTIK brought event planners into their office to experience the content in a VR space that in effect placedthe client in the middle of Mercedes-Benz Stadium. "This allowed us to evaluate the experience together well in advance of the event and make adjustments to the size and scale and of the imagery that the vx 4 would ultimately drive to the displays," he said.
Screen control is integrated into the vx 4, which prevents a disconnect between the server and what viewers see. Although control responsibilities in most live event systems are handled through a separate component, this integration with the disguise server made the technical workflows somewhat simpler and also reduced MEPTIK's production costs by a large margin.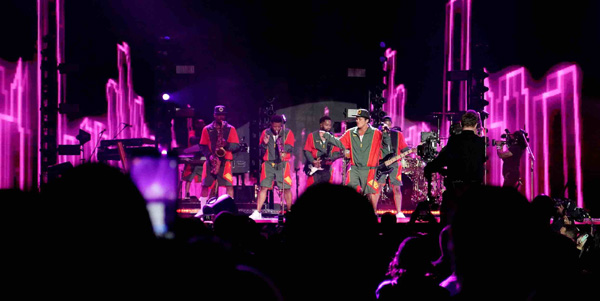 "For productions at such immense scale, we typically use a separate element to control and monitor what happens onscreen," said Nick. "But the vx 4's functionality allows us to eliminate that link of the chain and centralise the majority of our production workflow with disguise. Also, most systems only work with pre-rendered video content - you create a video and load it. But the disguise vx 4 is more efficient in terms of time and budget by using one system and one operator versus multiple systems and multiple operators, allowing more scope for last minute decisions."
disguise vx 4 - Simpler Productions, More Power and Flexibility
The first North American experience design firm to acquire the disguise vx 4 server, MEPTIK purchased the system because of its ability to scale up more easily with projectors, displays, outputs and pixels and play back video at higher quality and resolution. disguise production tools make the integration of video, audio, lighting and other systems fairly straightforward and flexible.
The vx 4 plays up to four times uncompressed 4K60 using a high-performance NVME RAID drive array, with lossless 10-bit video. It can capture either 16 3G-SDI sources or four 4K sources (2160p60). The vx 4 has greater bandwidth through dual 25 Gb/sec and dual 10 Gb/sec Ethernet ports to speed up media file transfer and high-resolution networked live video capture.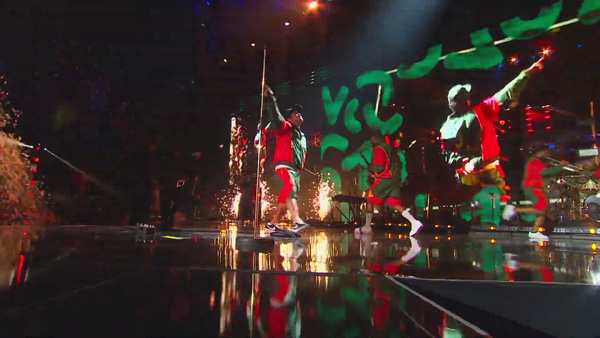 The 3D pre-visualization suite of tools included with vx 4, described above, allows MEPTIK to demonstrate the entire show and content virtually to users so they know exactly what it will look like. As well as easing logistics at venues, this is also a marketing and sales advantage for MEPTIK.
Customising Colour Profiles and Output Signals
The vx 4 server is still quite new, only previewed at Integrated Systems Europe 2019 in February, where it won the Installation Best of Show 2019 Award.
With the introduction of the r15.2 server software and the vx 4 together, disguise now supports HDR content and a means of applying colour profiles. Consisting of a colour space and a gamma curve, users can either set a colour profile to their content, or capture images and allow disguise to perform real-time conversion. HDR and 10-bit pipelines mean that users can enhance the clarity and image detail in their images after shooting, even at the server level of the workflow – that is, supporting 10-bit, uncompressed image sequences, live HDR cameras and performing colour space conversion on the fly.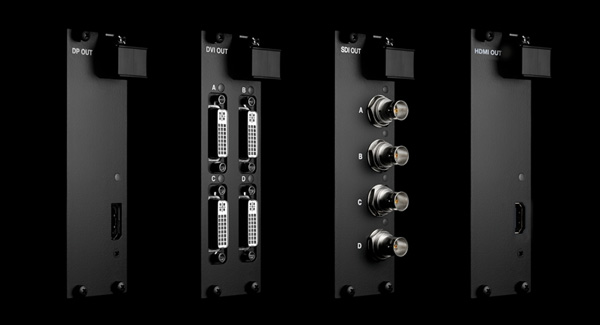 disguise Video Format Conversion cards
Users can choose their content quality by using recognised codecs, ranging from delivering larger quantities of compressed content, up to the higher visual fidelity of uncompressed image sequences, for example, TGA, TIFF and DPX.
disguise's servers, including the vx 4, are built with the company's proprietary VFC (Video Format Conversion) card system that allows users to change the video output signal on the server to DisplayPort, DVI, SDI or HDMI standard interfaces, per project, without changing the system, as well as mix signal formats and resolution types in the same project. Frame synchronisation and near-zero latency are maintained. The idea is that users can transition from HD to 4K now, and later on the system can be adapted to changes the industry will bring in the near future. www.disguise.one