Symphony Produces Larger-Than-Live 4K HDR Concerts with AJA 12G-SDI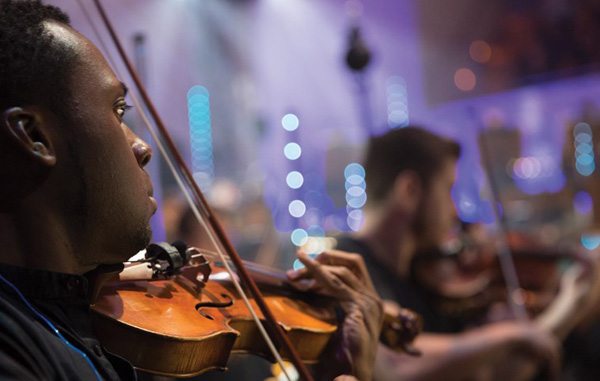 New World Symphony (NWS) is an academy that prepares graduates of music programs for leadership roles in professional orchestras and ensembles. Though it is based in Miami, Florida, NWS aims to share the beauty of classical music as widely as possible in order to secure the future of classical music, and launched their WALLCAST series of outdoor projected concerts about 10 years ago.
Each live concert hall performance is produced as a simulcast on the 650sqm projection wall in the city's SoundScape Park at New World Centre, and viewed by thousands of people. NWS will celebrate its 100th Wallcast on 12 October 2019.
Dynamic Upgrade to 4K HDR
NWS is updating its WALLCAST production to 4K HDR this year by taking advantage of high bandwidth 12G-SDI equipment. Chief video engineer at NWS Dan Slentz said, "We live in a digital world, where the traditional concert hall model doesn't always resonate with young modern audiences, so we knew that we had to make the symphony experience more dynamic and interactive, or else we would be left behind. Extending the concert hall experience with 4K HDR WALLCASTs gives us a better chance to reach traditional and modern patrons and donors."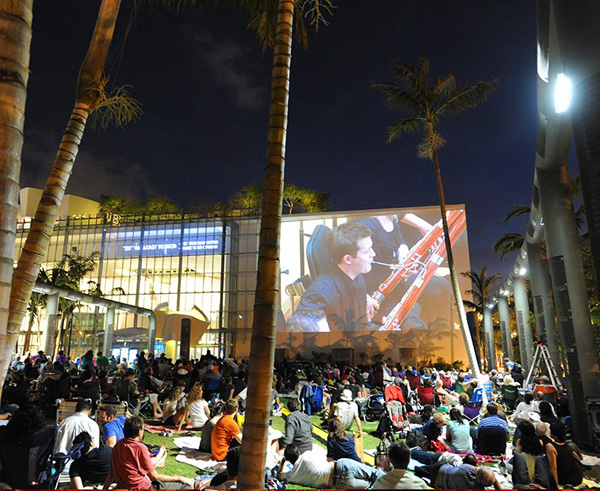 Each 4K HDR simulcast will be projected via three Christie 35,000 lumen 4K projectors as a 100x60 ft (30x18m) video. To record the performances, over a dozen cameras and various mini-cameras located throughout the concert hall and on-stage will be used, mainly on robotic heads with a few handheld or on a jib.
An AJA 12GM Mini-Converter attached to each camera will change the 4K signals to single-link fibre 12G-SDI signals for the production control room. The 12GM is a muxer/demuxer supporting 4K, UltraHD, 2K, HD and SD workflows by converting quad link SDI signals to (in this case) and from single link SDI signals at 12G, 6G, 3G and 1.5G bit rates.
Into the Control Room
In the control room, the cameras will be wired via single-mode fibre optic cable to deliver the signals to AJA FiDO SDI/Optical Fibre converters. FiDO supports video formats up to 4K/UltraHD and transports 12G, 3G, HD or SD-SDI over distances up to 10km when using standard single-mode fibre. Six channels will be recorded to servers and AJA Ki Pro Ultra Plus will record four extra channels for ISO camera positions and backup recordings.
NWS chose 12G-SDI partly because of compatibility with its existing HD cable system and for 12G-SDI and HD-SDI interconnectivity to simplify the cabling. "Because we have so many cameras, we knew that adopting 12G-SDI meant we could use 12 cables versus 48 to connect the 12 main cameras," Dan said.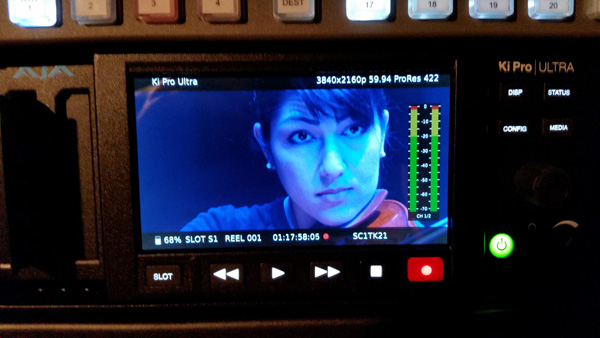 "This makes 12G a very affordable answer to an expensive problem. To be specific, upgrading our cameras from quad link to single cable 12G-SDI would cost upwards of $5K per camera through the manufacturer, but for $895 per camera, we're able to get the same result by attaching an AJA 12GM quad to 12G-SDI converter, which will combine and convert signals with no associated latency."
WALLCAST Pre-Production
As a live production, each WALLCAST performance leaves no room for error. Preparations for each performance begin a week ahead, and involve a surprising element of story-building. NWS reviews the score with the conductor to determine final musician counts and precise musical arrangement for each piece, and stage diagrams are compiled to determine all shots, camera positions and angles. A video story board is then created, which includes everything from shot number to framing and duration.
That information is then refined and turned into a shooting script. Once complete, the video team is given a copy they use to frame each shot in NWS' custom Telemetrics robotic camera system during rehearsal and make corrections on the fly. The Telemetricsa system uses a 3D model of the shooting environment and quickly displays the location and orientation of cameras and elements within the space for operators to work with.
By the time a WALLCAST is ready to view, a team of ten video specialists will have spent more than 300 hours to deliver 800 to 900 shots, excluding the work done before the shoot creating graphics and interstitial videos. Dan finds working with the AJA support team on the programmes very helpful in preproduction. They will advise the crew whether or not what they are trying to achieve is possible, and replicate the workflows to help them troubleshoot.
Out of the Concert Hall
Apart from live concert and WALLCAST productions, NWS uses its broadcast equipment to present educational events and create educational content for children, which often involves recording, editing and packaging footage. Other companies sometimes also choose to use New World Center facilities for corporate events, many of which require full video production with occasional streaming services for international broadcasts.
Highlights from past years have included discussions with George W Bush and Bono, a private Katy Perry concert, the season premiere of 'Ballers' with The Rock, PBS specials and many other events. Having successfully upgraded NWS' video systems to full UHD with Ravenna audio, the video production team is also travelling to record concert performances around the world for production as 4K content.
Looking ahead, Dan sees AJA KONA 5 and Io 4K Plus as viable audio and video I/O gear to facilitate editorial for this type of programming and, pursuing their interest in HDR, AJA's FS-HDR frame synchronizer/HDR and WCG converter may be his next step. www.aja.com