Colorfront Develops Near Real-time ACES Pipeline for HDR Production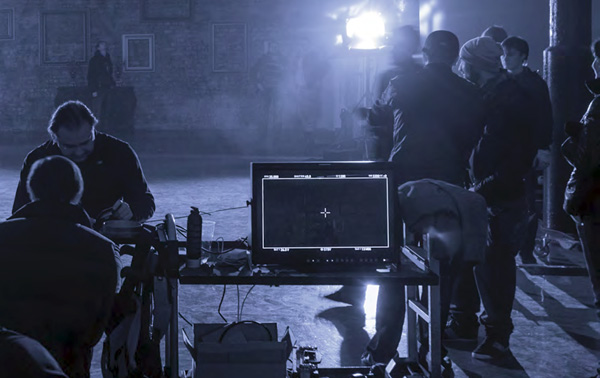 At the 2020 HPA Tech Retreat, 17-20 February near Palm Springs CA, Colorfront demonstrated the 2020 versions of its Express Dailies and Transkoder software contributing to colour-consistent 4K, 6K and 8K SDR/HDR acquisition-to-post workflows.
The company also participated in the cloud-based, live production of a short film, and presented details of its role in the production and post production workflows of the project during the Retreat's dedicated session and screening.
Cloud-based Live Production
The film, titled 'The Lost Lederhosen', comprised 20 scenes, 15 of which were shot in advance in Los Angeles, using digital cinema cameras including Sony Venice, ARRI Alexa, RED Monstro, Panavision DXL, Blackmagic URSA 4.6K G2 and Blackmagic Pocket Cinema Camera. The final five scenes shot on a train set built in the HPA conference centre, after which the film was post-produced using an ACES pipeline in near real-time during the event.
Colorfront's role during production was handling the 4K, 6K and 8K HDR/SDR dailies and capturing metadata from all the different cameras involved. Colorfront's new cloud-based integration with Frame.io made it possible to stream colour-consistent HEVC proxy files, using each camera's log profile, directly from Frame.io.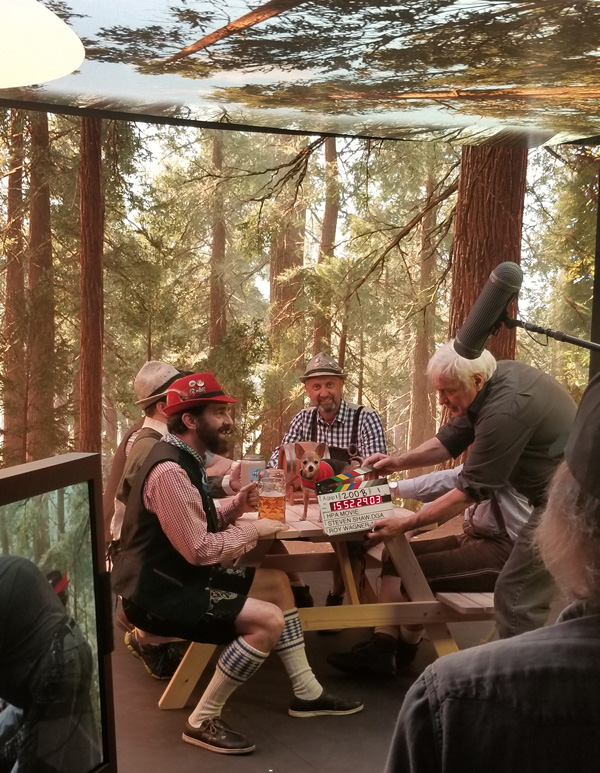 Filming 'The Lost Lederhosen'
Colorfront uploaded all camera originals to S3 storage in AWS, where Frame.io is hosted and then supplied sound synced colour graded dailies for viewing and editorial. This material was delivered in 2K, 4K and 8K OpenEXR format in the ACES AP0 colour space with camera and lens metadata to support the VFX and colour-grading collaborators on the project.
Data Exchange and Display with ACES
Colorfront CTO, Bill Feightner, who was on hand at the Retreat and a part of the production, explained the details of the Colorfront systems in use, and why they were chosen for the workflow. "AP0 primaries and Linear quantization are designated in ACES as the interchange colour format, and this was used in the Lederhosen project to exchange image data for VFX and other contributors," he said. "For editorial, displaying rendered images, Rec 709 was used since it is compatible with all types of editorial software and the images can be readily viewed on a computer display without further conversion. The diagram below shows the larger AP0 colour space and the smaller AP1.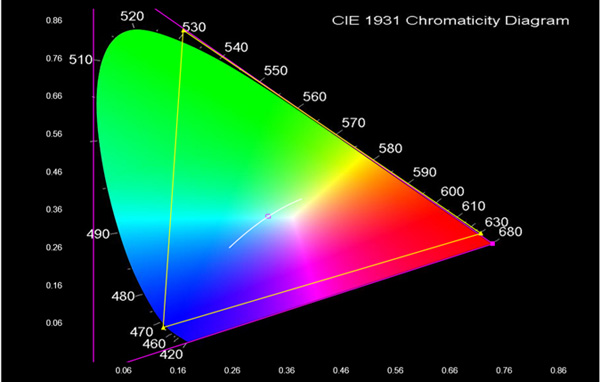 ACES AP1 is only slightly larger than Rec. 2020. ACES AP0 color space encompasses all the colours humans can see, dwarfing the range of colours Rec. 709 is capable of encoding.
"As can be seen in the diagram the AP0 primaries include the spectral locus – the coloured area – which represents all the colours that an average human can see. This is great for archiving, but it is too large for manipulation, thus the smaller AP1 colour space, represented by the yellow triangle, can encompass all the larger delivery color spaces, P3 and 2020, and works well for manipulation."
Colorfront Parametric LMT for Looks
"One new technology from Colorfront which saved the day, so to speak, is the Colorfront Parametric LMT. It includes the traditional ACES/Academy CDL (colour decision list) controls, but most importantly includes many parametric functions that were essential to this project. Due to some of the extreme lighting conditions and other difficulties, often with only ambient light, normal CDL controls with the ACES RRT/ODT [a kind of ACES Viewing Transform similar to a display LUT] could not make a good picture," Bill said.
"The Colorfront Parametric LMT made grading these difficult scenarios relatively easy. LMTs have often been used to augment an ACES workflow, but until now, they were fixed LUTs or sometimes transforms. The Colorfront Parametric LMT allows fine tuning of a wide range of parameters and looks on a scene-by-scene basis. This is entirely new. Another benefit is that all parameters are saved into a very portable text file, the CFE (Colorfront Engine) File. This allows easy exchange of settings or looks between, for example, on-set, dailies grading and mastering. Think of this as an extension of the CLD concept, a CDL on steroids."
The Colorfront Engine is a parametric colour processing pipeline that maps various input formats, including camera original and graded (that is, both scene- and display-referred) images, to a wide range of SDR and HDR output formats. Its purpose is to allow users to define brightness levels and gamuts, while maintaining the DP's creative intent.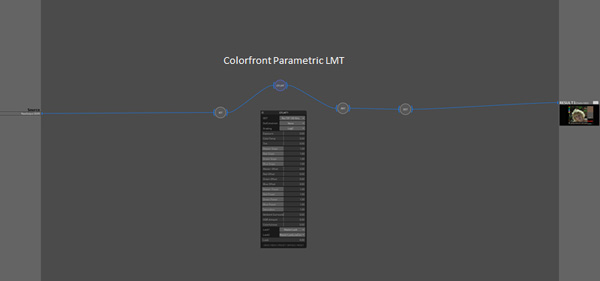 Colorfront Parametric LMT
At the film production Supersession when 'The Lost Lederhosen' was screened, Bill and Bruno Munger, the company's director of business development presented Colorfront's part in the workflow. The session was organised by Joachim Zell, VP of technology at EFILM, who led this year's HPA event.
Hardware Demos
Also at the HPA Retreat, Colorfront demonstrated the new 2020 versions of its Express Dailies and Transkoder systems running on many new pieces of hardware from Apple, AJA, Sony, NVIDIA and SuperMicro. One example was the new Mac Pro, feeding dual Apple 32-inch Retina Pro XDR displays – one showing a 6K HDR GUI, the second being used for 6K HDR video monitoring. Express Dailies and Transkoder 2020 both incorporate Colorfront Engine perceptual colour-processing pipeline tools, and both support a 6K HDR/SDR, ACES-compliant workflow, along with new camera and editorial formats.
At Colorfront's own booth, the company showed a DIT cart with Express Dailies 2020 on the new Mac Pro, working in combination with AJA FS-HDR, Pomfort LiveGrade and Blackmagic Resolve. The DIT cart fed a Sony X310 4K HDR video monitor and showed colour-managed, end-to-end workflow, from on-set, to dailies and final grading using Colorfront Engine.
Finally, the company also demonstrated Transkoder 2020 running on a Supermicro workstation with four NVidia GeForce RTX 2080 Ti GPUs and a AJA Kona 5 video card outputting to a 85" Sony Z9G 8K HDR monitor, plus the new AJA HDR Image Analyzer 12G, developed in partnership with Colorfront, which displays an 8K HDR waveform, histogram and vectorscope monitoring. www.colorfront.com