Glassbox Beehive Opens a New World of Real-time 3D Virtual Production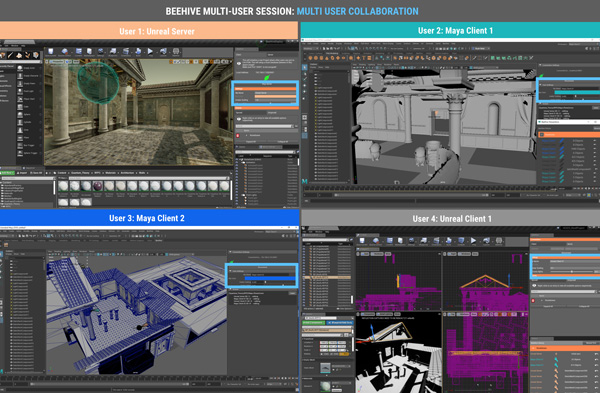 Multiple User Collaboration
Virtual production software specialist Glassbox Technologies has released a new real-time, collaborative software system called BeeHive, which makes it possible for team members working with Unreal Engine, Unity 3D or Autodesk Maya to work on the same media together, directly and efficiently. Directors, cinematographers and artists can use Beehive to synchronise, edit and review cameras, assets and virtual scenes from multiple applications at the same time and from any location.
Sharing Real-time Visualisation
Each person can not only use his or her own license and hardware resources, but also the software they like best, working simultaneously on the same content. This support for synchronised cross-platform workflows is due to the plugin nature of BeeHive operating in Unreal Engine, Unity 3D and Maya, so that different users with different roles can work together in the software platform and interface of their choice.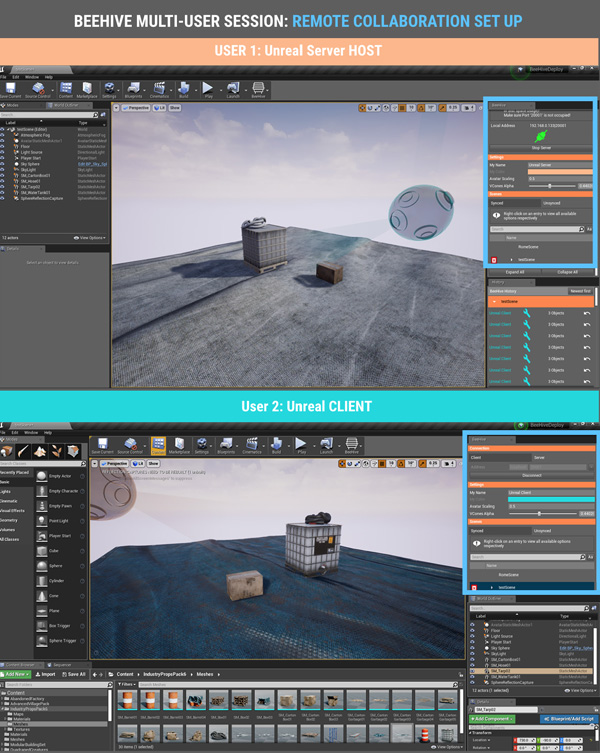 Remote Collaboration
Also because the virtual production team can include an artist working on a 3D platform like Maya – that is, supporting game engine-to-Maya interoperability – the team can test creative ideas and make changes spontaneously in real-time. Users visualise and work together on the same scene, in Unreal and Maya or Unity and Maya, and do not need to import and export assets as virtual production continues. Through BeeHive, users are able to edit and make changes in Maya that are reflected live inside the engine. Beehive is multi-threaded as well, keeping its impact on compute resources to a minimum.
For instance, a supervisor can work inside of Unreal Engine or Unity 3D, alongside a connected Maya artist, to review and modify assets, troubleshoot lighting and FX, check actors' faces and body performances, modify scenes, or build a complete environment from scratch for virtual reality experiences. Each user can see any change reflected instantly in each platform. They do not need to be working in the same office, but they could be.

Transaction History
Virtual Cameras
BeeHive is interoperable with Glassbox's virtual camera, DragonFly, which content creators use to look into a virtual scene from the point of view of a 3D camera, while visualising changes as they are made. Using cameras is useful for virtual location scouting, shot planning and real-time review sessions. When DragonFly is running in an active BeeHive scene, the director or supervisor can control it like a camera on a real set. It includes functionality called Master Sequence Playback that synchronises all users connected within a BeeHive session, giving the whole team the same view as the DragonFly operator.
To help users control and manage the sessions, customisable User Avatars are included that allow the different users to identify themselves, other participants and the virtual cameras, as well the changes made by each avatar inside the scene. User Highlighting makes collaboration easier to follow by making sure all team members can always see what the others are working on or have selected.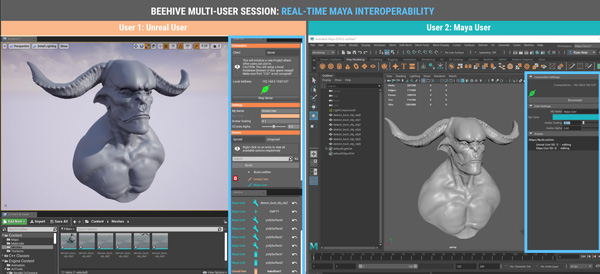 Maya Interoperability
Transaction History
Beehive also has a high-performance, real-time versioning system and a specialised C++ database where all changes to files, either from a connected Game Engine or a Maya instance, are immediately stored. This database becomes a complete Transaction History of all actions performed during each BeeHive session. Because it persists after the team disconnects, the changes can be made available to users who need to revert to earlier iterations. Every modification is logged in real-time and never overwritten, so that users can move between scene history states to visualise changes without downtime.
BeeHive is available now, after already winning an Advanced Imaging Society Technical Lumiere Award. www.glassboxtech.com