Panasonic Releases 4K PTZ Camera Supporting SRT; Live IT/IP Video Processor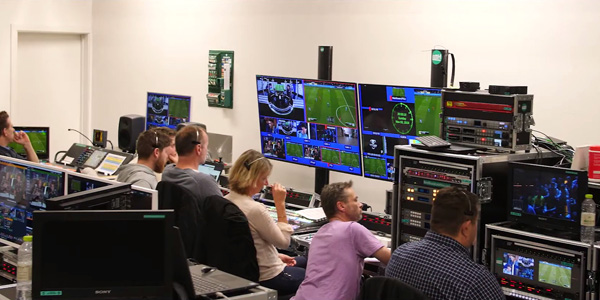 Live event production with KAIROS IT/IP video processing platform. (Image: Best Broadcast Hire, BBH)
Panasonic has released two IP-based video production products – the AW-UE100 PTZ camera that transmits positioning data for AR, and KAIROS, a scalable new IT/IP video processing platform.
The Panasonic AW-UE100 integrated pan/tilt/zoom (PTZ) camera was built with support for a number of IP transmission protocols, including NDI for high-bandwidth networks, higher efficiency NDI|HX and Secure Reliable Transport (SRT). The camera captures low noise, high-resolution images and has a Direct Drive motor for smooth pan and tilt movement. As it is made for live remote and studio production, options for installation are flexible to suit broadcast, staging, corporate, sports and house of worship applications.
The AW-UE100 has a 1/2.5-type 4K MOS sensor producing UHD 4K/60p video, and a wide choice of interfaces including 12G-SDI, 3G-SDI, HDMI and IP. It is equipped to suit image capture at locations ranging from tight spaces to large venues. A wide-angle lens with a horizontal angle of view of 74.1 degrees helps when shooting wide areas from a limited installation space, and the 24x optical zoom maintains image quality at high zoom ratios, useful in large indoor spaces.
Low Latency Live Transmission
For low-latency live video transmissions, the AW-UE100 supports high-bandwidth NDI for transmitting 4K/60p video at speeds of about 250 Mbps, and to transmit full HD video at approximately 100 Mbps, over a single LAN cable. It also supports high-efficiency, low bandwidth NDI|HX allowing video transmission at low bitrates. SRT (Secure Reliable Transport) maintains stability when transmitting high-quality video, even in unstable network environments. Using the RTMP/RTMPS function, it streams directly via a single cable to live broadcasting services such as YouTube Live and Facebook Live.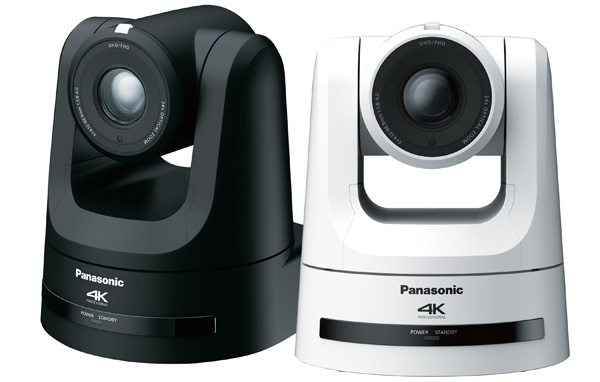 Panasonic AW-UE100
As well as the protocols for IP video data transmission, the camera uses the FreeD protocol to send its positioning data (pan/tilt/zoom/focus/iris) via Serial (RS 422) and IP (UDP) directly to a virtual or augmented reality production system. This means productions can use the camera to incorporate realistic virtual studio sets and elements into a live video workflow and output without adding external sensors or encoders. The Direct Drive mechanism includes roll compensation to improve stillness and quietness during pan/tilt operations.
Most of the commonly used virtual set systems support FreeD, including Brainstorm, Ross UX XPERIENCE, Vizrt Viz Virtual Studio and Zero Density.
The camera's panning range is ±175° and the tilting range is -30° to 210°. Other functionality includes a four-position ND filter (Clear, ¼, 1/16, 1/64), a Night Mode for infrared shooting and PoE++ power supply support. The AW-UE100 will be available, in black or white versions, after mid-2020 with pricing to be announced.
KAIROS Live IT/IP Video Production on COTS Devices
Panasonic's new KAIROS live production platform for IT/IP video processing makes an open architecture available for live video switching, resulting in flexible inputs and outputs, and resolution and format independence. It makes full use of CPU/GPU processing and allows highly scalable ME applications.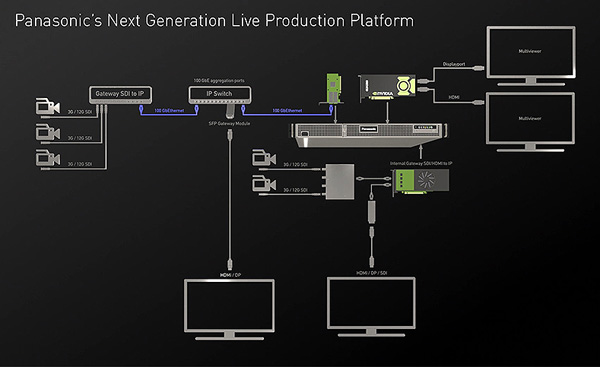 As a native ST2110 IP system, KAIROS is useful in facilities that are migrating to live IP workflows and helps avoid the constraints of dedicated, task-specific hardware. Instead, KAIROS is an IT-based, open architecture platform based on COTS devices, so that functional upgrades and links to external control hardware are set up by adding application software. In this way, KAIROS can be used to expand and integrate the system fairly easily.
As well as supporting transitions to live IP workflows, Panasonic said KAIROS will give producers options to future-proof productions and facilities. As more tools and types of hardware appear on the market, having a flexible system that is suitable for multiple applications, and able to virtualise the various components of a broadcast program, will make production more flexible and agile.
For television studios, KAIROS integrates into a facility's ST 2110 infrastructure without requiring extra IP gateways. For houses of worship, KAIROS handles current screen management and linear broadcast needs, but can also accommodate new devices or nontraditional displays. For sports and entertainment venues or event productions where staff have diverse experience and backgrounds, operators can learn to use the GUI to deliver specific content or set up complex systems, with limited training time.
Mixed Inputs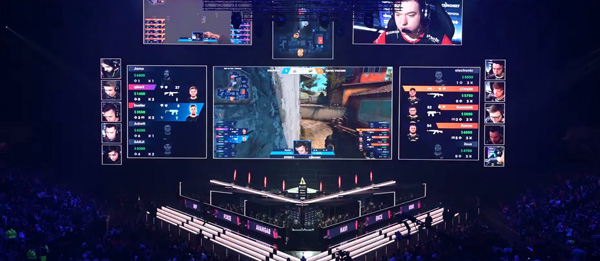 Using KAIROS for eSport displays using multiple inputs.
The platform has standardised IP connectivity in place of one-to-one video inputs and outputs, which means it supports combinations of baseband and IP signals. The system also carries out uncompressed processing of SDI, ST 2110 and NDI streams. Mixed input sources with different resolutions, such as HD and UHD, can be processed simultaneously, and in any format, from standard 16:9 to non-specific formats such as 32:9 for an LED backdrop display.
Its GPU-based processing allows users to allocate processing power, maximising efficiency to achieve performance matching a larger scaled hardware system. KAIROS processing latency can be as low as one frame and also supports Precision Time Protocol (PTP) synchronization. sports and concert performances can be presented with the ambience intact and lip-sync can be achieved more easily.
Live compositing interface for effects and layer management.
KAIROS is built with creative and operational options for efficient production of live video in a distinctive style. It has a customisable graphical UI and Photoshop-style live compositing interface that enable users to manage unlimited layers and effects. Since video mix processing is GUI-based, the platform does not limit the number of MEs or keys added to each layer, like a traditional switcher. Keys, effects and scaling are set within each scene without restriction and the total number of video layers only depends on the GPU capacity.
KAIROS System Components
The system centres on the KAIROS Core main frame, which handles all video processing. Version 1 main frame manages video I/O through a Deltacast gateway card and/or a Mellanox 100 GbE NIC (Network Interface Card) connection to COTS IP devices and SDI and HDMI gateways. Control will all be managed on devices operating over a separate Gbit Ethernet connection including Kairos Creator, GUI software for set up and software-based control panel and KAIROS Control, a 2ME style hardware control panel.

More KAIROS Creator or KAIROS Control sites can be added to the network wherever an operator, engineer or TD needs to be. Further network hardware and an I/O expansion license can increase the number of sources and screens. Other compatibility and features will be made available with extra license keys, and adding another main frame makes it possible to scale the system up to match requirements. Panasonic said KAIROS will start shipping in third quarter 2020, and the minimum configuration is expected to cost about US$30,000.
Panasonic also announced it has established a KAIROS Alliance Partners program which includes IP COTS hardware manufacturers and graphics, automation and media server vendors. For the KAIROS platform, linking with other vendor's components is important, as KAIROS depends on varied IT ecosystems based on COTS systems to expand functions. business.panasonic.com