UpChord Music Trains the World's Musicians Online with ATEM Mini Pro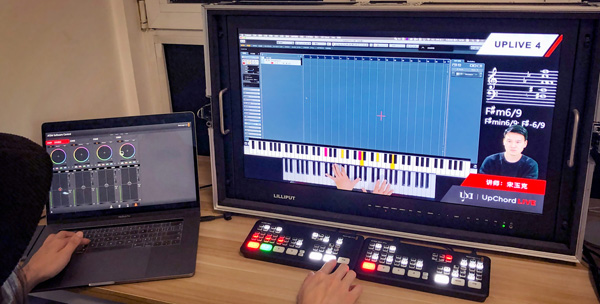 UpChord Music in Beijing trains musicians in professional music production skills, including composition, arranging, scoring and sound design, leading to a career in music. Founded in 2016, much of UpChord's work is dedicated to overcoming various limitations of traditional music training. For example, when the teacher plays at the keyboard, many of the students are unable to see his or her fingering.
Similarly, while improvising on the piano, the teacher cannot write the musical notes being played, up on a blackboard for students. Therefore, UpChord developed an in-house system called JoyChord that captures the teacher's fingering, converts it to musical notes and displays the notes to the screens, all in real time.
Playing Online
"We didn't offer online classes until Shanghai Theatre Academy asked us in 2019 to teach their students music performance. We wanted the job, but didn't want to spend so much time making regular trips between Shanghai and Beijing, a 1,100km trip," said Zhicheng Wang, founder of UpChord Music.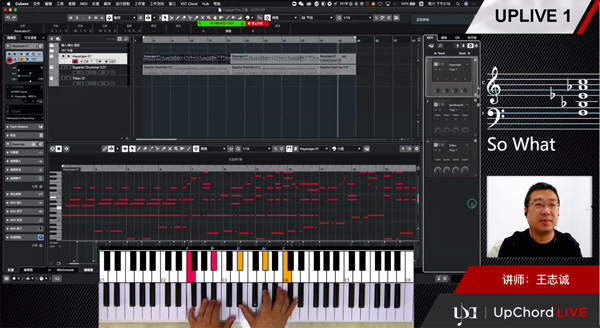 When moving the class online, UpChord's biggest concern was how to ensure the quality of online classes would be as close to that of offline classes as possible. "Online classes are not simply online video chat. As a professional music training facility, we need to send our students 1080p HD images with high quality stereo sound and low latency interaction, which wouldn't be possible with only a smartphone or webcam."
With help from alumni of Communication University of China, where most of the graduates are professionals in the film and broadcast industries, Wang designed an online teaching system that combined his JoyChord system with a video switcher.
"The first video switcher we used was very costly and only supported up to 1080i60 (60 fps interlaced)," he said. "But we found that interlaced video didn't meet our demand because the lines in musical notation look shaky in the interlaced format. After trying to work out a way to handle this issue, the results were disappointing. Therefore, we started looking for a better switcher capable of 1080p HD.
Mini and Mini Pro
"We also wanted it to be as compact as possible because we wanted to put it in a flypack to take anywhere when making presentations at different colleges and schools. We chose Blackmagic Design's ATEM Television Studio HD, which supported 1080p and was so compact that it, together with the HyperDeck Studio Mini, only took up one rack unit."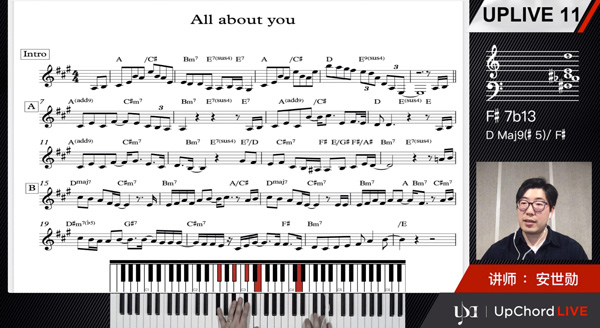 "When the ATEM Mini was announced, I hadn't realised how compact professional switchers could be. But actually, what impressed me most was its ability to convert and sync sources automatically, which is very reassuring to the beginners. They just need to connect the cables and the ATEM Mini proceeds with the rest of the tasks. Seeing that it also has a powerful audio mixer, we decided to purchase."
The new ATEM Mini Pro caught his attention again when launched in April 2020 with built-in functionality such as hardware streaming, H.264 recording and multiview. "We incorporated this new device into our workflow, too – its operation is identical to that of the original ATEM Mini. When I gave it to our teachers who had been streaming with the ATEM Mini, they became familiar with it very quickly. They can save presets on both models, including the streaming and picture in picture setups, which they use to keep their workflow simple."
Class-time Workflow
A typical UpChord online class uses three feeds, which include the digital audio workstation's UI, the JoyChord interface made up of a virtual keyboard and music notation generated in real-time, plus a live camera feed that captures the keyboard the teacher is playing. All three pass into a video processor that stitches the three feeds together. The stitched video and a live feed of the teacher on a green screen are then sent to the ATEM Mini Pro, where the teacher's video is composited into the stitched image using the switcher's chroma keyer, while finally a channel logo is overlaid with a downstream keyer.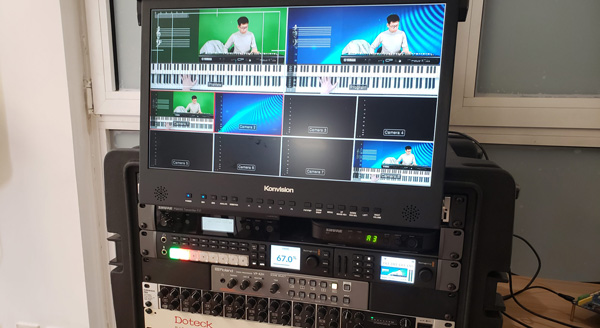 Stereo audio is embedded into the HDMI feeds and the teacher's voice is picked up by a mic as mono sound and is fed into the ATEM Mini Pro via the Mic input. The program then passes into a computer that is running Zoom video conferencing software via USB-C, which supports stereo audio and HD video as well as real time interaction.
"With this online teaching system built with the ATEM Mini Pro, when the coronavirus outbreak forced most training facilities to halt their classes, we were immediately able to move our courses completely online," Wang said. "Of equal interest is that live streaming has helped us break down geographic barriers, allowing a bigger range of teachers from around the world to join us via the Internet and bring the students more diversified, professional content." www.blackmagicdesign.com