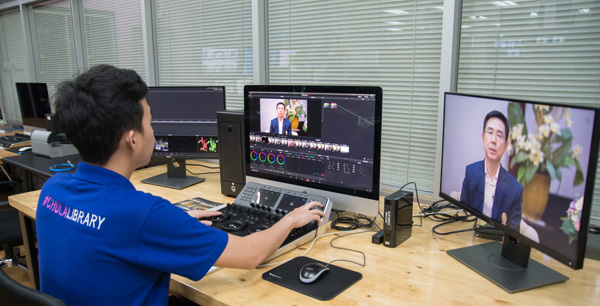 Chulalongkorn University is a public and autonomous research university in Bangkok, Thailand. It is also the country's largest university, and one of the top colleges in Thailand with more than 37,000 current students and 443 academic programs.

During the ongoing world health crisis, the university is running on-demand and streamed classes for its students, as well as supplying critical information and streaming to 23 other Thai schools. Dr Banphot Sroisri, head of the Chulalongkorn University Multimedia Information Services Division and Office of Academic Resources, has led the design and build of a full Blackmagic Design production and post workflow at Chulalongkorn University, and the creation of studios at the other schools.
The workflow uses ATEM 2 M/E Production Studio 4K systems, ATEM Mini Pro and DaVinci Resolve Studio to produce and share content, which includes the work of sharing video with schools throughout Thailand.
Live Streamed and On-Demand
"Because the crisis has hit all parts of the country, we had to find a way to make teaching and learning available for classes that could not meet in person. The Blackmagic equipment has helped us achieve that," said Dr Sroisri. "We have been working with the company's products since 2005 and, as the situation unfolded, we felt confident that we could use it to build out an affordable, easy to use broadcast and streaming set-up."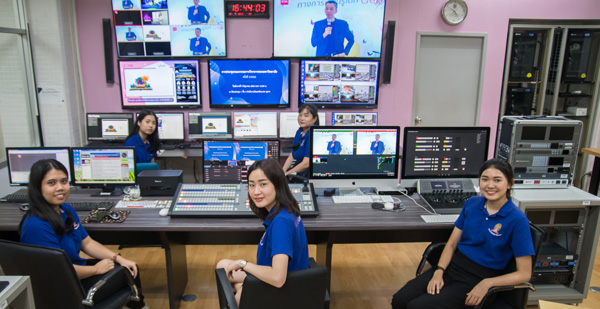 The new workflow produces multi-camera lessons, seminars, interactive teaching sessions and even eSport online classes. The schedule includes both full classes on-demand, and live streamed sessions by various experts and professors.

The university's information service team switches feeds from cameras and the graphics using the ATEM 2 M/E Production Studio 4K live production switcher and ATEM Camera Control. Switched media is then either streamed live to students and other schools, or is sent to Chulalongkorn University's post production suite for video and audio editing and colour correction.

The workflow is also used to bring in outside video feeds from other members of the Education Technology Program. To help with this, the team also uses Smart Videohub routers, a variety of Blackmagic Design Mini Converters, and UltraStudio Mini Recorders and UltraStudio Mini Monitors.
Master Switcher
"We often use the ATEM 2 M/E switcher as the master switcher for signal control in the distribution and broadcasting of all of the material from inside and outside the university," said Dr Sroisri. "In particular, the ATEM's SuperSource function is used to set up and receive signals from external remote guests via Skype, from vMix Call to add remote guests to a production with a web browser and webcam, or to add callers and guests remotely."
ATEM Camera Control
SuperSource works as a separate 5-layer switcher operating four picture in picture DVEs and four keyers, connected as one ATEM video input. The user can position, resize and key up to four video sources to create compositions that would otherwise need a multi M/E switcher. In practise, it allows thrm to use SuperSource for multi-camera interviews or picture in picture production while leaving all the other M/Es, keyers and DVE free for other tasks. Complete SuperSource compositions can also be saved and recalled immediately later on.
DaVinci Expertise
For post production, Chulalongkorn University uses a combination of DaVinci Resolve Studio and three DaVinci Resolve Mini Panels, to edit and grade all of the footage contributed to the on-demand download service via the university's Microsoft Stream system. Post production staff at the university have also become DaVinci Resolve Certified Trainers who are able to train any professional in Thailand on the editing, grading, VFX and audio post production software.

"Owing to the large amount of footage that needs to be worked on each week, DaVinci Resolve Studio's efficiency has been important," he said. "In particular, the editors find the control panels help them focus on speed. They can now work very quickly."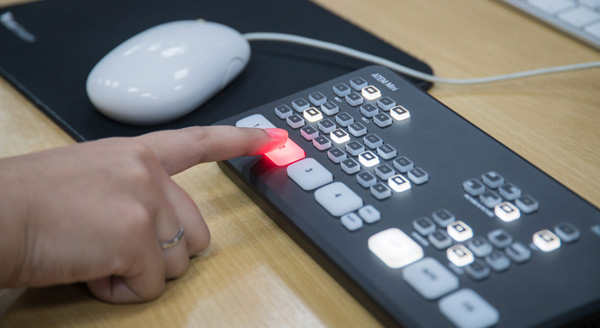 In the Classroom
Chulalongkorn University has also been using ATEM Mini Pro and ATEM Mini live production switchers in classrooms for online teaching and seminar sessions. Each classroom is equipped with an ATEM Mini switcher that the teacher or narrator can use to switch various video sources. Visualising the set-up using a tablet connected to the ATEM Mini via USB-C, the instructors can switch directly from their own desks.

"The Blackmagic Design products allow us to work both remotely and directly from our own studios, and also bring in experts and online learning material from anywhere in Thailand," Dr Sroisri said. "We can keep everyone connected with original-quality video, and our students know that they are keeping up with their classes and keeping in touch with their teachers and peers. For the on-demand classes, students can come in and review courses for future studies.

"We see ourselves as delivering a combination of computer technology and educational technology, and allowing educators and friends from other universities in Thailand access to these workflows. We are serving as a communications and learning agency for our students, faculty and other facilities. The Blackmagic products allow us to work together efficiently, and they are easy to control. They have proven themselves worth the investment." www.blackmagicdesign.com