Pixotope merged digital and physical effects with LED walls for the live LPL Regional Esports Finals in Shanghai in August 2020.
The Future Group's new Pixotope v1.4 live virtual production software now has support for Unreal Engine v4.25, plus improvements to keying, connectivity and workflows.
Pixotope supports live production of mixed-reality (MR) content, and is used to bring together physical props and talent with virtual assets to create dynamic, creative scenes in a virtual environment. In one user interface, it automates camera and object tracking, and integrates sophisticated lighting effects into both real and virtual elements.
"Our users around the world want to be able to place performers and freely moving cameras into a virtual environment," said David Stroud, Product Manager of The Future Group. "Our job is to keep the equipment in the background, allowing their creativity and emotion to drive production. To do that, we continually improve our software, and our links to external systems that support our vision."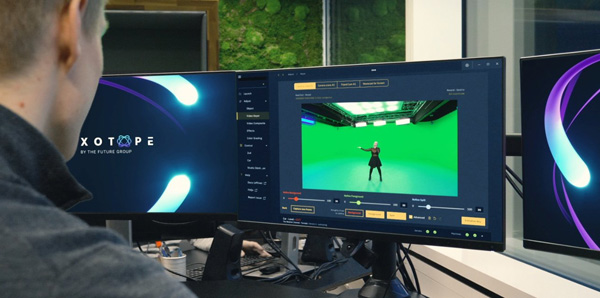 Version 1.4 integrates release 4.25 of the Unreal Engine, which serves as a high-performance graphics engine. The integration adds a lot of new functionality supporting live production. Also, for the first time, real and virtual lighting can be controlled from the same unit due to the integration of DMX, the standard digital communication protocol used to remotely control intelligent lighting fixtures. Thus, the lighting director can now make creative decisions about the combined environment from one place.
Other functionality resulting from the Unreal integration include LiDAR point clouds, improved ray tracing and motion graphics, as well as translucency and the rendition of anisotropic materials, which display different properties when applied in different directions. Comprehensive support for third-party plug-ins is included from the creative marketplace – that is, any plug-in compiled for Unreal can now be used directly in Pixotope.
Improvements in Unreal are supported by greater functionality across Pixotope's tools, including significant improvements to the keyer. The new de-spill cutoff control makes sure of precise isolation from the background while protecting foreground colours that appear chromatically close to the background. Version 1.4 also improves shadow performance and key blending.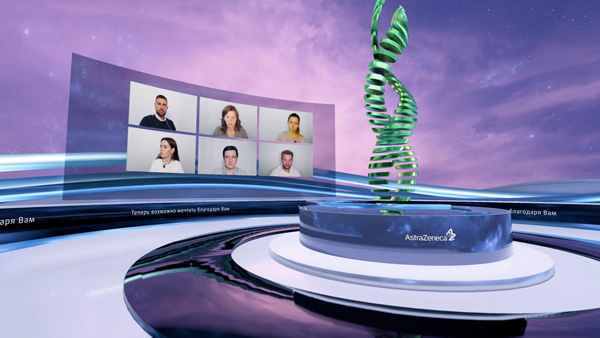 A single Pixotope engine brought more than 100 live Zoom participants into a virtual set for an Astra Zeneca corporate event.
The software updates enhance workflow design options and connectivity. Support for multiple-device hardware environments is simplified, making very high-performance systems easier to establish and more robust in production. Now that 4K UHD production is in greater demand, Pixotope 1.4 extends compatibility with support for the AJA Corvid 44 12G video adaptor. It also allows flexible multi-format I/O and direct connectivity and lens support for the most recent Sony BRC-X1000 and BRC-H800 PTZ cameras up to 30fps.
"The major challenges facing live production at the moment make reducing the people count through automated virtual and mixed reality production extremely attractive," David remarked. "Pixotope gives creative and physical freedom to people working in front of and behind the camera while delivering quality and convergence in live production." www.futureuniverse.com