Hinge concepted, designed and animated a PSA for foster children,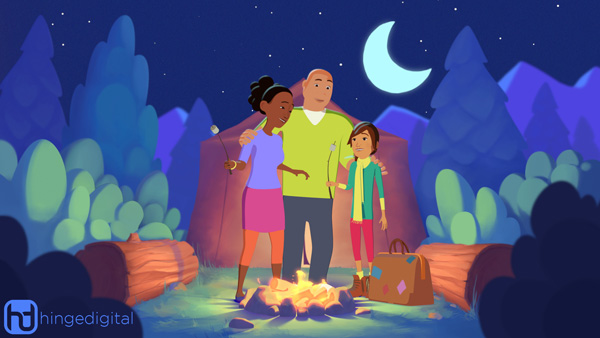 collaborating with remote partners using Frankie web-based video
review software to share work-in-progress in real time.
---
Hinge Digital Delivers a PSA for Kids with Frankie Video Review
Hinge Digitalworks on commercials, ad campaigns and other branded content for clients including Microsoft, Adidas, Electronic Arts, Dunkin Donuts and others. The studio took on a different kind of project with Suitcase, a 30-secondpublic service announcementcreated forAdoptUSKids, Ad Council and the US Department of Health and Human Services, encouraging prospective foster parents to consider opening their home to a child in need.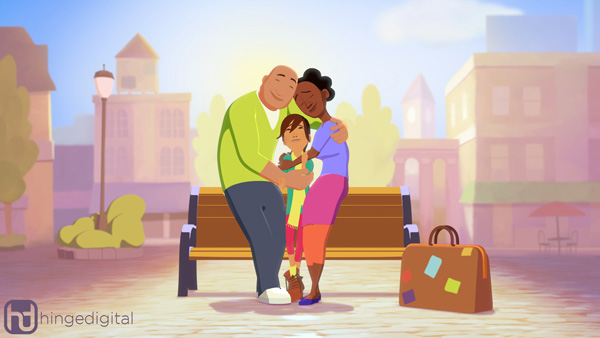 Hinge conceptualized, wrote, designed and animated the 30-second promotion, which involved several different partners located across the country.Frankieweb-based video review software was used to allow remote teams to view the work-in-progress and collaborate in real time.
In the film, viewers see a young girl who has shifted between different foster homes and grown accustomed to living out of a suitcase. But when she's given a permanent home she finds a new use for the suitcase, and appreciates her adoptive parents even if they make mistakes now and then. The project was produced to mark the 10th anniversary of AdoptUSKids, an American initiative that helps place foster children into adoptive homes.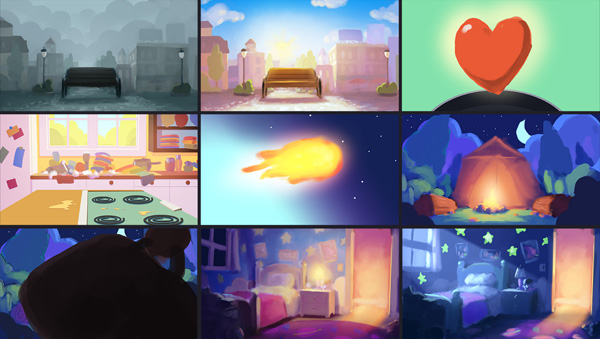 "It was important to use emotional storytelling and illustrative design to tell this story and build up a dynamic visual narrative," said the project directorAlex Tysowsky, whose background in VFX animation includes films like 'The Chubbchubbs', 'The Polar Express', 'The Matrix Reloaded' and 'Spider-Man 2'. He had a team of eight artists working on the PSA, which was in production for about six weeks.
"We wanted to create a spot with an engaging look that combined toon-shaded CG characters and watercolour backgrounds," Alex said. "Once the concept designs were approved, we built the 3D assets to match the look and feel of the artwork using Maya and NUKE. The fun part was animating and bringing the characters to life."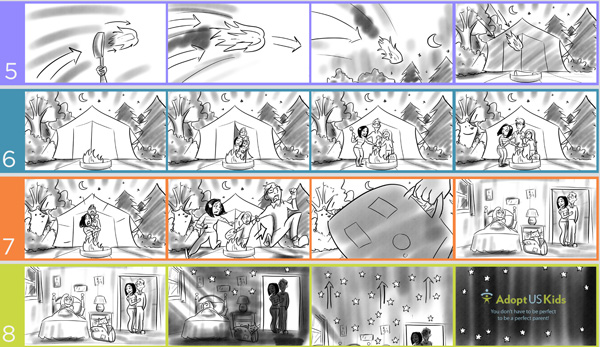 Because approvals were required from both the executive staff and other artists at the client companies in various locations, Hinge Digital looked for a review process that would overcome distances and be accessible to everyone. Hinge had previously worked throughcineSyncfor dispersed projects because of its functionality and flexibility, but this time their clients would need a tool to suit non-technical people.
As this project dealt with an emotional theme, the team were sometimes reluctant to proceed without client approval while honing the message and refining the work. Using Frankie, remote parties can be invited into review sessions, and everyone can share comments and notes. "With five people in five different locations, communication about something visual can become a challenge," Alex said. "But once we had everyone on a conference line and connected to Frankie, they were all looking at the same screens and images, and had markup tools to show everyone what they were talking about."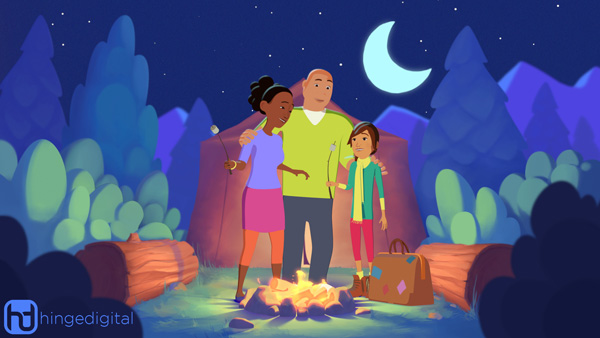 Twelve people at Hinge Digital now use Frankie every day for reviews across all sorts of projects. Among the functions in Frankie that the Hinge team likes most are thereal-time markuptool and the ability to export notes into aPDF file. Being able to see when a client has logged into the session, before or during the conference call, has also been helpful. But thetwo-way controlof the playback and tools are in fact what has given everyone a sense of communication and allowed them to synchronise their collaboration very closely. www.cospective.com