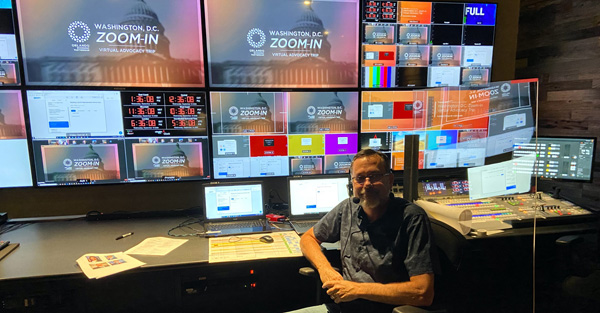 Adrenaline Films is a video production company that operates a 25,000 sq ft facility in Orlando, Florida and makes video production and post production services available to entertainment, media and technology companies. Its clients include Universal Orlando Resort, CNN, NBC, Fox News, Amazon and Siemens.
With the onset of Covid in early 2020, Adrenaline Films moved away from carrying out mainly on-premises multi-camera studio work to handling a wider range of live productions, virtual productions and corporate work. To expand their operations, Adrenaline Films revamped their Orlando facility, updating editing suites and adding two new control rooms that could handle live and remote productions and a production studio equipped to support large scale multi-cam productions within any CDC guidelines.
This new infrastructure is connected over a 1 Gbps optical fibre network. Adrenaline Films uses Medialooks Video Transport licenses that allow remotely located NDI and SDI sources to be instantly available via the public Internet. To work with these sources, Adrenaline has designed a workflow based mainly on recording, conversion and streaming capabilities from Blackmagic Design hardware.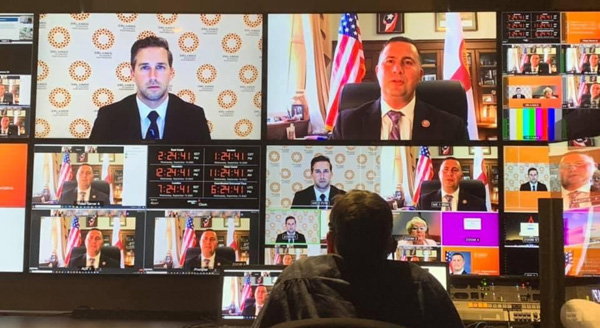 Remote Production Facility
Because Medialooks Video Transport works directly with Blackmagic DeckLinks and ATEM 2 M/E Production Studio 4K, Adrenaline Films is able to operate as a remote production facility, bringing in dozens of remote feeds and connecting directly with the two control rooms for tasks such as switching, editing and graphics insertions.
Working with the ATEM 2 M/E 4K switcher are several HyperDeck Studio recorders, Teranex standards converters, Web Presenter streaming devices and DeckLink Quad 2 and DeckLink Mini Recorder PCIE capture and playback devices.
Tim Bartlett, VP and General Manager at Adrenaline Films said, "The Blackmagic Design gear gave us options to be quite creative with our redesign, and we were up and running with new services in a short time. We were able to remove our former set-up, replace it with two new control rooms and, within a few weeks, start producing live and virtual events."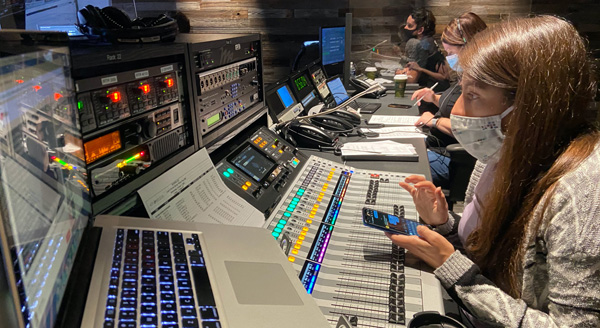 Since installing the new infrastructure, Adrenaline Films has completed several dozen projects taking place in many different locations, including corporate, education and entertainment productions. For a recent corporate virtual conference, Adrenaline Films produced four days of remote feeds from participants around the world, interacting with each other in real time. Remotely located guests had been sent portable production kits and contributed their camera feeds via a Medialooks Video Transport guest link.
More Events
These independent video feeds were output via SDI and routed into the ATEM 2 M/E Production Studio 4K, as well as the HyperDeck Studio recorders to be ISO recorded for later editing. Incoming feeds could be keyed over individual graphics and returned back to the speaker for assurance via the DeckLink Quad 2. The output of the ATEM 2 M/E Production Studio 4K was also fed to a Blackmagic Web Presenter, which appeared as a webcam on Zoom.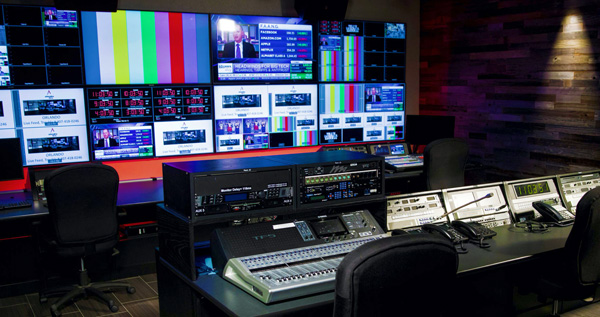 Adrenaline produced a Virtual Press conference with Tavistock Group and Lilium to announce their joint venture introducing a small electric jet taxi service between major Florida cities, and the control room facilities have also been covering regular virtual events bringing together national politicians and educational leadership from around the country. As well as live virtual events, Adrenaline Films has been helping clients with COVID-compliant location services at events such as Universal Studio's recent Bourne Stuntacular.
Tim said, "The Blackmagic and Medialooks integration lets us handle these virtual events in a familiar TV programming style, and brings in the same quality you would expect from a professional broadcast. We can change what we send to Zoom calls, for example, to feeds that were connected to our ATEM. We can then send the client a multi-split, an individual feed or switch the feeds as we would for a TV show." www.blackmagicdesign.com