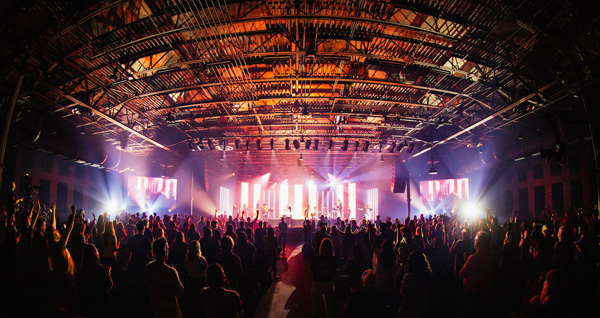 Located in Nashville, Tennessee, The Belonging Co. (TBCo) church started up six years ago. Its congregation has grown from just seven at the beginning, to many thousands today. As well as worship services every week, the church includes a worship collective of well-known Nashville-based performers, an annual conference and a college.
The church has made live production values a priority in support of its mission to create an experience where people can connect with God without distraction, and is recognised for the quality of its live services. At a new facility, TBCo now has an impressive LED video wall, following a recent video system installation by integrator Diversified in partnership with LED video wall manufacturer THOR AV, driven by Brompton Technology's Tessera S8 LED processor.
Front and Centre
TBCo already had experience with different types of LED wall products from various manufacturers, and when developing the look and feel of their visual branding for this installation, they decided on a large LED canvas as the central component. A critical consideration was the performance of the LED wall on-camera, because the church uses weekly online broadcasts to massively extend their reach.
Due to Diversified's experience with THOR AV for similar LED installations at other churches, the project team chose THOR's EDGE 3.4 LED panels for the new facility. "Our teams collaborated with the client and manufacturer on the design of the stage, placement of the LED wall and its relationship to artists on stage and camera positions, as well as associated sight lines throughout the space," said Tim Corder, Director of Strategic Accounts – House of Worship for Diversified.
"The LED wall is front and centre on stage in just about every camera shot. The quality of the LED wall components are critical to making a great picture on camera – the two go hand-in-hand. Brompton's Tessera platform has certain advantages over competitors in terms of picture quality and panel calibration."
Dynamic Calibration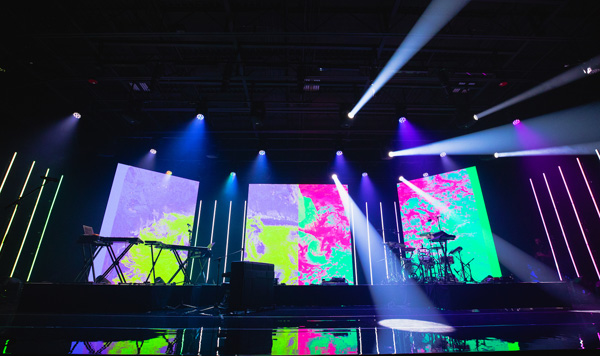 The usual approach is to apply a fixed, factory-specified calibration that is used for all content over the life of the panel, which can result in panels performing below the brightness they are capable of. Tessera uses a dynamic calibration system that processes information in real-time, without adding latency, to determine intelligently the best way to drive each LED in each situation, resulting in brighter whites, higher contrast ratios and more saturated colours.
For example, extremely bright areas of video content can make full use of the LEDs' brightness for visual impact, and smooth areas are displayed with greater uniformity. Areas to which the eye is more sensitive, such as skin tone, are carefully balanced for a lifelike look, and in vivid areas, the calibration adapts to use the maximum available gamut in the LEDs.
Cinematic
He remarked on the church's cinematic shooting style as another factor affecting the design process. "The church has one of the most beautiful cinematic broadcasts on the internet today. However, cinematic cameras, such as the Blackmagic URSA Mini 4.6k G2 that the church selected for this system, have rolling shutters – typically a nightmare with direct view LED walls because of pulse width modulation dimming.
"When set up incorrectly, the cameras will interact with the LED wall causing a number of negative artefacts such as banding and colour inaccuracies that are nearly impossible to fully eliminate. This is where THOR and Brompton really shine, giving us a combination that was specifically designed to excel on-camera. We didn't need to worry about how the cameras and LED wall would work together – they didn't disappoint."
Colour and Brightness
Brompton processors apply various methods to overcome inconsistencies in panels and improve picture quality. LEDs and their driver chips are not perfectly linear, meaning that when they are expected to output a particular brightness, they may not accurately achieve it. Because red, green and blue LEDs can have variations that lead to colour casts in greyscales, Brompton developed a system called PureTone that works with the dynamic calibration and allows each panel type to be profiled. It then compensates for the variations to produce cleaner, more accurate colours at all brightnesses.
Another feature, ChromaTune, is used to precisely adjust and correct the colours in an incoming video signal. This is useful when certain colours need to match an existing colour exactly, or to select a particular colour in a video that needs fine-tuning. Hue, saturation and brightness controls are available for each colour.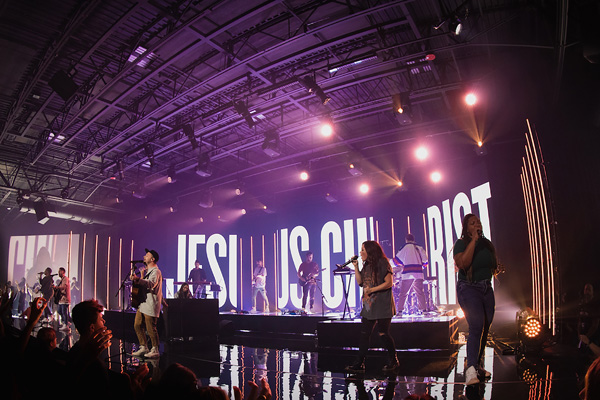 Image credit: Ashley Mae Wright
Members of the church's production staff flew to THOR's headquarters in Minneapolis, Minnesota to meet with the product team, see the product in person ahead of the installation, and test their cameras with the actual panels that would be installed at the venue in combination with Brompton's processors. Considerable time was spent confirming that the cameras, lenses and focal points all worked together.
THOR AV's Director of Sales & Marketing Luke Vettel said, "The Tessera S8 processor was preferred for this project because the client didn't need the fibre distribution associated with the SX40. They simply wanted to be able to put all their Cat cables in their rack, plug it in and be good to go. The S8's price was also the best fit for this functionality."
No Distractions
The new video wall has become a central part of the stage design for the weekly services and live broadcasts from TBCo's new facility. "Our primary goal from a worship and production standpoint, is to eliminate distraction for people," said TBCo's Executive Creative Pastor, Sean Loche. "In order to do that, you need a system that only adds to the overall system, without taking away from the reason we are gathering, to worship Christ. This system is versatile enough to create big moments when we need them, but does not sacrifice the quality needed for subtle moments."
The main value of partnerships like the one between Diversified and THOR AV is to maximise the investment clients make in LED video systems so that they can communicate their message. "The churches we partner with only have one shot to get their spaces right," Tim Corder said. "They have a lot at stake and so many decisions to make, but we know that the return on investment from manufacturers such as THOR and Brompton is excellent." www.bromptontech.com