NABCinedeck focussed on workflow options for 4K, UHDTV-1, HD and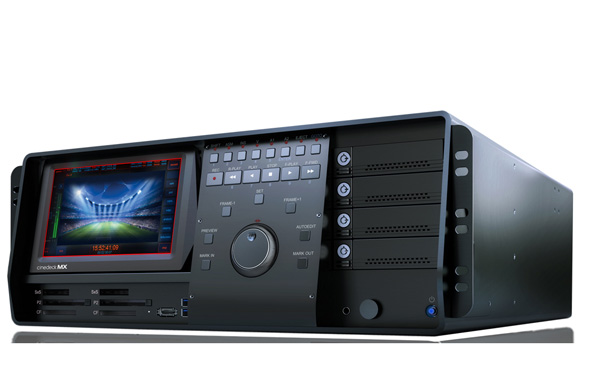 SD demonstrating new editorial and video-processing for cinema, live,
mobile and traditional broadcast workflows.
---
Cinedeck Expands Flexible UHD Workflow Products & Processes
Cinedeck focussed on workflow options for4K, UHDTV-1, HDandSDat NAB 2015, demonstrating new editorial and video-processing systems for cinema, live, mobile and traditional broadcast workflows. Cinedeck's modular Cinedeck ZX record, ingest and transcode platform was shown for the first time, with the SetMeUp mobile production case.


Cinedeck File-based Insert Editingwas launched, a process Cinedeck developed for file-to-file insert editing on digital deliverables. Editors can quickly perform frame-accurate insert edits, of video and audio, into a digital file, in a similar manner to insert-editing on tape. As soon as the relevant material is accessible on the Cinedeck platform, editors can select the source content and destination file, and perform a frame-accurate insert edit via the Cinedeck interface into the closed file. The Cinedeck platform then rapidly delivers the complete file in the original digital deliverable format.
Available in the forthcoming v5 software upgrade, Cinedeck File-Based Insert Editing eliminates traditional, time-consuming workaround procedures of editing and re-rendering entire final program content, or editing and laying off to tape then re-encoding to a delivery file. The process uses standard deck controls and supports intermediate formats used by the most common NLE systems including Avid Media Composer, Apple Final Cut and Adobe Premiere, plus ProTools audio workstations.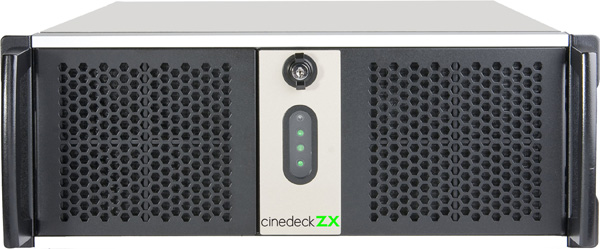 Cinedeck'smodular ZX45 systemwas shown supporting 8-channel recording. In its standard configuration, the ZX45 has four independent full duplex channels, which record or play SD or HD signals. In 8-channel mode, the ZX45 records 8 SD or HD signals with a selection of codecs to any appropriate media, including hot-swappable SSDs and network storage. While playback is not available in 8-channel mode, a switch of firmware allows system reset to standard 4-channel mode with full playback/record.
TheTranscode & Rewrapprocess was also launched. Baseband transcoding between files has been available since the initial release of the RX, but as Cinedeck platforms support so many codecs and wrappers, the company is launching this file-to-file transcoding interface so that users can choose which transcoding method is most appropriate at any given time. The new Transcode & Rewrap capability speeds file delivery. For example, rewrapping an XDCAMHD file from Op1A to OpAtom is done at up to 50x real-time. By combining Cinedeck's new scheduling application with the Transcode & Rewrap tool, the post workflow can be automated, helping to make files ready-to-edit faster.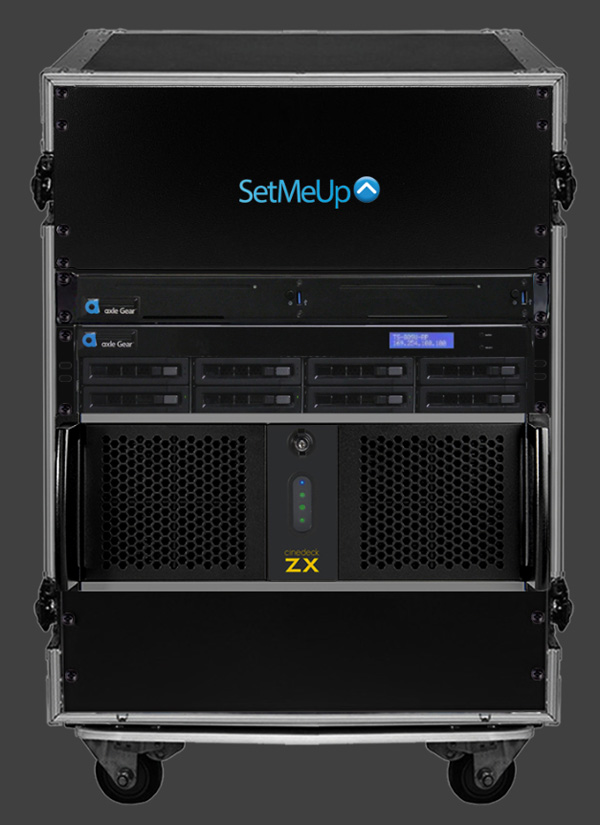 New Cinedeck products shown at NAB includedCinedeck ZX, a modular ZX record, ingest and transcode platform. Cinedeck ZX comes in three base hardware configurations, to which other Cinedeck hardware and software options can be added to custom-build workflows for 4K, UHDTV-1, HD and SD production and post production.
The base-level CinedeckZX20carries two channels of 2K, HD or SD, with optional 4K playback. The mid-level CinedeckZX40has enough I/O and processing power for four channels of 2K, HD or SD. When fully fitted with plug-in packages, the ZX20 is equivalent to the 4K-capable Cinedeck MX. The turbo-level CinedeckZX45adds greater processing power to support 4K and UHDTV-1 at 60P and eight channels of 2K, HD or SD. Lossless JPEG2000 recording, developed by Cinedeck for NASA's multi-stream capture system for the Orion space program, is also on show.
TheSetMeUpproduction casewas co-developed by Cinedeck and MAM software developeraxle Videoas a HD/4K/UHDTV on-site workflow system with everything needed to capture, playback, store and manage HD, 4K or UHDTV video content for live and episodic broadcast TV. Pre-packaged into a wheeled case, it consists of Cinedeck ZX, axle Gear Pro media management system and 18TB of storage with options to add SAN/NAS storage from partners such as Facilis, Small Tree and DDP. SetMeUp is available for sale or to rent. www.cinedeck.com